The Tempest
William Shakespeare
Cheek by Jowl
Silk Street Theatre at the Barbican
(2011)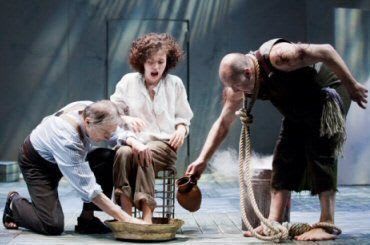 The Barbican's current strap-line is "Do something different" and Cheek by Jowl are always a good bet for that. In a co-production of The Tempest with the Chekhov International Theatre Festival, Declan Donnellan, Nick Ormerod and their Russian company take liberties in creating something extraordinary.
The only step that they do not make, unlike Julie Taymor in her new film, is to transgenderise Prospero into Prospera.
Otherwise, anything is fair game in a couple of hours during which the watchword is fun, sometimes to the extent that the post-Shakespearean elements almost leave the Bard forgotten.
His spirit (and spirits) remain. Indeed, Ariel is multiplied into a quintet, who also provide live music in the style of Philip Glass, to complement Ormerod's bare set on to which an assortment of telling images is projected.
This is the island on which Igor Yasulovich's cruel but kind Prospero, the deposed Duke of Milanski (really) has made a new life with his innocently unworldly daughter Miranda, who has the advantage of finding every new sight an adventure.
They share their home with the Ariels (led by Andrey Kuzichev) and an ageing, lumbering Caliban (Aleksander Keklistov).
The excitement starts with a lively tempest which offers an early glimpse of the water which becomes a running theme and gag.
Repeatedly like circus clowns, actors find themselves drenched by buckets and oilcans, as well as streams of the stuff. In particular when Caliban begins to worship Stephano and Trinculo (Sergey Koleshnya and Ilya Illiin) in what is always this play's funniest scene, the action begins to resemble a comic version of water torture.
There is romance too as Miranda, played by Anya Khalilulina, falls head over heels in love with the very muscular Ferdinand (Yan Ilves), as well as something darker when the wicked Duke of Milan and Prince are brought to book prior to an almost unfeasibly happy ending offering hope to all concerned.
Hearing Shakespeare's lines translated into a language that you do not know, inevitably takes away much of the poetry. However, as with this production and The Winter's Tale at Teatre Romea in Barcelona, there are compensations. Bringing a new artistic and cultural sensibility to the works makes one view them afresh and in the hands of expert directors, leads to a fascinating and worthwhile experience.
As such, Cheek by Jowl's The Tempest, performed by a very strong ensemble with Igor Yasulovich in the lead, is a rare treat.
This production was reviewed in Southampton by Pete Wood
Reviewer: Philip Fisher