The Tempest
William Shakespeare
Tara Arts
Tara Arts Studio
(2007)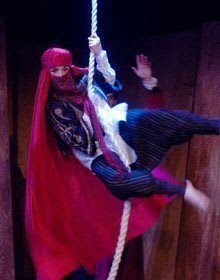 A couple of years ago, in Tim Carroll's Globe Tempest, Mark Rylance played both Prospero and the King of Naples (and in the first scene the ship's whole passengers and crew) while the two other actors in the cast played three or four roles each. In Jatinder Verma's new production for Tara Arts Robert Mountford takes on Prospero and Trinculo, four other actors two roles each, and it must be because Caroline Kilpatrick is kept so busy carrying out Prospero's orders as his servant spirit Ariel that there is no time for her to take on another role as well. One of her ongoing tasks is re-arranging six hanging white ship's ropes that, with a backing of sloped 4 x 8 plywood boards form designer Claudia Mayer's set and with which Prospero seems to (literally) weave his magic.
The tale of a banished spell-making Duke, his revenge upon those who banished him and the pairing of his daughter Miranda, who has never seen a man other than her father, to the enraptured shipwrecked son of the King of Naples is told with simple ingenuity. In a programme note Verma compares Prospero to some prominent Islamic Jihadist militants. Although the production is dressed to suggest a mixture of North African and Middle East to Persian influence I do not think he intends political parallels, rather that Prospero is as committed to revenge as they to their cause and as blinkered to all else. The production emphasises his stern ruthlessness.
The opening scene of a storm-tossed ship is not an easy one to stage and when, in dim light, the cast each take a rope and shout out the successive lines my heart began to sink. But, as their rhythmic swaying began to gather speed the scene, like them, took off. Clearly spoken, with no rushing of the delivery, the play then ran for well under the 'two hours traffic of the stage.' True, it was cut: lesser characters had disappeared and, the goddesses' masque that Prospero presents as a wedding ritual reduced to one blessing speech. The final scene, when all those doubled characters should appear together, is trimmed so that one by one they disappear as he abjures his power over them. Only Prospero and his servants Ariel and Caliban are left, waiting to be given their freedom.
This is a production in which Prospero, directly or through the agency of Ariel, is clearly in control of everything that happens. People freeze in sleep or trance at his command and either he or Ariel seem always to be present. The 'monster' Caliban is not ugly, it seems that Prospero makes him think he is, and David Ononokopono makes him a gently spoken naïve innocent, attuned to the environment he speaks of so poetically: His attempted rape of Miranda must have been some kind of boyish blunder. Ariel is much more knowing. In debt to Prospero for her freedom she fierily reminds him of his promises to her. I thought I had an aversion to female Ariel's but a female temperament fits this production well.
The doubling is done with skilfully managed transitions, voices changing before the clothes do, and with characters circling in an out of the scene like slowed-down dervishes as though this is all part of some spell. Ononokpono's Caliban turns into an African-accented 'old' Gonzalo (and an extraordinarily young one - even when set against a young Prospero). Tom Kanji is the wicked usurping Duke Antonio and drunken butler Stephano. His scenes with Trinculo don't play up the clowning: the director certainly allows no over-indulgence and I thought his decision to keep cloth-covered Caliban standing when he is taken for a smelly fish unhelpful to the performers. Chris Jack doubles Ferdinand and a West-Indian-accented Sebastian. Jessica Manley is Miranda and cast cross-gender as the King of Naples. Miranda spends much of the time veiled and wearing a middle-eastern covering falling from the head, a form of hijab. Any Islamic correctness is disconcertingly contradicted by some of her behaviour. Since he can't see her properly perhaps even Ferdinand's attraction to her may be part of Prospero's spell.
Mountford gives Prospero a likeable a presence that belies his ruthless revenge and the cruelty with which we see him torments Ariel and his best moments are when, alone with Ariel, he sees what he is doing through other eyes. One is a witness to the realisation that makes him abandons his schemes and he goes on to play the final speech of renunciation very very quietly to a closely concentrating audience. This is something that will require considerable skill if the production goes on to play in larger houses.
Making the most of limited resources and placing considerable demands upon its cast, this is a considered and often effective production that captures the spirit of the play and succeeds in making the audience think beyond the simple fairy tale story.
At Tara Studio until 14th October then Inverness, Canterbury and other dates to be announced
Philip Fisher reviewed this production on its transfer to the Arts Theatre
Reviewer: Howard Loxton