Temple
Steve Waters
Donmar Warehouse
–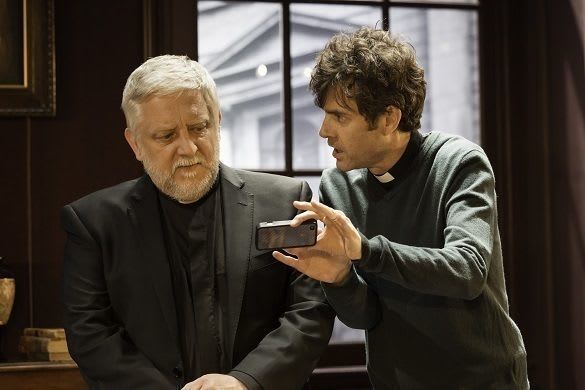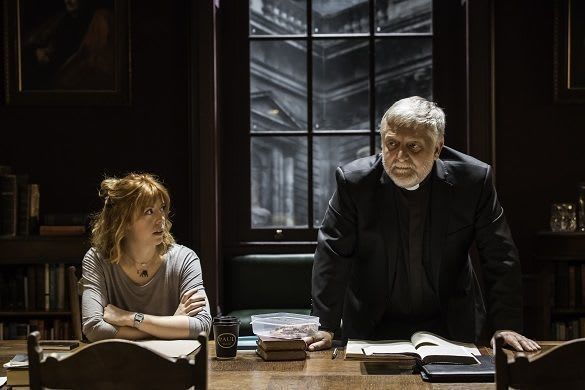 There are not too many modern plays about ecclesiastical politics but, like Sir David Hare's Racing Demon, Temple is a fascinating opportunity to discover how the pillars of the Church of England think.
It is also a chance to witness a metaphor for the whole church in crisis, viewed through the stresses that fell on the Dean of St Paul's Cathedral after Occupy had lived up to its name on his doorstep for a fortnight.
For those whose memories do not stretch back to 2013, this ad hoc global protest against the world of finance swiftly moved from the City of London to the steps of Wren's glorious structure.
Before anyone says a word in Howard Davies's 100-minute production, there is much humorous stage business to lighten the tone before the serious issues are debated.
Thereafter, the composition has something of the quality of a Greek tragedy, as a series of important individuals process past the Dean, relating tales of disasters taking place in the world outside designer Tim Hatley's tasteful depiction of the Dean's office, which oozes age-old conservative values.
Our understanding is immeasurably helped thanks to the presence of the incomparable Simon Russell Beale, impeccably portraying a shy, complex man caught in the middle of a disaster that is not of his making.
Russell Beale manages to be both touching and hilarious almost simultaneously while playing a man at the end of his tether. Somehow, through body language and facial control, the actor not only verbalises the character's inner turmoil but allows viewers to look directly into his mind and soul.
Ironically, his closest ally might be Lizzie, the newly arrived PA played by Rebecca Humphries, who has wisdom and calmness beyond her years.
The remaining players are largely clerics. Paul Higgins as the Canon Chancellor is the polar opposite of the indecisive Dean, sporting jeans and spouting mildly revolutionary ideas before and after he tweets his dissatisfaction and resignation.
From the opposite end of the spectrum but equally disapproving comes the veteran Virger, Anna Calder-Marshall.
Perhaps most duplicitous is Malcolm Sinclair's Bishop of London, a man who seems to love himself at least as much as his maker.
One of the more shocking observations is that Shereen Martin, portraying a delightfully yuppie solicitor representing mammon in the Temple of the Lord, is arguably no more scheming than any of the religious visitors.
Temple largely comprises debates about the place of religion and materialism in today's society and more particularly the difficulties that the Church faces when many see it, like the dear Dean, as no more than a historical hangover with no place in their lives.
Although there is more talk than action, this is a gripping and highly entertaining play that intelligently debates some serious issues and also showcases the wondrous talents of possibly the best actor working on stage (and in Penny Dreadful) today.
Reviewer: Philip Fisher