Tender Napalm
Philip Ridley
Southwark Playhouse
(2011)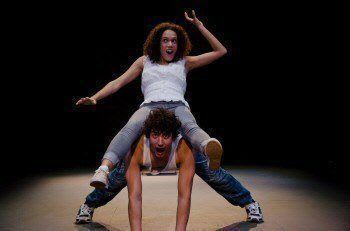 Philip Ridley might be the last bastion of In-Yer-Face Theatre. Where others have mellowed and generate plays like anyone else of their now middle-aged generation, he still gleefully pushes the boundaries of form and taste. Whether that is a good thing could be open to debate.
Tender Napalm offers a strange 80 minutes, part love story, part stage equivalent of a multi-layered video game.
What cannot be doubted is the skill and commitment of his two actors, both of whom will be several pounds lighter by the end of a very sweaty run, if the unseasonable weather continues.
From the start, it is clear that Ridley wants to shock and amuse. What might be more questionable on this occasion is his purpose.
After some thinly veiled sexual innuendo that had the audience giggling but appreciative as it became more explicit, the evening settles down to narrate two stories that initially seem to have nothing in common.
In one, Jack Gordon's unnamed Man and Vinette Robinson's Woman are stranded on a desert island. There, in between living an idyllic life, they each lead armies of monkeys and fight foes such as an oversized green monster.
Running in parallel with the adventure story is something set in Ridley's favourite but rather more mundane East End. This is the love story, which also brings in a rich father with cancer and two youngsters who instantly feel a mutual attraction that eventually reaches boiling point.
In David Mercatali's simple production, this must all be evoked by words together with the actors' physicality. That is because the action takes place along a thin traverse with nothing more than a chair at each end for adornment.
Tender Napalm is heavily self-referential with themes and motifs constantly recurring. Quite what message it wishes to convey is not entirely clear, possibly that love conquers all, at least for a period, since death is an inevitability.
In any event, the two actors give their all and sensible audience members will enjoy the acting and wallow in the exotic poetry and imagery, rather than wondering why they are there.
Reviewer: Philip Fisher