T.E.O.R.E.M.A.T
Grzegorz Jarzyna , based on the work of Pier Paolo Pasolini
Barbican Theatre
(2010)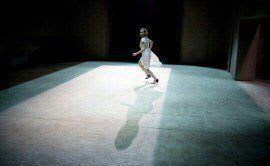 T.E.O.R.E.M.A.T is a classic example of European theatre in which the director is auteur. Grzegorz Jarzyna from TR Warszawa, who brought 4.48 Psychosis and Dybbuk to Edinburgh and, in the case of the former, the Barbican, has taken a 1968 Pier Paolo Pasolini cult movie, Teorema and made it his own.
This kind of avant-garde event (play is not really the word) will provoke extreme reactions. To some, it will be an evocation of heaven, while others will resentfully feel proud to have endured its 2¼ hours without dropping off.
The scene is set as we witness a family at their painfully slow morning preparations - four times over with minimal variations. This tells us that they are tediously conformist.
That might be the case but the arrival Sebastian Pawlak playing a long-haired visitor who is part Tartuffe but much more Rasputin, changes everything. Starting with the maid, he ravishes (to put it politely) the household's members one by one.
Father, Mother and their two grown-up children are each transported to sexual zeniths in scenes of startling eroticism.
The after-effects are equally devastating as, once the sexy devil leaves, none can recover, with reactions varying from catatonia to debauchery.
In truth, the action could be described in a couple of lines and is not the auteur's main interest. Jarzyna has meticulously worked with the whole creative team to invent a beautiful stage world that is all his own.
It features numerous short scenes that each contain a degree of beauty in their own right. Typically, there will be almost no text, music with a sixties bent but sometimes minimalist or classical for variety, and Jacqueline Sobiszewski's stunning lighting usually entering from the sides or oblique angles to siphon off a small stage area.
Movement and semi-dance are as important as the story line, which ultimately leaves meaning at a premium but presents significant opportunity for personal interpretation.
Anyone that goes to the theatre seeking a well-made play packed with simple meaning will not enjoy this experience. Fans of the ethereal, in search of very well hidden depths, will have a different view about a work of art from a man modestly described in the programme as "the trailblazing multi-award-winning Polish director" who has "crafted a poetic and provocative piece of theatre that takes its audience on an exquisite journey into the heart of Pasolini's modern masterpiece".
Reviewer: Philip Fisher