Terms of Endearment
Dan Gordon
Based on the novel by Larry McMurtry and the screenplay by James L. Brooks
Yvonne Arnaud Theatre, Guildford, and touring
(2007)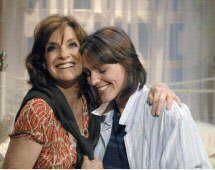 The 1983 film, starring Jack Nicholson and Shirley MacLaine, won five Oscars. Unfortunately I haven't seen it, but apparently it concentrated on the 'upstairs/downstairs' aspect of the story with the contrast between Aurora Greenway's affluent family and that of Rosie, her maid. The book, according to the programme notes written by Dan Gordon, depicted Aurora as "beautiful, alluring, magnetic and totally self-absorbed, with a long list of suitors". Gordon has given it another twist and focuses more on the mother/daughter relationship, a controlling, criticising mother who tries to keep her daughter on the right track, while still being more concerned with her own welfare – and this time Aurora's suitors are non-existent and Aurora seems a little lonely.
So far so good – the mother/daughter relationship can be complex and open to in-depth exploration. However there is nothing in-depth about this production with the narrative delivered in short, sharp bursts, giving the performers no time to develop the characterisation. Between each scene – and there are many – the stage darkens and scurrying figures change props or scenery – often totally unnecessarily.
The opening scene is Aurora and husband in bed with baby Emma asleep in a cot, and the anxious mother insisting on waking her to make sure she is breathing. That struck a chord with many of the audience, as did the sudden transition to Emma as a bride, marrying against her mother's advice – and most probably to escape the domination and criticism. From there communication between them is mostly by a daily telephone call, with Aurora advising her constantly pregnant daughter how she ought to run her life.
For a great deal of the time Linda Gray (of Dallas fame) who plays Aurora, seems to be wondering where she is and what she is doing there. She rejects the crudely suggestive attentions of her neighbour, the philandering drunken astronaut, but ten years later she insists on a lunch date, her "You are important to me!" not being totally convincing. There are some laughs along the way – the biggest being for the struggle when he gets his hand caught in her bra – yes, she was wearing it at the time!
John Bowe is astronaut Garrett, reeling drunkenly across the stage and indulging in plenty of energetic pelvic thrusts – no mistaking his motives. Suranne Jones' performance as daughter Emma is well judged, well presented, and very credible, from the chirpy, cheerful young bride-to-be through a disastrous marriage with numerous children, to the horrific realisation that she is dying and needs her mother.
It is in act two that the play comes alive – the scenes are longer, more drawn out, and the characters are more serious and played with more feeling. Emma Is now in hospital, dying – a mother's nightmare! A child, of whatever age, is not supposed to die first, and Gray brings to dramatic life the desperate emotion of seeing her daughter's pain and being helpless to ease it. She pleads and rages at the doctor (a chillingly callous Robert Fitch) to do something to help, but it is a softer, more caring Garrett who 'persuades' the doctor to carry on with treatment.
Surprisingly this act produced much more laughter than the first – among heartache and tragedy comedy is always present.
It would appear to be a multi-faceted tale which can be interpreted in many different ways, and one thing this production has done for me is to make me certain that I must read the book!
Touring to Richmond, Windsor, Cheltenham, Cardiff, Canterbury, Aberdeen
Cecily Boys reviewed this production at York Theatre Royal
Reviewer: Sheila Connor