Terrible Advice
Saul Rubinek
Menier Chocolate Factory
(2011)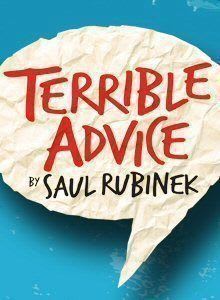 Terrible Advice is a lightweight romcom striving to be something more serious. The subject matter is typical sitcom fare except that the quartet involved are 20 or more years older than one would usually expect.
The producers have taken a big risk, in that they have utilised a creative team packed with big names but every one takes an unexpected role.
Debutant writer Saul Rubinek is better known as an actor, director Frank Oz is half of the team behind the Muppets. The actors are also playing against type, at least to a degree. Scott Bakula has a big reputation on film as Quantum Leap's Sam Beckett, Andy Nyman specialises as a writer, Caroline Quentin is now a TV presenter and Sharon Horgan a comedienne.
While minor experimentation of this type has become common, either because producers scent cash in celebs or stars get bored with the day job, this kind of wholesale reinvention was always going to be asking a lot from the experienced but inexperienced team.
The script, set in New York, relies on contrivance and unpredictable characterisation to explore two flawed relationships, each involving pairs of losers.
Jake, played by Bakula, is a shallow womaniser who loves dumb blondes but also his partner (Miss Quentin) Hedda's money.
It says a lot about Nyman's insecure Stanley that he has allowed Jake to call him Stinky for quarter of a century ever since college days. He likes Delilah (Miss Horgan) but not to distraction and is happy to go along with Jake's ludicrous plans. In the process every member of the quartet is made desperately unhappy.
Redemption for the men, such as it is, appears to come in the shape of self-knowledge, though their talents in that line appear to be non-existent. For the women, hope of happiness might lie in the knowledge that each has had the luckiest of escapes from men who do not deserve them.
If you can buy into the scenario and empathise with the characters, this might be a chance to enjoy some favourite stars on stage, especially Scott Bakula who does well with limited material. Otherwise, you might be better off buying the appropriate DVD and watching them doing what they do best.
"Terrible Advice" until 12th November, 2011
Visit our sponsor 1st 4 London Theatre to book tickets for Terrible Advice
Reviewer: Philip Fisher