TeZukA
Sidi Larbi Cherkaoui
Out of Asia Season
Sadler's Wells
(2011)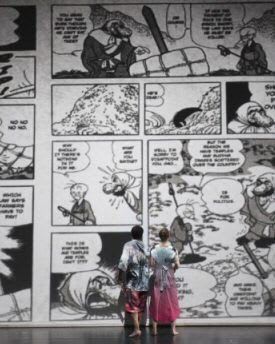 Sidi Larbi Cherkaoui's reputation is such that TeZukA was hugely anticipated. But the gently charismatic choreographer and considerate soul, sometimes referred to as Pina Bausch's 'child', who likes to mix styles and cultures, has produced a rather baggy, epic, dance theatre homage - to the humane Manga Master, the 'Godfather of Anime', Osamu Tezuka (1928 - 1989) - taking in the role of bacteria on the skin en route.
Eclectic? Digressive? I'll say. In the Les Ballets C de la B company (of which he was once a member) tradition - for them coherence is never of the utmost importance... At two and a quarter hours including interval TeZukA tries one's patience and concentration. The high calibre of Cherkaoui's collaborators masks the limitations of his choreographic language in this instance. The excellent parts do not add up to a satisfactory whole.
Nitin Sawhney's specially commissioned score is performed live by a talented trio of performers on a fascinating range of exotic instruments - ex-Kodo drummer Tsubasa Hori, and the versatile Korean musician Woo Hae Park also provide the vocals, with Olga Wojciechowska on violin. A concert in its own right of world music takes place discreetly to one side of the stage on a raised dais (a restricted view for those sitting on the left).
At a side work table downstage of the musicians, a calligrapher sits in black outfit and black beret, a Tezuka impersonator. Whilst a woman turns a music box, he writes on her back in beautiful Japanese script. His amplified drawings and calligraphic works pass swiftly across the backcloth in shifting cartoon strips, scroll down a multitude of unravelling columns of paper, and dancers dance dreamily to their own time.
And interact with the video installations, the indispensable heart of this production. Images burst from the screen at the touch of a hand. Taiki Ueda's video design, and Willy Cessa's lighting and visual design are outstanding. The kaleidoscopic projected images, the production's 'visual DNA', whet one's appetite for Manga and Tezuka, whose biography is stirred into the mix.
A man speaks quietly (in French) of bacteria and radiation - Tezuka was sixteen when the Second World War ended. The stage becomes peopled with a small crowd of dancers, together yet alone - Tezuka creations, Black Jack, Astro Boy, and the predatory Insect Woman (the only real woman amongst men and comic loving boys), mingle with martial warriors wielding nunchucks and swords.
Try though one does it is not easy to disentangle the lines of Cherkaoui's vision. A repetitive ritualized honouring of Tezuka, two worlds colliding 'without prejudice', the dancers the paintbrushes, the paper and ink. The girl flips a piece of paper this way and that, and a dancer flips his body in imitation. A bit of light relief.
Hand gestures sign and frame the face, black paint writes on the body, a transvestite in black kimono speaks. A confusing narrative emerges. And ends with Hamlet's "To be or not to be" soliloquy. What? All are dead except for Astro Boy, and the transvestite in a gas mask.
A bright red sun, Japan's symbol, grows and fills the backcloth. An inkblot spreads and covers the sun - symbolic of Japan's Second World War and present day calamities, or of bacterial growth? Astro Boy, the survivor robot in his black pants and little red wellies, stands and shudders before it. Awe-inspiring? Sadly no.
An over-long animation of, and meditation on, Tezuka's boundless talent, on Japanese culture, history, on calligraphy, captured by the fluid movements of the body, TeZukA is a diffuse creation, a dance installation, performance art. Ironically, one longed for the pared down simplicity of the comic strip.
Cherkaoui's strength is mis-en-scène - the stage pictures, the video back projection, the spectacular columnar scrolls. The choreography seems secondary, incidental. His weakness is his blind love of Manga and its creator - that is transparent. This production is opaque. Not least the risible white paper monster
Where the choreography is at its most moving is in the dance duets, in which Daniel Proietto (memorable solo performer of Russell Maliphant's AfterLight) shines like the bright star he is. He speaks too. He cross-dresses. Delicate, feminine, incredibly supple, he stands out from the rest.
Part of Sadler's Wells Out of Asia season, an international co-production with international artists, blending traditions and genres, TeZukA embarks on an international tour this autumn and throughout 2012. Hopefully, along the way a clarity of vision will form, and this overstuffed creation will lose some of its padding. An open-ended project, one suspects.
Till 10th September 2011
Reviewer: Vera Liber