Thamar and Schéhérazade
Programme 2: Diaghilev Festival - Les Saisons Russes du XXIe Siècle
London Coliseum
(2011)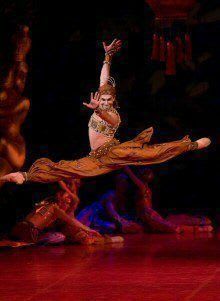 What a difference a day makes. Touring international ballet is a huge enterprise, which makes extraordinary demands on all involved. Exhaustion must be a constant problem, though adrenalin often takes over. Well, adrenalin there was at last in this second programme of 'Diaghilev' ballets.
Nikolai Tsiskaridze of the Bolshoi Ballet pulled out the stops as the reincarnation of Nijinsky's Golden Slave in Schéhérazade. Panache, élan, twenty-four fouettés, and grandes jetés: take that, he seemed to be saying to his adoring fans, and to his critics. The Blue God had woken up.
The second ballet of the evening, Schéhérazade, is a blinding spectacle of sumptuous colours, pink/purple/red, blue/green, yellow/orange, and bling - there's no other word - Andris Liepa is proving to be no less of a showman than Diaghilev with this much-cherished, long-in-gestation programme, though whether it's to everyone's taste is another matter.
Crisp technicolour, no wonder Hollywood and all of Paris emulated the decadent make-believe Orientalism of Les Ballets Russes. Anna and Anatoly Nezhny have restored, over an eighteen-year process, a breathtaking glimmering shimmering fairytale set and a brilliant set of costumes.
An orgy of colour, a bacchanalia of dance, the stage teaming with people and movement, Schéhérazade is Mikhail Fokine and Leon Bakst's 1910 blast of a dance drama to Nikolai Rimsky-Korsakov's familiar music (his widow and son not too happy at Fokine's appropriation of it for this ballet). And Ilze Liepa is a commanding silver screen Zobeide.
In the Ida Rubinstein role she holds the stage with her intelligent characterisation, presence, and skill. The three Odalisques must be complimented, too: Aliya Khasenova, Valeria Pobedinskaya, and Yulia Voronina.
On the sultan Shahriyar's (Igor Pivorovich) departure from the harem, his favourite Zobeide tricks the keys to the slaves' quarter out of the portly Chief Eunuch, and whilst the master is away the girls will play with glorious abandon. The massacre of slaves and concubines that follows his unexpected return is a rout and a riot. Her Golden Slave dead, Zobeide takes her own life.
A unity of theme here, erotic, exotic, la petite mort is the metaphor of the night, in several senses. Thamar, the opening ballet, is little known. Created in 1912 by Fokine and Bakst, not seen since 1929, it is pure sex and death.
Mily Balakirev, one of the Mighty Five, composed a symphonic poem in response to Lermontov's forty-eight-line poem Tamara. Queen of Georgia, she did exist, though maybe not as in his version, luring male travellers to her castle, and after a night of bliss having them flung into the river Terek below from its battlements.
In Jurijus Smoriginas's re-animation of the original from stills and written documents - all that is left of the ballet - Irma Nioradze, dark and sleek, supple and sultry, is coldly seductive. Ardent Ilya Kuznetsov (a blond Hamlet look), eyes blazing like the braziers lining the set, devours her and the stage - the male 'star' dancers give one a sense that this stage is too small for them.
Igor Pivorovich, who has cornered the character roles, smoulders (his trademark) as her loyal Vizier. In traditional black Georgian chokhas retinues of men, and beautiful snake-hipped attendant girls with wonderful arms, interrupt the dominating solos and duets of the lead protagonists.
Stilted but more of a success I would say than Wayne Eagling's Blue God choreography, Smoriginas has obviously decided to drag the original concept into the twenty-first century with a prologue and epilogue of bodies writhing under a fabric sea raked by an incongruous green laser light, though when the lights go up, the tall fortress purple-red set is a fine replica of the original.
Nioradze, dancing with the corpses of her discarded lovers, enveloped in their chill amorphous embrace, has not gone for the mono-brow and white vampiric make-up of Karsavina: she is a glamorous voracious temptress of today. Indeed, the glamour of the past can be the kitsch of today - a perilous fine line to negotiate. But, Cyril Beaumont's description of Karsavina as 'a dangerous feline creature' suits Nioradze too.
An evening of voluptuous pastiche Orientalism brushed and buffed up for a modern audience, Liepa's bravissimo undertaking of reigniting 'Diaghilev's' ballets gives us a glimpse of what might have been through a glass almost too brightly.
If the ballets improve at this rate, then the last programme should be worth a look. But whatever the reaction to this labour of love, one is grateful for having one's eyes opened to its possibilities. The decorative designs, the raison d'être of this saisons russes (the front drop cloth announcement), supported by the folkloric music, overwhelm the dance. Hopefully, the last programme will be a synthesis of all three.
Till 17th April 2011
Reviewer: Vera Liber