Thark
Ben Travers
Snapdragon Productions
Park Theatre
–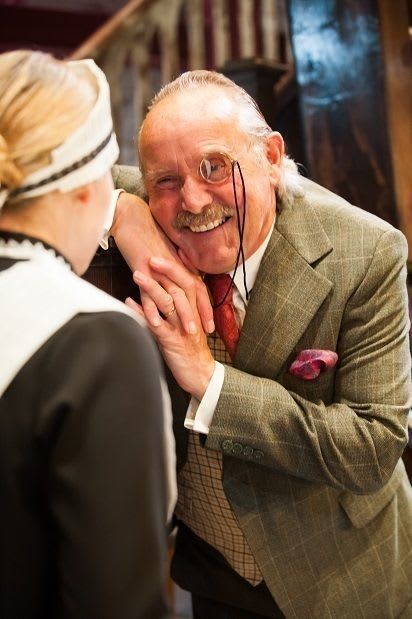 In his day, Ben Travers was regarded as one of the great farceurs, his Aldwych Farces bearing comparison with those of Feydeau.
86 years on, with the assistance of Clive Francis who has adapted the piece and then stepped into the breach as leading actor, Thark returns to the repertoire.
It is generally a good maxim that directors of farces should allow the script to do the work without out too much added assistance. If they aren't good enough to be seen on their own terms, then it is almost certainly better to leave them to posterity's forgetfulness.
On this occasion, Eleanor Rhode has taken the opposite approach. Particularly in the early scenes, she attempts to create comedy by asking her cast to overact and play for laughs, which can have the opposite effect to that intended.
Frequently during this two-hour production, the scripted jokes literally pass the audience by unnoticed without a single laugh, while bits of stage business try to take their place.
This makes it difficult to judge whether Thark has long ago had its day or a future revival might leave a fresh audience convulsed with the kind of laughter that must have greeted the original cast in 1927, in a West End run that eventually lasted around the year and exceeded 400 performances.
The plot does appear to be pretty thin to modern eyes. Lecherous old Sir Hector Benbow, played by Francis, has hooked a pretty, simpering young thing played by Lucy May Barker who is as dim as the ageing knight but 50 years younger.
She inevitably arrives at his home at the same time as Lady B, given a calmer and stronger portrayal than any other characters by Mary Keegan and Sir Hector's ward, Claire Cartwright as Kitty. To add to the confusion, Kitty is engaged to the Benbows' nephew Ronnie, who quickly becomes a fall guy.
Predictable trouble ensues for all, as the old roué attempts to extricate himself pointing the finger of blame at James Dutton's Ronnie, Hook the straight-talking Butler and anyone else who happens to be passing.
At the same time, Sir Hector has sold what is apparently a haunted house to a Mrs Frush and the second act is located there, with minimal changes to a set that doesn't really make too much sense of place at either location.
Once again, Sir Hector and his brainless nephew have women trouble in true farcical fashion, there without doors or falling trousers.
While much that has gone before treads tried and trusted ground, the surprising ending literally brings the house down and is probably the reason why Thark was a hit in the first place.
Reviewer: Philip Fisher