That Face
Polly Stenham
A Royal Court production
Duke of York's Theatre
(2008)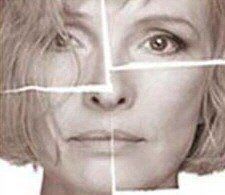 The dream just goes on and on for Polly Stenham. Most people would regard having a play produced professionally when they are 20 as pretty sensational. Miss Stenham went on to win three major awards with That Face and before its West End transfer has even opened, she is adapting it into a feature film.
On first viewing at the Royal Court Theatre Upstairs, played in the round in a gloriously grungy setting designed by Mike Britton, the play demonstrated great promise in an atmosphere where both critics and audiences are inclined to be generous.
Now, over a year on, the play hits the West End in a cool, stylish production with the same underlying design principle but an ethic that could hardly be more different. The story, though, is very much the same, reeking of autobiography with well-delineated characters clearly drawn directly from life.
Indeed, on the basis that those portrayed were probably all present, one wonders what some of these odious, self-indulgent, rich folk made of seeing themselves recreated on stage in front of an opening night audience that, as well as stars from TV's Skins, contained the likes of David Tennant, Roger Lloyd Pack and Simon Gray, not to mention a team of wildly cheering Stenham groupies.
If Philip Larkin ever needed a play to embody his most famous line, "They f*** you up, your mum and dad", this is it. They may live continents apart but Lindsay Duncan's Martha, every bit as drunkenly vituperative as Edward Albee's earlier model, and self-centred Hugh (a slimy-smooth Julian Wadham) have jointly left 18-year-old Henry and 15-year-old Mia in a terrible state.
There is a danger in reviewing a play for a second time of repeating oneself but in this case, there is no other analogy for the early scenes than a modernised female version of Tom Brown's Schooldays. In a gruesomely realistic initiation ceremony, Mia is led on by her own personal Flashwoman, Catherine Steadman's Izzy, to torture a new girl. What starts off as fun (at least in the fetid minds of the older girls) ends up in hospital, with the youngster battered, bruised and probably traumatised for life.
While this might seem outlandish, Mia (played by Cassie from Skins, Hannah Murray) faces a home life that is almost worse. Martha is somewhere beyond merely having a drink problem and has created an unhealthy relationship with young Henry, flirting with incest.
Having given up school to look after her, Henry is protective but hardly more than a child in many ways himself and completely unable to handle a self-loathing woman who has already spent time in an asylum.
Mia's misdemeanours bring daddy charging back from Hong Kong, in his own eyes a knight in shining armour, but in those of the family a bit of a plonker. He at least has potential solutions, all of which stem from his ability, if not willingness, to fling money around.
The 90 minute drama builds to an explosive conclusion in which a cross-dressed Henry lets go in every sense of the word, Matt Smith delivering an epic monologue of madness, although he is not the one destined for sectioning.
Polly Stenham's strength is in creating convincing characters, more immoral than amoral, and then putting authentic dialogue into their mouths. It has to be said, that her stage alter ego, Mia, gets a relatively easy ride compared to everybody else on show and even at her worst tends to be seen through rose-tinted glasses.
You would really not want to meet any of the other characters, from slinky, jailbait Izzy through inadequate Henry to either member of the older generation.
Mike Britton alternates between a bedroom that becomes increasingly Tracey Emin-influenced as the night goes on and other simpler creations until the whole space is as horrible a mess as the family that occupy it.
Lindsay Duncan and Matt Smith once again present unforgettable performances, while Catherine Steadman reprises her witty and incredibly assured cameo from first time around. Hannah Murray, who has been drafted in to add glamour to the West End production is not yet a great stage presence, but since she's only 18, has a lot of time to develop.
That Face is an entertaining and sometimes terrifying drama that shows us a rich family behaving badly. Whether this is something that we will all want to see may be open to question but the perspective given by any playwright who was not even 20 when she wrote this debut, is refreshing and unusual.
While her canvas is very limited and Jeremy Herrin's production might now be almost a little too polished for such a raw subject, Polly Stenham may just have a West End hit on her hands - provided that her own generation can afford the ticket prices.
Visit our sponsor 1st 4 London Theatre to book tickets for That Face.
Reviewer: Philip Fisher