The Actor's Career Bible
Rob Ostlere
Methuen Drama
Released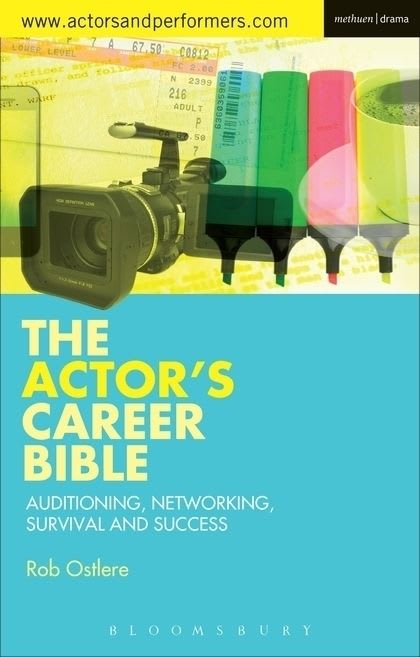 The latest volume in the Methuen Drama actors and performers series may come as a bit of a shock to its target audience.
The Actor's Career Bible is designed to help those about to commence their careers. Rather than focusing on the reason that they want to do the job i.e. the excitement of acting before an audience or camera with every prospect of fame and fortune, Rob Ostlere has chosen to concentrate on the business side of the industry.
Little girls and boys who boldly tell their parents that they are going to be actors generally imagine that this will entail singing the lead in West End musicals, playing the foil to Sir Ian McKellen or Dame Judi Dench on a Shaftesbury Avenue stage or appearing in the latest Marvel movie or blockbuster TV series from HBO.
It could be argued that any mum and dad receiving this message from their much-cherished 10-year-old could do worse than force-feed the little darlings this book until they reach the age of majority.
They will learn about show business at the sharp end. We all know the maxim that 95% of actors are unemployed at any time but aspiring performers will almost certainly believe that they are going to be part of the 5%. As this book observes, even the best and most successful actors have periods when they are "resting".
The only work that most newcomers to the profession are likely to do for more than a few weeks during the first year or two is either unpaid or in a bar / café / call centre.
Rather than speaking from his own personal experience, the author has drawn on the opinions of 75 people drawn from casting directors, agents, producers, directors, industry experts and a range of experienced and successful actors.
He liberally garnishes the book with soundbites from these wily experts, building up a good picture of what the acting profession is really like for newcomers and how they can help to combat life's knocks.
The book covers every mundane aspect of the profession from building a profile through the ways in which actors can put themselves in a position to find work, with particular concentration on the need to find an agent who will cherish and care for you. There is also a section on auditions, as well as that modern equivalent, self-taping.
The last two chapters fall into the necessary evil category. The first of these tries to put a positive spin on unemployment, while the last chapter attempts to explain how the tax system operates for actors. Readers are strongly urged to take that section with a pinch of salt, since some of the guidance might well not pass muster with HM Revenue and Customs.
Should you or a loved one be about to start out in the acting profession, there will be much to learn from this handy guide. As suggested, if you want to take the stars out of a youngster's eyes and help them to make a safer career choice or as a bare minimum understand what lies ahead, the £19.99 cover price might be a good investment. At the very least they will be forearmed when they start out on the path to Shaftesbury Avenue and Marvel.
Reviewer: Philip Fisher