The Adventures of Robin Hood
Neil Armstrong and Paul Hartley
Gala Theatre
Gala Theatre, Durham
–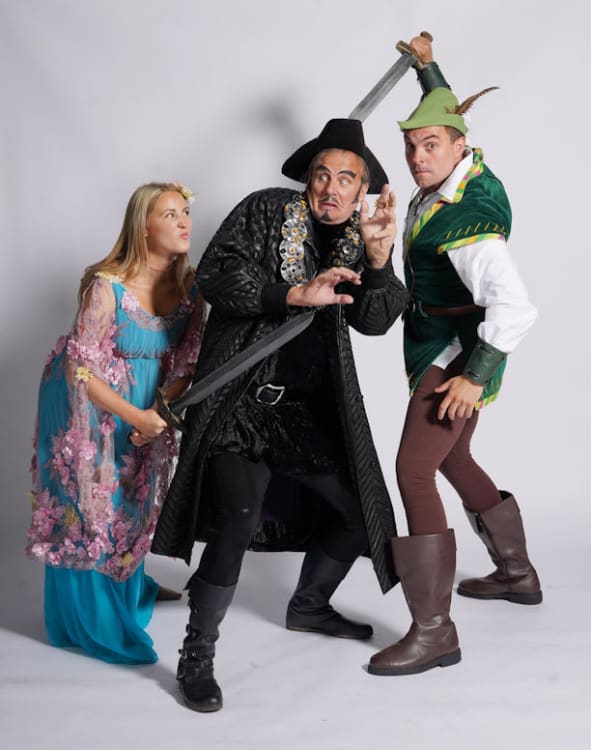 Panto is a mixture of so many things: jokes, slapstick, sight gags, romance, music, dance, outrageous characters, magical characters (the "Immortals"), traditional scenes (including a flexible but basic format), local references (to people and places), constant interaction with the audience, and narrative. The story is important; it's traditional, known to and loved by the audience and whilst you may tweak it, you mess with it at your peril.
The important thing is that all these ingredients have to be in balance; give one too much importance and the show becomes something else, something not quite panto. Usually it's the music that is given too much weight—the first act in the Gala's 2007 Sleeping Beauty was almost an opera!
The Adventures of Robin Hood, whilst it has all the necessary ingredients, has a slightly unbalanced feel. There's an emphasis on progressing the narrative which tends to cut short some of the other aspects. There's still plenty of comedy but some traditional scenes (the slosh scene, for example) were really quite short, or even not there at all, and the audience never really got the chance to reach a peak of screaming in the "Oh yes it is / Oh no it isn't" sequences. At one point, there a palpable sense of disappointment when they were cut off in their prime.
What seems particularly strange is that the central character, the one who is most visible and who seems to spend the most time talking to the audience, is not the Comic (Paul Hartley as Will Scarlett) nor the Dame (Paul Dunn as Dame Gertie Gossip) who fulfil, usually jointly, those roles, but the Villain, in this case Neil Armstrong as the Sheriff of Nottingham. I'm all for taking an off-the-wall approach, something the Gala has been doing consistently well since Armstrong and Hartley's first show as co-writers and co-directors, Cinderella in 2014, but this does seem a step too far.
Please don't misunderstand me; I am not criticising the performers in any way at all. They were, without exception, great. From the moment he shouted his catchphrase "Hello-A!" on his first appearance, Paul Hartley was really loved by the audience and the screams of delight from the first few rows (adults as well as kids) as he fired his water gun indiscriminately into the auditorium were a real joy.
Every year, the audience really love to hate Neil Armstrong's villain, and this year even more so as he sneakily contrived to win every "Oh yes it is!" exchange. I don't intend to spoil the surprise but it really was very, very sneaky and far nastier than threatening to melt all the interval ice creams!
Paul Dunn's Dame was everything a Dame should be, and the two comic supports, Kylie Ann Ford as Friar Tuck and Lauren Waine as Dennis of Dawdon, both of whom are returning to the Gala panto, provide many laughs. Jacob Anderton as Robin Hood, returning for his second Gala panto, makes a great thigh-slapper of a Principal Boy and new to the Gala is Millie Binks as Maid Marian—beautiful, sweet, a good singer and dancer; no one could ask for a better Principal Girl.
Four talented professional dancers not only dance but play numerous roles alongside what the programme calls Senior Young Performers who more than held their own beside their pro counterparts. And yet again, five young performers (presumable Junior rather than Senior) show just how good children can be as actors when given the chance. They were terrific!
From choreography to set design, from lighting to music, everything was smooth and effective, except for some scene changes where the audience was left looking at a blacked out stage for what seemed like a long time. But this, of course, will probably change as the show beds in.
Reviewer: Peter Lathan