The Amen Corner
James Baldwin
Olivier Theatre (National)
–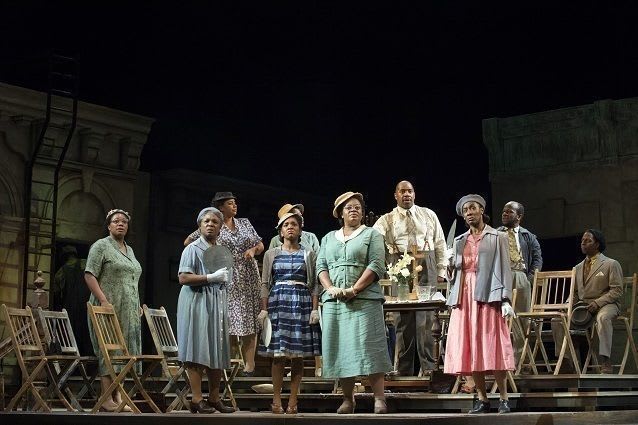 Whether you devote your life to praising the Lord or the pleasures of sinning, Rufus Norris's lavish revival of a 50-year-old classic, penned by James Baldwin who is better known as a novelist, will prove to be a pleasure.
The Amen Corner follows the pains and joys of Sister Margaret, a Harlem pastor who has walked out on family life to devote herself to her congregation.
As we learn during a joyous, happy clappy gospel opening, the little lady is a powerful preacher, who does her best to persuade parishioners that their lives are rich, even when they aren't. What we only learn later is how much she has sacrificed for her vocation.
Margaret's faith seems insuperable, as is her personality, such that the church elders follow and support her mission, while the locals flock in to sing, dance and pray, much to the enjoyment of the Olivier audience.
Trouble is brewing in many quarters, which turns what initially seems like a witty portrait of church life into something much more profound.
First, led by imperturbable Sister Moore, played with gleeful mischief by Cecilia Noble, the church elders are planning a coup, with the kind of military precision that sometimes only the haphazard can manage.
Next, Eric Kofi Abrefa as the Pastor's 18-year-old son David, is desperate to fly the coop and live, seeking to become a musician like his drunken daddy and sin for all that he is worth.
Finally, Maggie's irreverent husband Luke, whom she hasn't seen in a decade, returns to make his peace prior to an early death.
Lucian Msamati provides a well-balanced performance as the professional musician who makes the lady reconsider her values and religion, through his strength of character and belief in the power of happiness as an alternative to religion. As a result, most will believe that the protagonist comes out of the play better and stronger for the experience.
In the leading role, Marianne Jean-Baptiste shines in the role of a feisty declaimer, whose faith covers her own uncertainties, receiving worthy support from her selfless sister, Sharon D Clarke's Odessa.
While a strong story and purposeful acting are the mainstays of the evening, what takes the experience to much greater heights, belying the Travelex £12 badging, are the setting and music.
Designer Ian McNeil has created a multi-layered set that primarily represents an elevated church and Margaret's basement apartment adorned by a brand-new Frigidaire, 1950s Harlem's equivalent to a 50-inch 3D TV today, with the windows of crumbling tenements acting as backdrops.
Although The Amen Corner is not a musical, thanks to a jazzy trio, careful casting of actors, all of whom sing powerfully, and the contribution of The London Gospel Community Choir under the leadership of the Reverend Bazil Meade the song and dance becomes an integral part of the evening, ensuring that the 2½ hours are a constant, varied delight.
Reviewer: Philip Fisher