The Antipodes
Annie Baker
National Theatre
Dorfman Theatre (National Theatre)
–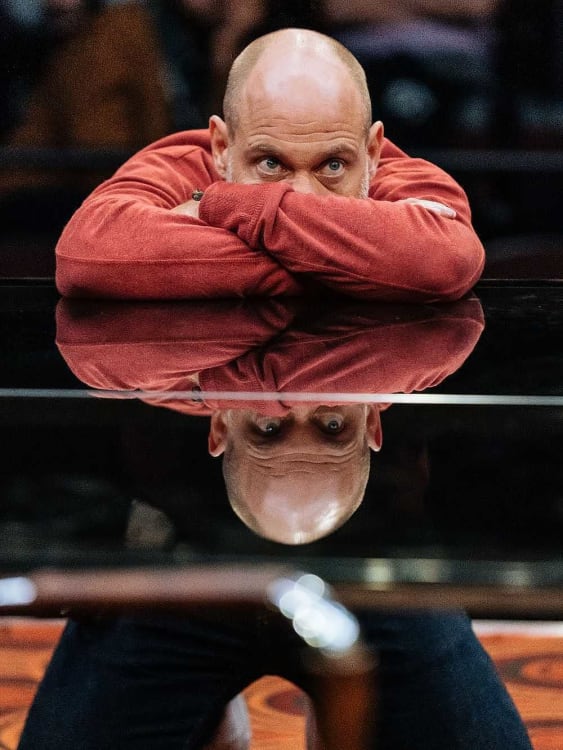 Annie Baker is currently theatre's arch miniaturist. At first sight, her plays tend to consist of little more than an opportunity to observe ordinary people going about mundane activities.
However, there is much more going on beneath the surface of her existentialist meditations, which make trenchant observations about the nature of American society today but also speak to a global audience.
The Antipodes has less in common with her recent plays seen at the National and harks back to an earlier piece Circle Mirror Transformation, which used game- and role-playing as a starting point.
The two hour-long production, co-directed by the playwright and her designer Chloe Lamford, takes place in a large office boardroom with its own distinctive style. On a 1970s style orange and red carpet garnished with geometrical shapes sit not only a Perrier mountain but also a stylish, Zeppelin-shaped glass and metal table and nine chairs, although there are never more than eight people seated.
In the chair is Conleth Hill's passive-aggressive Sandy, seemingly a benign, democratic leader, although this becomes more debatable as the two hour-long evening develops.
At first, his attempts to draw out youthful indiscretions from an Anglo-American team comprising six men and a token woman Eleanor, played by Sinéad Matthews, Mike be a brainstorming session at an advertising company or the attempted inception of a blockbuster movie.
Before exploring that, it is worth observing that women know their place in this microcosm of society. The only other female is a selfless, put-upon PA portrayed by Imogen Doel, whose main duties appear to be ordering in food and changing costume.
With the exception of the man at its head, each of the participants is expected to bare his or her sole, their sex lives and past problems although we never definitively determine the nature of "the work" that Sandy is hoping to develop.
In part, this is because, under pressure from unseen superiors who are instrumental in creating the evening's comic highpoint, a symbolically uncommunicative VR videoconference, he also has to tend to an ailing wife (possibly fictional). As a result, Sandy's appearances diminish at the same time as his workers move into 24/7 mode.
Some fall by the wayside, others such as old stagers Dave and Danny M1, respectively played by Arthur Darvill and Matt Bardock, assert a degree of control on the way to an inevitable conclusion.
However, it is the journey, divided by charmingly eccentric scene breaks, rather than the end point that interests Annie Baker.
In this case, creation and monster stories begin to dominate in what might be an effort to determine not only what makes each individual tick but also the ways in which humans interact today, and how this has been honed in various distant, Antipodean communities through history.
This is not a playwright who will give any pleasure to lovers of high action dramas. Instead, Annie Baker is a contemplative and challenging playwright who gives viewers an opportunity to explore the minutiae of life in great detail.
Reviewer: Philip Fisher