The Arabian Nights
Mary Zimmerman, adapted from the Book of the Thousand Nights and One Night
Tricycle Theatre, London
–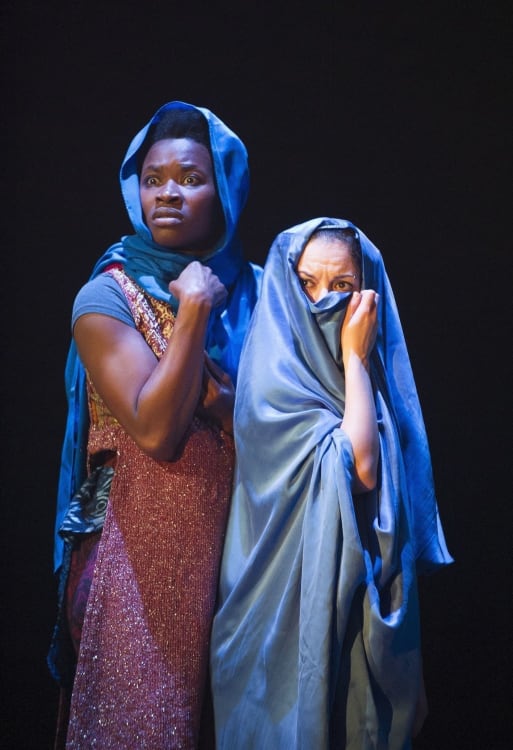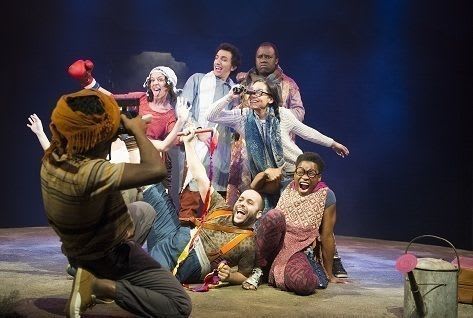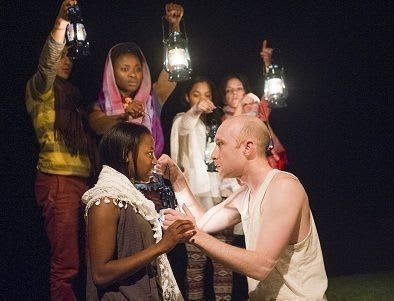 The Arabian Nights is almost as magical as the stories that it contains. The book seems to be infinitely adaptable with every version capable of throwing up tales that one has never previously come across.
Adventurous American playwright Mary Zimmerman, who set her Metamorphoses in a swimming pool, has achieved that during a two-hour presentation, which seems almost gratuitously multicultural and multinational.
Strangely, if there is a thread running through, it is a connection to Scotland where director Lu Kemp has had some of her finest moments.
Her 11-strong cast have roots in almost as many countries, while the original music has been composed by Take It Easy Hospital, an Iranian indie band.
The stories start out simply enough on a circular playing space, perhaps designed by Ben Stones to symbolise the global connotations of both the production and casting.
Here, Adura Onashile as Scheherazade and her little sister Dunyazade played by Tahirah Sharif are confronted by Sandy Grierson as the regal serial philanderer, Shahryar.
As everybody in the audience is likely to know, unless our heroine can do something very quickly, she faces losing virginity and her life to the murderous misogynist in a single night.
The ingenious weaver of tall tales comes up with the perfect solution in the form of a never-ending cycle of stories that always leave Shahryar keen to hear more and keep Scheherazade's funeral shroud unused for another night.
With the assistance of a multitalented ensemble, who are as good with the physical elements of the production under Ann Yee's choreography as the verbal, she charms both her potential murderer and the audience with a stream of morality tales.
They don't come much better than the opener, which sees Jonathan Bonnici in the role of a shy Madman, betrothed to a monster who escapes through the remarkable ingenuity of his lady love—and a borrowed dancing family.
The rest of the evening includes a Royal Jester, a seemingly shy but actually lewd wife, dream travel and tall tales told over a lost then disputed bag, not to mention inconstant Aziz who missed his own wedding while chasing after a new beauty.
Everyone will have their favourites but for this critic, the inevitably funny story about Abu Al Hasan's famous flatulence competes with the majesty of Sympathy the Learned for top billing.
As a family treat, with a little more depth and integrity than the local B-list celebrity panto, this version of The Arabian Nights has a great deal to offer.
Reviewer: Philip Fisher