The Art of the Artistic Director
Christopher Haydon
Methuen Drama
Released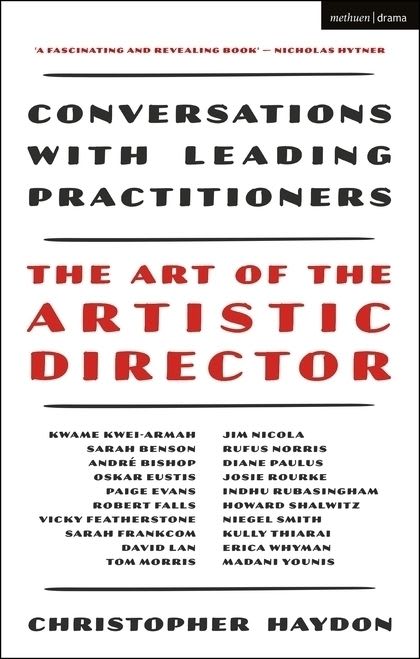 As the former Artistic Director of London's Gate Theatre notes in his introduction, while there are innumerable books about actors, playwrights and directors, there are surprisingly few looking into the role of artistic director.
In particular, Christopher Haydon recognises that, while it is possible to find biographies of leaders of the profession, there is almost nothing available exploring the day-to-day roles of the next tier down.
Given his own interests and experience, Haydon restricts the scope of this 186-page offering from Methuen Drama to those who run physical theatres which major in new writing. While this decision might be arbitrary and somewhat limiting, it helps to provide focus.
The book consists of 20 interviews with the great and the good, divided almost equally between British and Americans, with a couple of crossovers.
The format is deliberately formulaic, with roughly the same questions asked of each, although pleasingly the answers are extremely diverse. Perhaps predictably, for the most part, those interviewed, who are probably representative of the brand today, favour adventurous and offbeat work that deliberately challenges audiences, for better or worse.
The underlying ethos of each interviewee provides one of the most fascinating strands of this book, since some appear to take as a starting point the creative players, directors or writers for the most part, while others believe that audiences are paramount, though not necessarily going out of their way to pander to them.
The list of contributors is very impressive. Part of the attraction is an opportunity to discover who those involved regard as leading role models, with the winners coming out as David Lan, recently retired after almost two decades in control at the Young Vic triumphing on this side of the Atlantic and The Public Theatre's Oskar Eustis garnering most praise from his American peers but also some of the Brits. Although he does not contribute, it is worth noting that Sir Nicholas Hytner clearly made a strong and very positive impression on almost everybody with whom he or his work came into contact.
This is a wide-ranging and ambitious project, including interviews with directors from London and New York but also the regions in both countries. This means that, say, Rufus Norris and Josie Rourke are rubbing shoulders with Sarah Frankcom (from Manchester Royal Exchange) and Erika Whyman (currently RSC), while André Bishop from Lincoln Center Theater and Paige Evans at Signature compare notes with colleagues such as Diane Paulus of ART at Harvard University and Robert Falls at the Goodman in Chicago.
While readers may not learn as much as they would from a manual about techniques utilised by the best artistic directors, by reading all 20 interviews, they will discover much about what makes these people tick and the ways in which they work.
In particular, Christopher Haydon has gone out of his way to examine the difficulties presented by lack of diversity and centuries of domination of these roles by middle-aged, middle-class white men.
This series of "conversations with leading practitioners" would be an ideal book for anyone wondering about whether they or perhaps friends and family might pursue a career of this type. In addition, general readers will lap up anecdotes from the working lives of those who have given them so much pleasure of the years, although a £21.99 cover price may prove a touch discouraging.
Reviewer: Philip Fisher