The Artificial Nature Project
Mette Ingvartsen
Sadler's Wells Northern Light Season
Platform Theatre at Central Saint Martins
–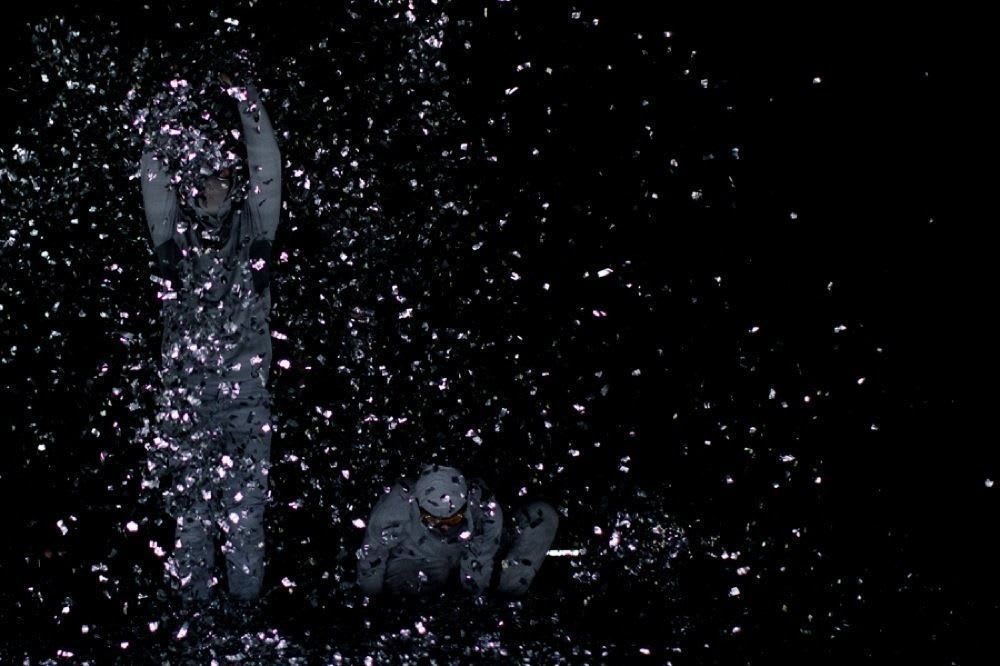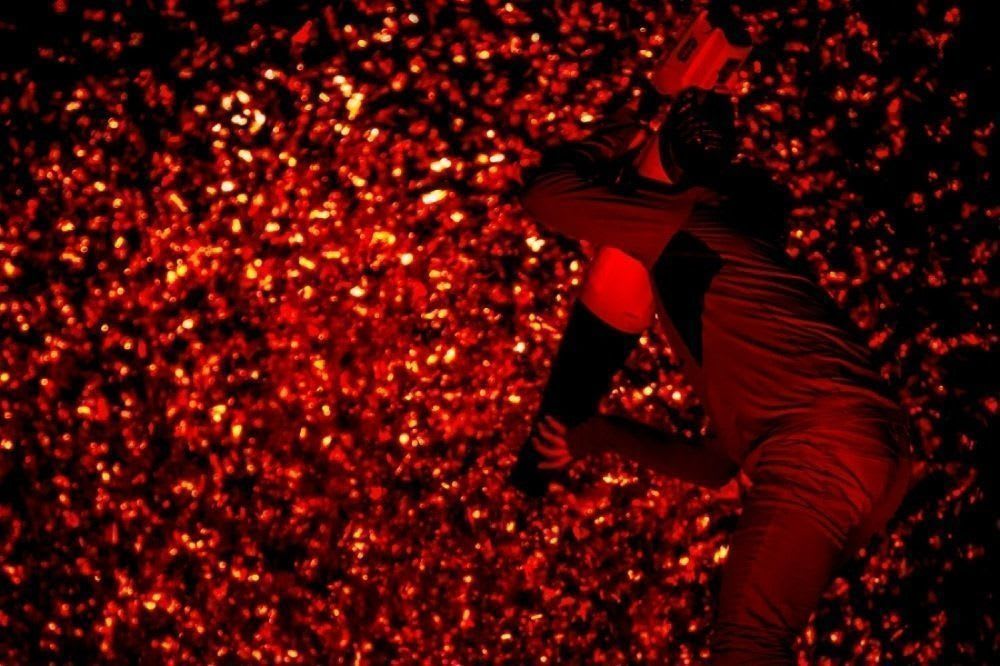 Part of The Northern Light Season, Mette Ingvartsen's The Artificial Nature Project plays in the right venue, University of the Arts Central Saint Martins School of Art, for it is more performance art installation than dance piece. It may be choreographed but the only things that dance are silver foil chips.
A black studio space, minimal lighting, seven mysterious workers, in hooded tracksuits, half masks, protective glasses and later ear defenders, work diligently like Morlocks on the coalface.
Fireflies dance in the flickering light, low level ambient sound—a mesmerising, soothing and beautiful sight. Hypnotised we watch and watch and watch.
I am reminded of Yayoi Kusama's work, the conceptual art of Félix González-Torres and Scott Fitzgerald's Valley of Ashes in The Great Gatsby.
Minna Tiikainen's lighting is integral to this piece about the inanimate world made animate. Choreography of shifting topography. Dancing debris.
The light lifts a little. Figures on a lunar landscape, molten lava flows and spills into hills and craters. Children playing in black sand. In black water. Spumes in the air. Shovelling black snow. Sorcerer's apprentices.
The light changes to red, and a bonfire blazes against the black sky. What do we see when we stare into flames? Seventy minutes of looking, the mind wanders, stream of consciousness flows.
Leaf blowers are introduced. The flames rise. Four blowers trained on one spot. Reflector boards turn into snowploughs. Large leaves of foil come into play. Blow in the wind. Noise pollution—as if we Londoners need more of that. No ear protectors for us.
Bits coat the black walls, the silver and gold sheets dance at the end of seven blowers. Andy Warhol's Silver Clouds appropriated by Merce Cunningham for his RainForest...
Remember that plastic bag caught on the wind in American Beauty… Marginally more captivating than watching paint dry... Or watching Roger Hiorn's copper sulphate crystals grow...
Reviewer: Vera Liber