The Bad Seed
Maxwell Anderson from the novel by William March
OutFox Productions
The Jack Studio Theatre
–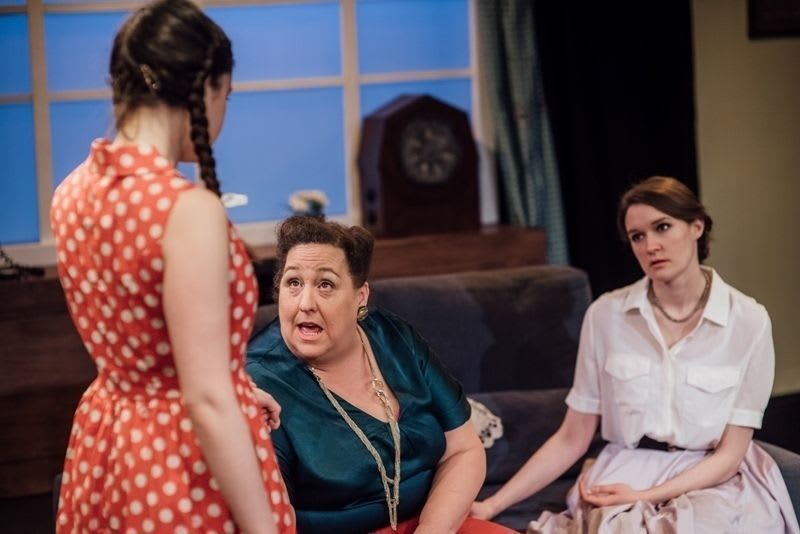 The 1954 play The Bad Seed, whilst showing its age, remains an effective thriller, and the current revival from OutFox Productions at the Jack Studio Theatre has the audience perceptibly surprised by the story's final twist.
The plot of The Bad Seed comes from the novel by William March which was adapted for the stage (and then for film) by American screenwriter and playwright Maxwell Anderson.
This chiller nearly earned Anderson a second Pulitzer Prize—his first was for political corruption drama Both Your Houses—The Bad Seed making it as a far as the shortlist.
The story revolves around Rhoda Penmark who presents as a perfect eight-year-old but who, underneath her sweeter-than-apple-pie exterior, harbours the mind of a sociopath, taking the cruelty we all know children are capable of to an inconceivable, diabolic extreme.
Her mother, Christine, is left to raise the child largely on her own as father Kenneth is often away on business, though Christine does have the support of her affectionate, childless landlady Monica Breedlove, who fancies herself as something of a psychoanalyst.
Christine has increasing suspicions about Rhoda's involvement in the fatalities that occur in her vicinity and things come to a head when Claude Daigle, Rhoda's classmate who won the school penmanship award that she coveted, dies in mysterious circumstances at the school picnic.
As Christine deals with the harsh realities of her daughter's behaviour, torn between a mother's love and her principles, she uncovers the truth about her own past that goes on to inform her handling of the situation.
Monica's unflappable mothering of Christine highlights the contrast between these two women: one breezing through life, doting over the manipulative Rhoda, blind to her faults, the other unable to deny Rhoda's guilt, overwrought and driven to take desperate action.
The Bad Seed is a carefully written piece that builds tension with precision and enumerates its characters' beliefs clearly, if by our standards a little naïvely.
Anderson was concerned with the social issues of his day, and it is the play's deliberations on the now well–rehearsed nature versus nurture conflict and the characters' interest in psychoanalysis that puts it firmly in the '50s.
If you can put that (and one or two strange American accents) aside, the play has the capacity to be gripping and increasingly unsettling.
Rebecca Rayne gives a striking performance as eight-year-old Rhoda, one moment cutesy and the next vile, and Jessica Hawksley brings an energy to every scene she is in as Monica, the warm-hearted, larger-than-life landlady.
In this suspenseful and atmospheric production, director John Fricker doesn't rush the action and, although the second act gets a little bogged down by the arguments, the final payoff is worth the wait.
Reviewer: Sandra Giorgetti