The Bards of Bromley and Other Plays
Perry Pontac
Oberon Books
(2013)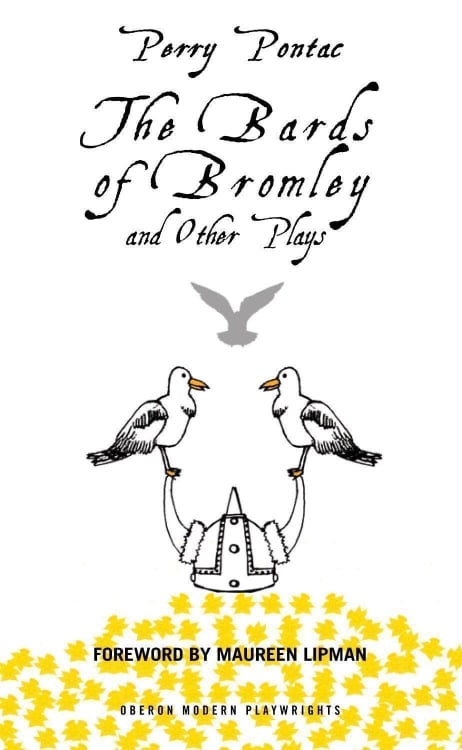 Perry Pontac is a master imposter who delights in parodying the theatrical greats. His Codpieces took apart Shakespeare and put him back together with great comic effect. The three pieces in this book are similarly effective, drawing on and lampooning a wider range of sources.
The Three Seagulls
Filled with patronymics and ineffable yearning, The Three Seagulls is a delightful pastiche of Anton Chekhov.
Rather than choosing a single play, Perry Pontac has ranged much more widely. He combines Uncle Vanya's Dr Astrov with Olga from The Three Sisters, Madame Arkadina from The Seagull as well as Trofimov and Firs of The Cherry Orchard fame. Somehow, they all get on like a somewhat lugubrious house on fire.
The strange thing is that while this short piece is clearly written as a comedy, it also manages to capture much of the melancholic air of Chekhovian Russia over a century ago.
Along the way to inevitable departure, there is a deep longing for Moscow, unhappiness in love, a discharged pistol and land sale.
All in all, the full canon is somehow encapsulated in no more than 25 pages.
The Lunchtime of the Gods
The Lunchtime of the Gods arguably has even greater ambition. What starts as a lunchtime conversation between a German man and woman soon develops into something far more dramatic.
They are negotiating over the possession of a ring. In doing so, they reveal much about both its history and prospective future.
Readers, or to be more accurate listeners since this is a radio play, then somehow find themselves sucked into a whistle-stop tour through the plot of Wagner's Ring Cycle.
This is a remarkable achievement and, arguably, rather than spending days and days at Bayreuth, readers could get the gist in an enjoyable half-hour. All that they will miss out on is the majesty of the music and operatic performances.
The Bards of Bromley
The last piece in the book brings together a heavyweight quintet of writers all at the exactly the same stage of their careers.
They are attending a class run by a prosaic lady in which they get to pick each other's brains with a view to getting their unpublished works into print at long last.
This is a rum selection with jaunty AA Milne immediately communing with Wordsworth but hardly hitting it off with the much grimmer Goethe and Strindberg (who gets a very bad deal at the hands of Mr Pontac), while George Eliot for no very good reason finds the Swede great company on first meeting.
Somehow, Perry Pontac manages to convey much of the character and literary inclinations of each of these writers in this short radio play, which when broadcast in 2004, had a cast that included Julia McKenzie, Timothy West and Paul Rhys.
The Bards of Bromley and Other Plays is not only a good read but gently educational and is strongly recommended for anyone who likes their heroes to be debunked and admired simultaneously.
Reviewer: Philip Fisher