The Barrier
Sally Llewellyn
Earwig Arts
Park Theatre
–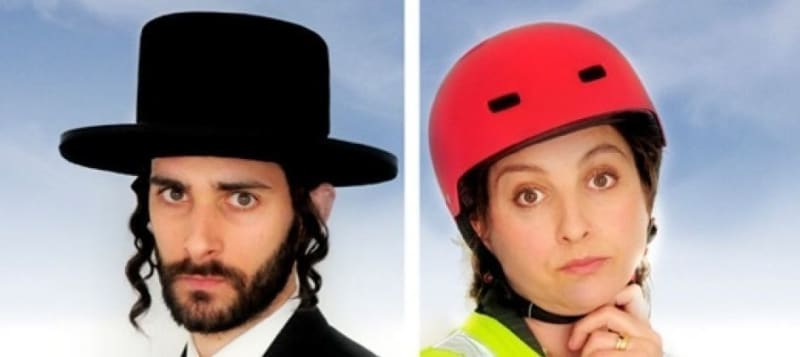 Sally Llewellyn could not have wished for a more appropriate theatre in which to stage the world première of The Barrier than the Park.

Not only does the 90-seat studio space allow the audience to believe that they are practically occupying the homes and environs of the two families portrayed but the drama is set in Stamford Hill, only just up the road from London's newest theatre.

For those in the know, this is an area occupied by Hasidic Jews, the men characterised by black clothing, fur hats and oversized beards while their wives are typically bewigged and pregnant.

This pretty much describes Shalev and Malka, both in their 20s and respectively played by Toby Liszt and Dominique Gerrard.

Although this kind of community can seem rather like a ghetto even in the 21st century, for some reason a practising doctor, Jack Pierce's Sam, and his mature student wife, Antonia Davies as Cas, are the next-door neighbours, enjoying the kind of comfort that those trying to feed the familial multitudes that are de rigueur in their circle can only dream about.

The situation that fuels this comedy arises when Shalev discovers that the security lights next door are tripped every time he passes. This deeply offends his religious sensibilities, since turning on lights on the Sabbath, even accidentally, is a sin.

His initial request falls on deaf ears, leading to the creation of the titular six-foot high obstruction. Inevitably, the neighbours are not happy and relations become fraught.

While all of this is going on, there seems a danger that, despite the pacific parental presence of Tessa Wood's hippyish Roxy and Jeremy Bennett playing Harry, the non-committally Christian couple might just go overboard and sink into the kind of racism demonstrated by the local drunkard with the hand-carved swastika tattoo.

In fact, while there is comedy during the 1¾ hours, the writer at least makes an attempt to assist viewers to gain an understanding of the respective lives led by her representative Hasidic Jews.

Too often the solutions that drive the plot tend to be overly convenient, especially when the women on either side of the divide have almost identical nervous breakdowns simultaneously.

Even so, they achieve a kind of empathy that had never seemed likely but is nonetheless credible.

As a result, with Antonia Davies in the lead under the direction of Kirrie Wratten for Earwig Arts, there is a reasonable amount of food for thought and the expectation that those visiting the Park will have a better understanding of their exotic neighbours by the end of the play than they did at the start.
Reviewer: Philip Fisher