The Beauty Queen of Leenane
Martin McDonagh
Druid Theatre
BAM Harvey Theatre, Brooklyn, New York
–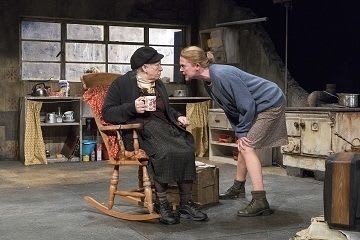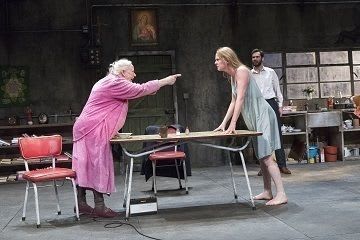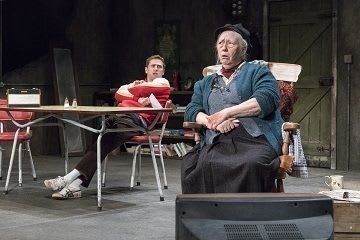 When Martin McDonagh's breakthrough play appeared, there seemed no doubt that the incredibly young Londoner had written an instant classic.
He was helped immeasurably by a perfect production directed by Garry Hynes for Druid of Galway. Twenty years on, striving for continuity, Miss Hynes has created a new version that is almost equally intoxicating and has toured Ireland before coming to the United States.
The continuity is apparent since Marie Mullen playing Mag created the part of her daughter Maureen first time around, while that role is played by Aisling O'Sullivan, who was once Slippy Helen alongside Miss Mullen in the original production of The Cripple of Inishmaan.
This pair dominates a poignant and at times bitterly funny 2½-hour journey to Connemara a couple of decades ago, although so little changes there that, with very little alteration, we could be watching a drama set 100 years ago or today.
Francis O'Connor's design for the kitchen/living room of the Folans' home has been stretched to fill BAM Harvey's wide stage, which dilutes the sense of claustrophobia that is a necessary contributory factor to such an intense piece.
In a chair sits tyrannical Mag, ordering her 40-year-old daughter around like the lowest of skivvies. Immediately, one begins to identify with Maureen and her little revenges. If mother likes moaning, then let her have some lumpy Complan to whine about. The old lady's largely hypochondriac health concerns and sanitary standards add to the issues that drive constant bickering, which moves between affection and what looks a little like momentary hatred.
After decades in each other's pockets, the rest of the family long gone, they hardly need to speak and there seems little expectation of change.
However, the arrival of Aaron Monaghan's young Raymond Dooley with news promises hope to Maureen, but also in time reveals a dark secret. The beautifully drawn young comedian carries an invitation from his brother Pato to a party sending a relative back to America. This immediately plays on one of the evening's major themes, the need for locals to emigrate if they wish to begin real life or make a living. Indeed, Pato himself works in London.
This catalyst changes Maureen's outlook bringing thoughts of love, as she meets and brings home Marty Rea playing shy but earnest Pato. He presents an opportunity to lose her virginity and perhaps even escape Mother forever.
The remainder of the plot requires a series of letters, Rea peaking after the interval with a heartfelt but very funny epistle from London that sparks a sombre denouement, which says a great deal about the various characters and even more about existence in this benighted corner of Europe.
The nature of the ending tempers the good humour of earlier exchanges and will leave viewers in a state of shock while thinking about mothers and daughters, love and probably thanking their lucky stars that they were not born anywhere near to Connemara.
Perhaps Martin McDonagh's finest achievement, even beyond a Londoner re-creating a rural Irish milieu to perfection, is his latent ability to balance sympathies between the two leading characters. Only David Mamet in Oleanna has ever had this critic's bias change so often in the span of a single play.
If this anniversary tour of The Beauty Queen of Leenane is stopping anywhere within reach, do not miss out on a chance to enjoy a slice of recent theatre history and the chance to witness Marie Mullen and Aisling O'Sullivan delivering performances to die for.
Reviewer: Philip Fisher