The Beaux' Stratagem
George Farquhar
Olivier Theatre (National)
From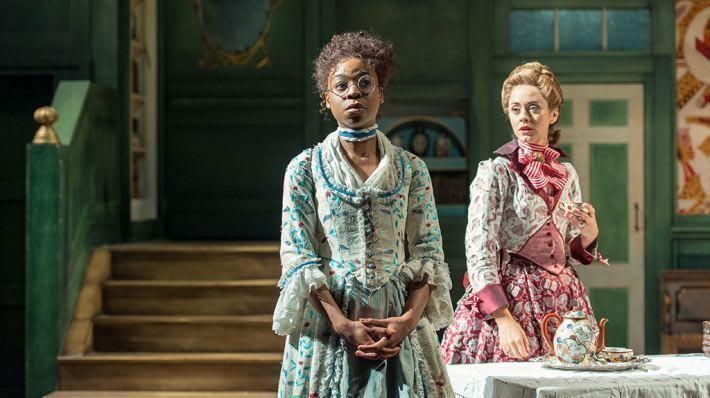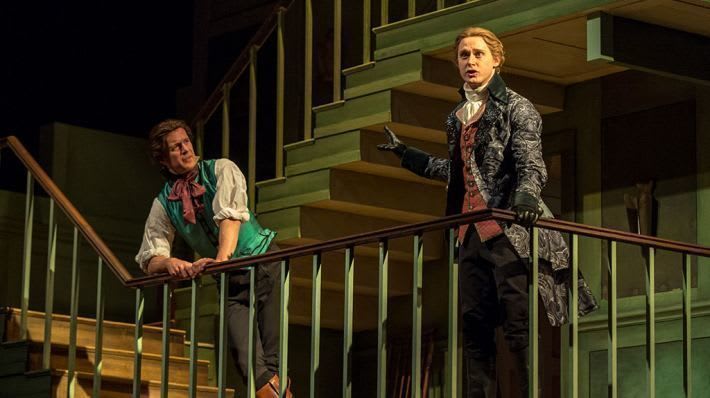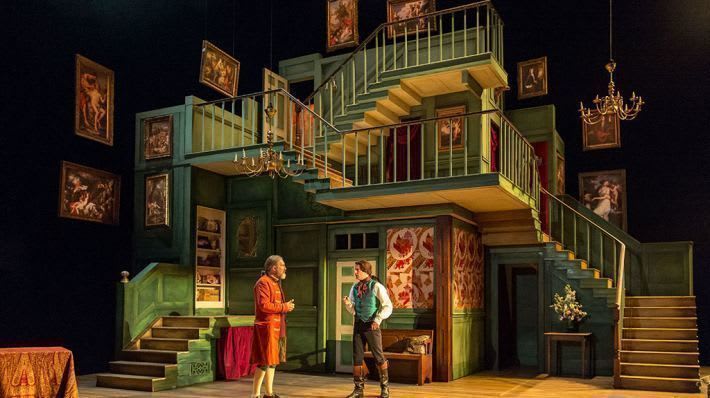 It may have been written over 300 years ago but The Beaux' Stratagem is still extremely funny and has much to say to viewers today.
Whilst it is a sometimes farcical exploration of love and lust, Farquhar's classic Restoration Comedy almost makes telling points about two topics still very much in favour today, capitalism and feminism.
It all starts at the ramshackle Lichfield inn run by Lloyd Hutchinson's Boniface, a rough and ready character who moonlights as a fence to highwaymen, and his honest daughter Cherry, played with a wry twinkle by Amy Morgan.
Already inhabited by a rum group of lodgers including French prisoners of war and a dubious priest, the hostelry is enlivened by the arrival of two handsome men from London, a master and his well-spoken servant.
By now, viewers will already have begun to wonder whether everything is as it seems and, during 2¾ hours of often raucous knockabout humour, multiple subterfuges are revealed to fuel a well-paced and eventually satisfying plot.
Samuel Barnett and Geoffrey Streatfeild are both excellent as the happy-go-lucky visitors from the big city, eager to replenish their dwindling funds by hooking a wealthy wife or two.
Innocent Dorinda, given appropriate gaucheness by Pippa Bennett-Warner, is certainly a prospective catch, while Susannah Fielding is outstanding as her unhappily married sister-in-law Mrs Sullen.
The latter is tied to a self-confessed sot whose interest in drink and dissolute behaviour far exceeds devotion to his dear wife.
She, in turn, is not above intrigue both to amuse herself and potentially attract his attention.
These ingredients are boiled up into a mass of complicated situations involving the standard plotlines of mistaken identity, guilty intent and mischievous playfulness.
The evening builds to a wonderful finale that combines a large dose of morality with an element of logic and more of wish fulfilment.
The London theatre is getting to the point where it should be hard to find actors willing to play opposite Pearce Quigley, on this occasion cast as Scrub, the hapless servant to drunken Mr Sullen. With his slow speech and deadpan demeanour, the actor upstages anyone within range, generating hilarity with even the dullest lines.
Pleasingly, Simon Godwin's production, enhanced by Michael Bruce's lively music and colourful costumes, is so well-balanced that spectators will come away remembering far more than merely a funny servant.
The combination of good plotting, some very funny lines and excellent performances from all of the leading players and particularly Susannah Fielding should guarantee that this revival sells well.
Indeed, it will not break the bank since The Beaux' Stratagem is part of the Travelex £15 season with even top price tickets selling at only £35. For those further afield, it will also be broadcast through NT Live to over 550 UK cinemas on 3 September.
Reviewer: Philip Fisher