The Believers
Bryony Lavery
Frantic Assembly
Tricycle Theatre
–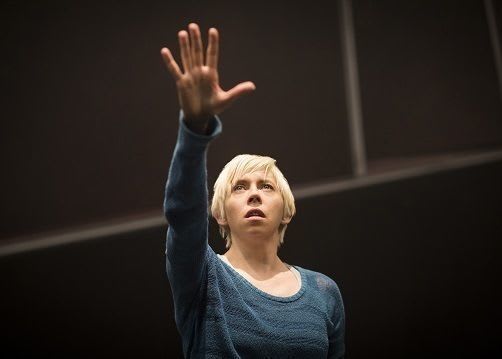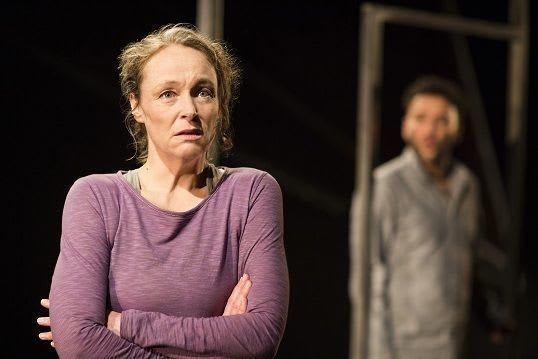 This production is a classic example of how the human brain is capable of filling in gaps in information, deriving much pleasure as it does so.
Bryony Lavery has worked successfully with Frantic Assembly a couple of times before and the combination is perfect for a tragic cautionary tale featuring two pairs of weary parents.
The occasion for them to come together is a flood of potentially biblical proportions that threatens their locality but for whatever reason leaves one house safe where another, only 123 steps away is not.
The visitors, Joff (sic) and Marianne, played by Christopher Colquhoun and Eileen Walsh, are an ordinary, fun-loving couple with a nine-year-old daughter named Grace, who is a bit of a handful to say the least.
Their generous hosts, Richard Mylan and Penny Layden playing Ollie and Maud, are religious zealots filled with sweetness and light as a contrast to the insomniac irritability of their new-found friends. For the home team, daughter Joyous lives up to her name.
To say that these couples are chalk and cheese would not be understating things, but strange times lead to unusual bedfellows.
From the very start, the disjointed nature of the storytelling is mirrored by that of John Bausor's set, which comprises a series of frames, some illuminated.
Slowly but surely throughout the 75 minutes, viewers begins to piece together a jigsaw puzzle plot and it will only slowly dawn on most that a tragedy has taken place.
Before that, the interactions of the two pairings seem amusing, particularly when each member of the quartet begins to act out of character.
However, once the terrible truth catches up with us, nothing else matters and everyone in the theatre finds themselves gripped by a tension that never lets up.
This means that, as a depiction of anguish and debate over parental responsibility, The Believers will take some beating.
What would be an exciting, well-told tale without any elaboration is taken to a much higher level by the company's inimitable style. Scott Graham, who both directs and choreographs, creates a number of memorable images using nothing more than his actors, those frames, a little clever illumination designed by Andy Purves and some gravity-defying very special effects.
It also helps to have four performers who give their all both physically and mentally in an effort to fill in those gaps and leave members of the audience suitably shaken.
The whole of The Believers is considerably greater than the sum of a number of pretty substantial parts making this a very different but deeply satisfying theatrical experience.
Reviewer: Philip Fisher