The Best
Jack Rosenthal, adapted for the stage by Ian Winterton
Lass O'Gowrie Productions
Octagon Theatre, Bolton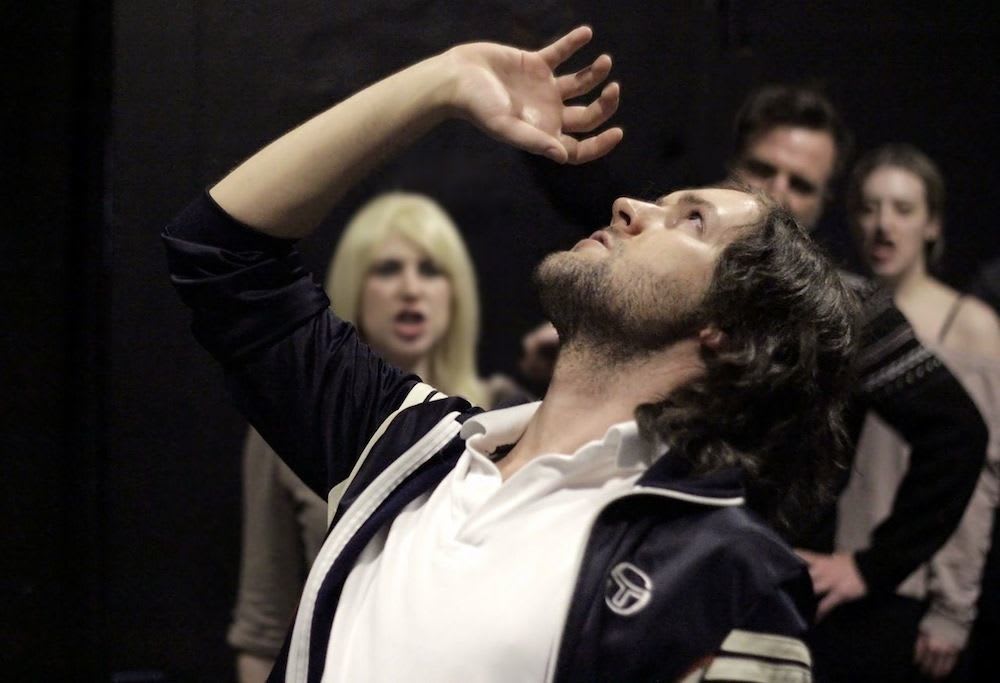 Manchester's Lass O'Gowrie, voted Pub of the Year in the 2012 Great British Pub Awards, may have lost its BBC custom since its old neighbour moved into its swish new premises in Salford, but it still maintains its loyalty to the small screen with a string of TV to stage adaptations, from old scripts of Coronation Street to classic British sitcom episodes.
After presenting some Coronation Street scripts by the late Jack Rosenthal, they unearthed this "lost" TV script from the same writer about footballing superstar George Best with the blessing of Rosenthal's widow, actress Maureen Lipman, who even popped into a rehearsal to give them a few pointers. The performances sold out in the tiny pub theatre space, and this one-night transfer to the Octagon's larger studio sold out within 30 minutes of tickets going on sale.
With a stage adaptation by Ian Winterton, Manchester Theatre Award winner for his 24:7 Theatre Festival play Sherica, the bulk of the story is a twin confessional: Best to his therapist and to the group as a whole at a drying out clinic in the States and his wife Angie to a Woman's Weekly journalist at home. They gradually unpick Best's behaviour and his drinking through description and flashbacks, put together in a way that you could imagine working well on TV.
A lot of the events will be familiar to anyone unfortunate enough to have sat through the musical Dancing Shoes—the George Best Story a couple of years ago at The Lowry, but to say that this is a significantly better piece of theatre is rather faint praise. Rosenthal, like other greats of his era such as Dennis Potter, really knew how to use the form of the small screen well, which creates difficulties when translating to another medium; not all of these difficullties are solved by Winterton and director Colin Connor.
Connor has used a similar workshop technique to another recent football play on the Octagon's main stage Tull, in which he performed, with a couple of main actors in single roles plus an ensemble dressed identically to switch between characters before our eyes. This works fine for the most part as we only need to emotionally engage with Best and Angie, but with chronological leaps backwards and forwards and a few very short scenes, it is sometimes difficult to work out where and when we are without the clues from costume and scenery that a TV production would have given us.
But at its best (no apologies for the pun—it's used a lot in the play) this is a piece of theatre that can grab you in the important moments and make you really feel for a man who, despite his great charisma and talent, often treated those closest to him quite badly. This is helped by a truly great performance by Dickie Patterson as Best (from Northern Ireland like his character) who gives real heart to the man and to the production.
Charlotte Dalton gives good support as Angie, but her part is more to deliver information than to draw sympathy, and Hannah Ellis plays a good dual role as the reporter and the therapist, a well-chosen pairing. Amongst the ensemble, some of the performances are more accomplished than others—although there is a very impressive Cher from Cátia Perry.
There are some issues with pacing, most due to hesitant line delivery and a few slow sound and lighting cues, but there is a very good attempt to search for what made this troubled man tick, and—to repeat the punchline of his most famous after-dinner story that is repeated here—where it all went wrong. It's easy to empathise with George's irritation when he is in the "love seat", where his fellow patients stamp and shout questions at him, but this American psychological desire to boil down the man's actions to a single motivation appears also to be the desire of the writer. And he does find his single motivation by the end.
It's a flawed piece certainly, but it is a piece of fringe theatre that is worthy of the attention it is getting and that has a wonderful performance at the heart of it of a man who to many is still both a hero and an enigma.
Reviewer: David Chadderton