The Big Bite-Sized Breakfast Show Menu 3
Alex Boun, Fred Stropped, Doug Grissom, Steve McMahon, Peter Kerry
Pleasance Dome
–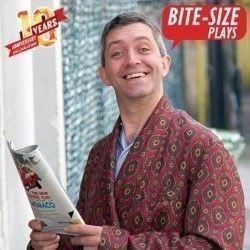 Actress' Dilemma by Alex Boun
This was the first ever Bite-Sized play ten years ago.
It features Emma Wingrove as an actress auditioning for an awkward, camp director played by Javier Rasero.
Tensions arise even before she has begun so her Blanche Dubois is not helped by what sound like sexist murmurs and insults emanating from a man who should know better.
Nice Try by Fred Stroppel
Annie Harris and Dan Greest play a couple trying to spice up their marriage.
S&M seems like the perfect solution, much as it pains hubby. The problems begin when his love decides that the experiment isn't working, preventing the injured party from getting his own back.
Contact by Doug Grissom
Sandwiched between Rocket Man and Major Tom, Javier Rasero portrays a post-apocalyptic astronaut stranded alone in space for months.
The drama starts when he receives contact from another spaceship. Unusually for this company, Contact is a relatively serious piece with psychological pretentions rather than a comedy.
You Are, Could I? by Steve McMahon
Owen Bleach and Claira Watson-Parr play ex-lovers meeting again. The trick is that Steve McMahon offers four variations on the theme from hatred to love.
Humble by Peter Kerry
Billy Knowelden is Jeremy in an office-based drama that ends before it starts, features a hilarious fast rewind then shows why he suffered an early death.
The moral of the story is that being an office bore can be fatal.
Reviewer: Philip Fisher