The Big Bite-Sized Lunch Hour: Best Bites
Philip Lindsell, C J Johnson, Joel Jones, Lucy Kaufman
Pleasance Dome
–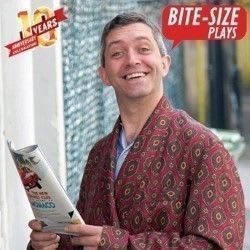 This programme has been chosen to mark the 10th birthday of one of the Fringe's most popular and consistent companies. The celebration consists of what they see as the top 5 playlets of all time.
Quiet Table for Four by Philip Lindsell
The opener features a nervous couple on a blind date. The usual concerns would be enough for most, but they carry additional burdens in the shape of their nagging, unkind inner voices. Even the waitress has one.
This proves highly effective and very funny as home truths and insecurities are revealed prior to a pleasing denouement.
Boris the Rottweiler by C J Johnson
Boris the Rottweiler is an autobiographical monologue delivered by Javier Rasero. It is a sad but poignant tale of the perils that an obligation to be macho can lead to.
Answer Man by Joel Jones
This is the best of the lot, as Annie Harris's character goes into an unorthodox bar where she is confronted by the Answer Man of the title.
Billy Knowelden not only answers every trite question that she can ask like some latter-day genie but playing the ukulele sings a signature ditty to irritate her and please us as a bonus.
Vintage by Lucy Kaufman
Dan Greest and Claira Watson-Parr play a couple who indulge in a favourite TV exercise of regressing to 30 October 1942 and living as their grandparents would have done.
This brings about all kinds of stresses and strains, threatening their marriage but amusing the audience.
Big Fish, Little Fish by Joel Jones
Owen Bleach is a hard-boiled American gumshoe tracked, like a glamorous dame and bartender by an inner voice. In his case, it is a personal saxophonist.
Through this set-up, the whole genre of private dick movies and novels is satirised satisfyingly.
Reviewer: Philip Fisher