The Big Bite-Size Breakfast Show: Menu 2 "The Morning After"
Alex Broun, Lucy Kaufman, Sara Browne, Ian Kershaw, Jeffrey Neumann
Pleasance Dome
–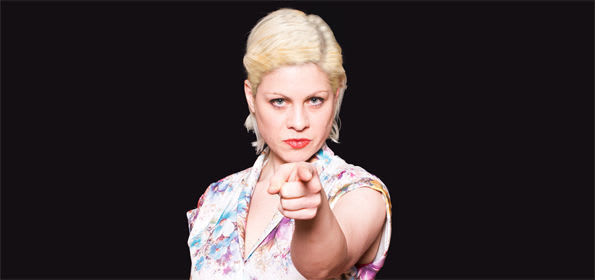 Programme 2 in the early morning favourite with audiences of a certain age will come as a shock, with language and subject matter more commonly seen after the 9PM watershed than at breakfast time.
A quick preamble by Brian Mott sets the scene nicely as Bill Knowelden, returning after having so much fun in 2012, comically faces the consequences of his promiscuity, bringing in five very jumpy friends.
Saturday Night Edinburgh, Sunday Morning Leith by Alex Broun
Alex Broun is already a firm BBSB favourite and this lengthily-titled piece mixes wit with pathos in a very satisfying fashion.
In it, Tegen Hitchens finds herself in the flat of Becky Norris desperately avoiding her lesbian tendencies the morning after a drunken night before.
Pleasingly, her pick-up tenderly brings the nervous lady down, while amusing the audience by creating some credible fantasies.
Radio Foreplay by Lucy Kaufman
Radio Foreplay is a short comedy sketch expertly delivered by David Tremaine playing a patient Radio 4 producer.
He has the unenviable task of bowdlerising a potential play, using every double entendre in the book.
Tell Someone Who Cares by Sara Browne
The third playlet features Tegen Hitchens and Louise Fairbrother as a couple of Essex girls lunching and talking about their sex lives.
The shtick is that Sandy and Mandy metatheatrically share their inner thoughts through the fourth wall, to good effect.
A Christmas Carol by Ian Kershaw
In A Christmas Carol, the eponymous upfront Mancunian played by Becky Norris tries to get off with the younger David Tremaine.
They eventually reach a détente after he shares the pain of a parent's death.
InSex by Jeffrey Neumann
The final piece features a couple of praying mantises played by Annie Jackson and Bill Knowelden.
Their post-coital pleasure is soon punctured when the poor old male discovers that he is next on his mate's lunch menu.
Reviewer: Philip Fisher