The Big Bite-Sized Breakfast Menu 1 "Two's Company"
Don Nigro, Aoise Stratford, Thomas Coash, Angus Brown, Lindsay Williams
Pleasance Dome
–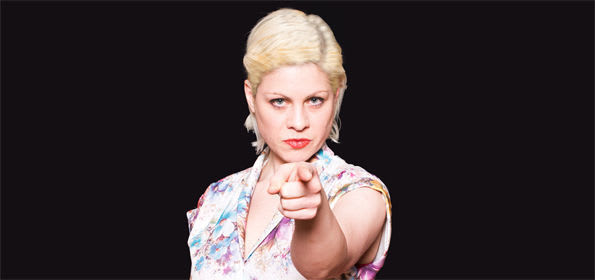 The first set is a mixed bag that contains the best play of all and some other highlights.
Drury Lane by Don Nigro
The opener is an enjoyable metatheatrical fantasy featuring Bill Knowelden and Tegen Hitchens on top form together playing a pair of Garrick era actors in search of reality.
By the end, neither they nor the audience can be quite sure of where the boundary between acting and real life is drawn.
Elephants and Coffee by Aoise Stratford
David Tremaine is an elephant who looks like a timid bespectacled man or vice versa. He attracts Louise Fairbrother who is almost certainly a woman, albeit a neurotic one. Love beckons in a surreal story with vague overtones of Ionesco.
Thin Air by Thomas Coash
This solo touches the heart, as Miss Hitchens takes the role of a tightrope walker. She not only delivers a short history of the art but describes the ups and downs of her own career, building to a heart-breaking denouement.
The Needle and the Damage Done by Angus Brown
This thin sketch is set in 1950s USA. There, Bill Knowelden's husband desperately tries to hide an eccentric foible from Becky Norris.
Hitched by Lindsay Williams
This one is really worth waiting for, comfortably qualifying as the pick of the 15 plays shown in 2013.
A wedding night is something to be treasured for Annie Jackson and David Tremaine, regardless of the amount of alcohol consumed.
Passion builds nicely, until a zip gets in the way and leads to rich comedy, eventually also involving Knowelden and Miss Norris as the bride's overly helpful parents.
Reviewer: Philip Fisher