The Blue Touch Paper
David Hare
Faber and Faber
Released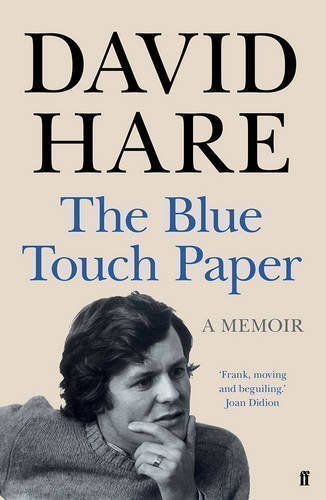 It is always fascinating to learn more about the backgrounds of famous people whom one admires.
The Blue Touch Paper would seem to be the first part of a sequence of memoirs letting readers into the psyche of Sir David Hare.
It covers the years from his parents' meeting in wartime 1941 through a childhood in sleepy Sussex, both in family homes and at Lancing College and into the theatre, ending at the time of the election of Margaret Thatcher in 1979.
Growing into maturity in the 1960s, Hare almost inevitably became a left-wing rebel and his Cambridge experiences must have led the young man close to expulsion.
The history of his relationship with Tony Bicât and Portable Theatre is very much of its age, with young people freely creating experimental theatre using funds that certainly did not come from the results of their efforts.
In Hare's case, a temporary job as literary editor at the Royal Court had a double benefit of a small income and exposure to plays and theatre people in abundance.
Through serendipitous good luck, he was introduced to the impresario Michael Codron and it was a commission to write a West End play that changed young man's perceptions and turned him into the playwright that the world knows today.
While writing a play against the clock in 1969, he discovered that "the play was writing itself. I would have no more influence over what people made of it than I had overwriting it". This freed his imagination and provided a modus operandum for a long, successful career.
This may well come as something of a surprise to readers who had imagined that every element of a Hare masterpiece was carefully planned from the start, rather than directed by invented characters and situations.
The future knight really was a prodigy, continuously creating work of a high quality that was produced by influential theatres.
While still in his 20s, he managed to conquer the Royal Court and the West End not to mention touring the provinces. In addition, he directed Howard Brenton's Weapons of Happiness, the first play produced on the National Theatre's brand new Lyttelton stage.
As if working in live theatre was not enough, David Hare also wrote and directed the controversial but influential Licking Hitler for the BBC.
Having lit that blue touch paper, his precocious career continued with few blips, Plenty marking entry into his 30s and suggesting that life could hardly be better.
By then, he was married with a child but struggling against desire to continue an affair with the star of Plenty and so many of his other works, Kate Nelligan.
Sadly, this volume ends with David Hare at a particularly low ebb personally and, to a lesser extent, professionally.
The pleasing thing about history is that readers will know happier times are just around the corner, although one imagines that personal success during the Thatcher years may only have partially helped to counteract the playwright's antipathy for the political climate.
All should be revealed in the second volume of memoirs in due course.
Reviewer: Philip Fisher