The Body of an American
Dan O'Brien
Royal & Derngate, Northampton
Gate, Notting Hill
–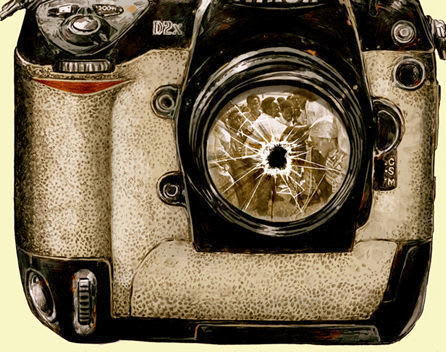 Typically, Verbatim Theatre offers a strong political or social message. The Body of an American bucks that trend to a degree, being a biographical /n autobiographical piece compiled from assorted communications between two eccentrics.
They are an American playwright looking for inspiration and a Canadian photojournalist whose speciality is depicting unspeakable horror from war zones.
James Dacre's staging for Northampton's Royal and Derngate Theatres (where the play transfers at the end of this run inthe theatre's new Underground space from 27 February to 8 March.) places the audience in a claustrophobic, snowy igloo or bunker with TV screens at either end.
In a narrow traverse between spectators on two rows of benches either side, William Gaminara as photographer Paul Watson and Damien Molony playing the writer of this piece, Dan O'Brien also capably take on numerous supporting roles during the play's 90-minute duration.
From the start, audience members find themselves plunged far into the post-modern world of metatheatre, the performers jocularly commenting on what they are doing and who they represent on a constant basis.
Rarely can a play have travelled so far and so wide in such a short period. Watson is one of those obsessives who follow trouble around as if it were an elusive lover, as likely to pop up in Mogadishu or Calcutta as Christchurch or the Arctic (hence the snow which is rather baffling during the early scenes in sub-Saharan Africa).
His claim to fame came in 1993 while working for the Los Angeles Times in Somalia. There, Watson took an iconic photo of a dead American soldier. So important was this image that, arguably, it persuaded the United States to withdraw from this war.
In a strange chain of events, that could have given additional strength and hope to Al Qaeda and by extension might have been a step towards subsequent events including 9/11 and the ongoing War on Terror.
The early stages of the evening are illustrated with Watson's images, many of which can only be described as harrowing.
They don't fit too comfortably with O'Brien's rather light-hearted pursuit of a reclusive loner who is happy enough to exchange e-mails but seems strangely reluctant to get any closer to the unkempt, hippyish university lecturer.
Eventually, for whatever reason, O'Brien gets his man in the snowy wastes of the frozen north. There, they bond on dog sleds and in a shared hotel room with minimal amenities.
The early part of The Body of an American does quite a good job of taking us into the mind of a danger junkie who risks his life on a constant basis merely to take photographs.
Once O'Brien finally catches up with a man who is, by this stage, struggling to find meaningful work, the evening turns into the equivalent of a buddy movie. This tells us a fair amount about each man and certainly showcases the acting skills of Gaminara and Molony.
However, while these scenes (including visits to the shrink with Watson) shed light on the problems that each faces, they pale into insignificance against a quite devastating first 30 minutes.
Reviewer: Philip Fisher