The Bomb - A Partial History

Tricycle
–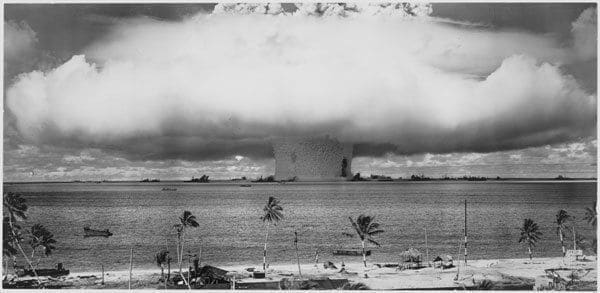 The Tricycle has had some of its finest moments in recent times with its play cycles, The Great Game - Afghanistan and Women, Power and Politics. Now, as part of his elongated swan song Nicolas Kent turns his sights to nuclear issues and this five-hour epic does not disappoint, though several of the plays trawl relatively similar waters.
The cycle of ten short plays views its topic from myriad angles and the whole builds to a fascinating reflection on The Bomb from the War to the present day.
They are supplemented by some Richard Norton-Taylor verbatim links, the pick of which features the comments of Alex Salmond, David Cameron and Field Marshall Bramall, amongst others.
First Blast: Proliferation
From Elsewhere: the message by Zinnie Harris
The opener has echoes of Michael Frayn's Copenhagen, as it views a pair of alien (in the Germanic sense) scientists attempting to sell their genius to the Allies in 1940.
Rudolf Peieris and Otto Frisch (Rick Warden and Daniel Rabin) are typical nuclear physicists, comfortable with their calculations but very much life's outsiders.
As if explaining nuclear fission theories in a wartime context wasn't hard enough, they also have to confront an English petty bureaucrat played by Simon Chandler who would be happier causing a nuclear conflagration than allowing guests into Whitehall without the right passes.
Calculated Risk by Ron Hutchinson
Following the Potsdam Conference of 1945, the world was seemingly on the brink of termination as various parties tried to decide whether Hiroshima and Nagasaki were enough or more bombs and the "trail of devastation such as the world has never known" would help to create lasting peace.
New British Prime Minister Clement Attlee, especially well depicted by Michael Cochrane, finds himself in the middle of a fascinating argument.
The groupings are not what one would expect. On the hawkish side is lifelong left-winger Ernest Bevin. He is a vocal proponent of the nuclear option. His opposition comes from Simon Chandler playing a pacifist Field Marshall.
Their debate sounds very familiar today, having been repeated so often in the intervening years. Even so, it is still the kind of thing that could spark further fiery debate today.
Seven Joys by Lee Blessing
Seven Joys is one of the day's highlights. Lee Blessing has written a satire on this very serious subject and it works a treat.
The set, adorned by five screens on which films can be shown, becomes an exclusive club that starts off with a membership of one American.
Rick Warden's Cal has a glowing egg and a servile British manservant, Henry (Michael Cochrane).
Once Simon Rouse, playing Russian Slava, appears with his own egg, we gather what they symbolise.
The play takes on tragicomic grandeur as the club's membership proliferates and we realise that everyone and his cousin has an egg.
If nothing else, this serious men's club gets a little light relief with the day's first actress, French Marianne played with wit by Shereen Martin (who has lost a wet, Gallic "eau" from the end of her name since The Great Game).
Option by Amit Gupta
The fourth piece after interval number one moves us on to India in 1968. There, Paul Bhattacharjee as a Muslim Professor becomes embroiled in a pacifist debate about Indian participation in the arms race.
His main challenge comes from Miss Martin as a lady who understands expediency and political argy bargy, creating the scary concept of PNE—Peaceful Nuclear Explosions!
Little Russians by John Donnelly
The last play of the First Blast is another comedy. Set in Ukraine during 1993, it focuses on a period of disarmament following the dismemberment of the Soviet Union.
On one side are Tariq Jordan, Rick Warden and Nathalie Armin as a hilarious trio Ukrainian hicks (complete with Irish accents).
They are possessors of a scarily realistic nuclear warhead, which they will happily sell to the highest bidder.
The choices are pretty stark with a dodgy Russian military doctor and a loud American equally undesirable recipients of an explosive gift.
John Donnelly plays up the black comedy well, while the political undercurrents speak quietly for themselves.
Second Blast: Present Dangers
There was a Man. There was no Man by Colin Teevan
After the dinner break, the evening session started with a play in two parts that deliberately repeats themes from obverse sides.
First, we see Iranian/Israeli physicist Amira (Miss Martin) defending a friendship and possibly more from the accusations of her brother Meir (Rabin). What spices things up is the knowledge that her Iranian colleague and friend has been blown up erroneously by Mossad.
The plot is worthy of a spy thriller as we learn that Meir was a secret agent who used his sister as a mule to trap the deceased.
The second scene is a repeat but now the central figure is Miss Armin as newly-widowed Gully facing her combative, bearded brother Mahmoud (Bhattacharjee), an Iranian secret agent. Quickly, the women become pawns in an anti-nuclear war fought out on a small scale.
Axis by Diana Son
This slight political comedy also plays in two scenes. First, we see a pair of George W. Bush's political advisers coining the phrase axis of evil and deciding which countries it covers.
Next, the action moves to North Korea as a pair of generals debate the consequences of the latest Kim taking over from his father.
Talk Talk Fight Fight by Ryan Craig
The title of this piece set today comes from Chairman Mao no less and expresses his philosophy regarding international diplomacy—"Keep negotiating even though you have no interest in coming to a settlement".
It features a UN contingent from the European Union readying themselves to discover whether Iran is a nuclear nation.
They theorise until a CIA agent played by David Yip brings his practical knowledge to bear, having interrogated a defecting scientist (Bhattacharjee) who might or might not be telling the truth.
The Letter of Last Resort by David Greig
Moving the debate on to 2015, The Letter of Last Resort is probably the most intelligent and thought provoking, not to mention intellectually-challenging, work seen during the day.
It presents our new Prime Minister, archly portrayed by Belinda Lang, facing the biggest moral and ethical question of the day posed by Simon Chandler's Sir Humphrey style civil servant.
Each new PM apparently has to write a letter to be opened after the country has succumbed to nuclear apocalypse. The contents must broadly provide for post mortem retaliation, subjection or sitting on the fence.
Greig injects humour as he works away to prove that every option is deeply unacceptable, in what could easily be a latter-day episode of Yes, Prime Minister.
From Elsewhere: on the watch by Zinnie Harris
This final sliver brings us back to the scientists from seven hours earlier. Now, the pair are inspectors investigating Iranian facilities and proving how powerless they really are. If the difference between war and peace in our time rests on their ability to provide the free world with comfort, terror beckons.
ANADYR' by Elena Gremina, Translated by Sasha Dugdale
The playtext, published by Oberon Books, contains an eleventh piece, not seen in the cycle but read separately.
ANADYR' (or B55) is the name of a diesel-powered submarine with a nuclear warhead heading towards Cuba in 1962. The technicalities are relevant since Russian premier Nikita Kruschev had requested a nuclear submarine, a different animal in every sense.
His starting point was a fear that America might win a nuclear war since its warheads in Turkey were eight minutes from Moscow, while his own closest approach to Washington or New York would take three times as long.
This is one of the strongest pieces in the series dramatically and it is a shame that there was no space to fit it into the staged set. Its six scenes move around between the Kremlin, the White House and the murky depths beneath the Sargasso Sea and later the Atlantic Ocean as panic deepens both on the submarine and in the political power bases.
Together, they provide a rounded view of a crisis, seeing both in political and human terms.
The message coming over loud and clear is that the difference between peace and conflagration 50 years ago was absolutely minimal.
The Tricycle is staging a rehearsed reading of ANADYR', followed by a lecture on the events of the crisis, on the 12th March 2012 at 8pm.
Reviewer: Philip Fisher