The Book of Dust – La Belle Sauvage
Philip Pullman, stage adaptation Bryony Lavery
Bridge Theatre
–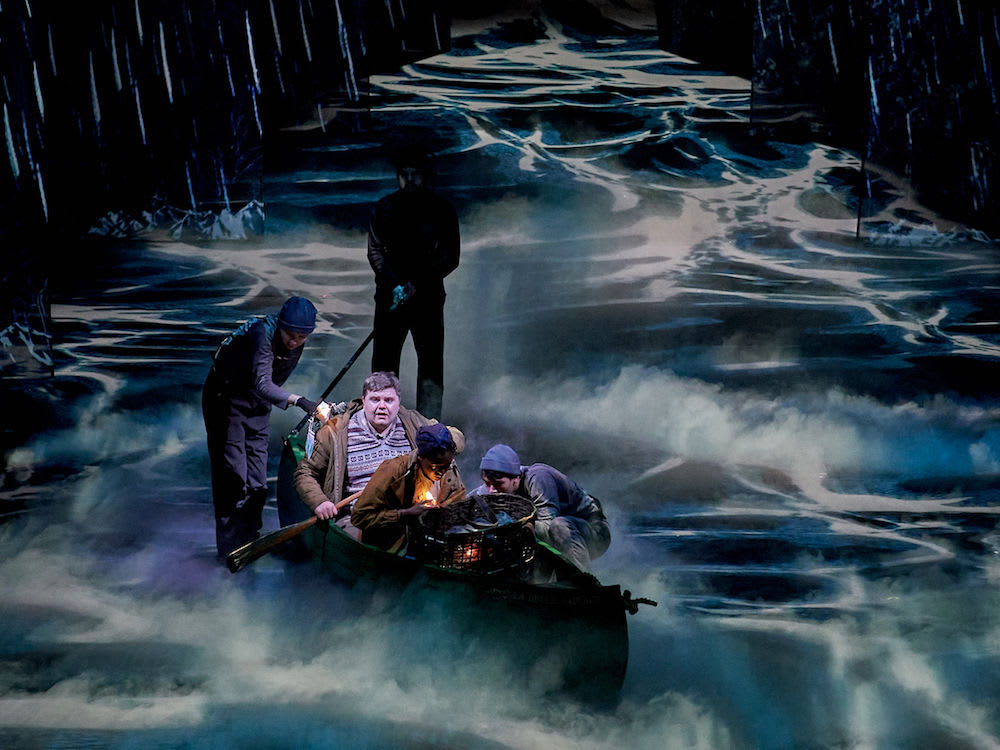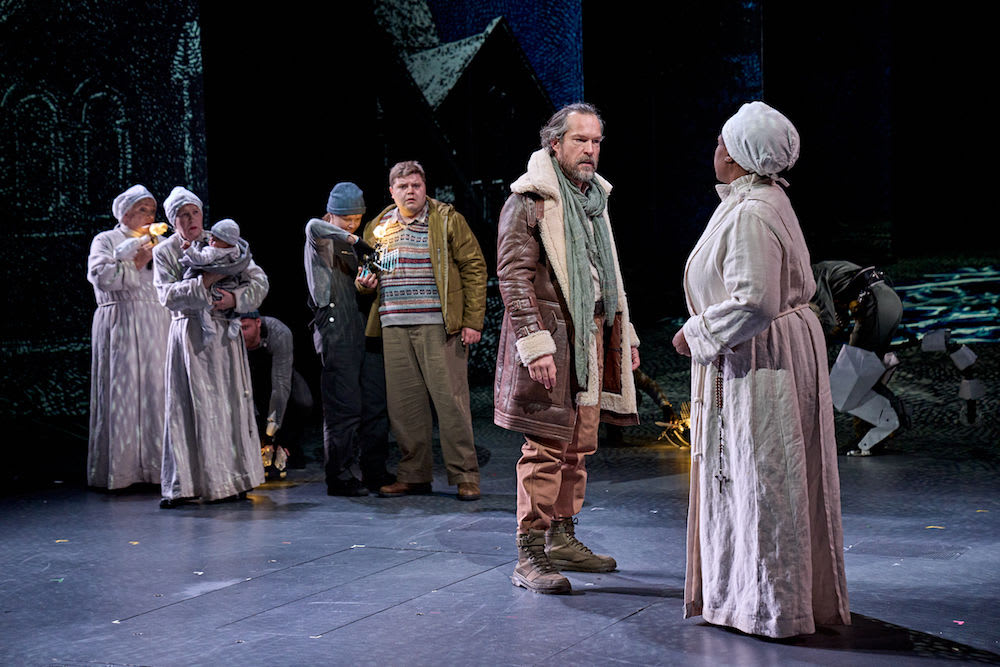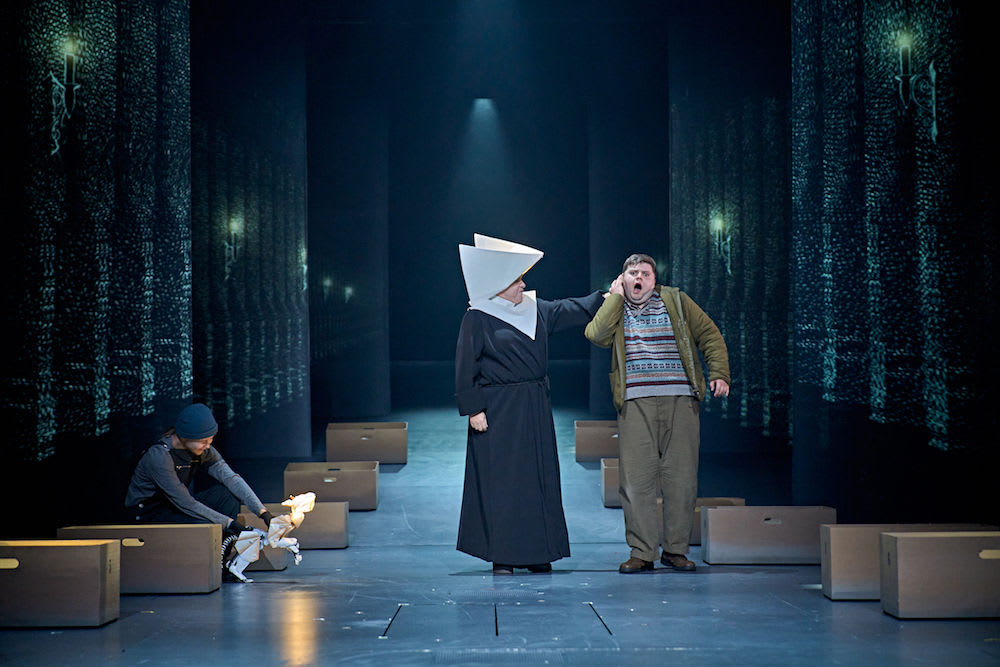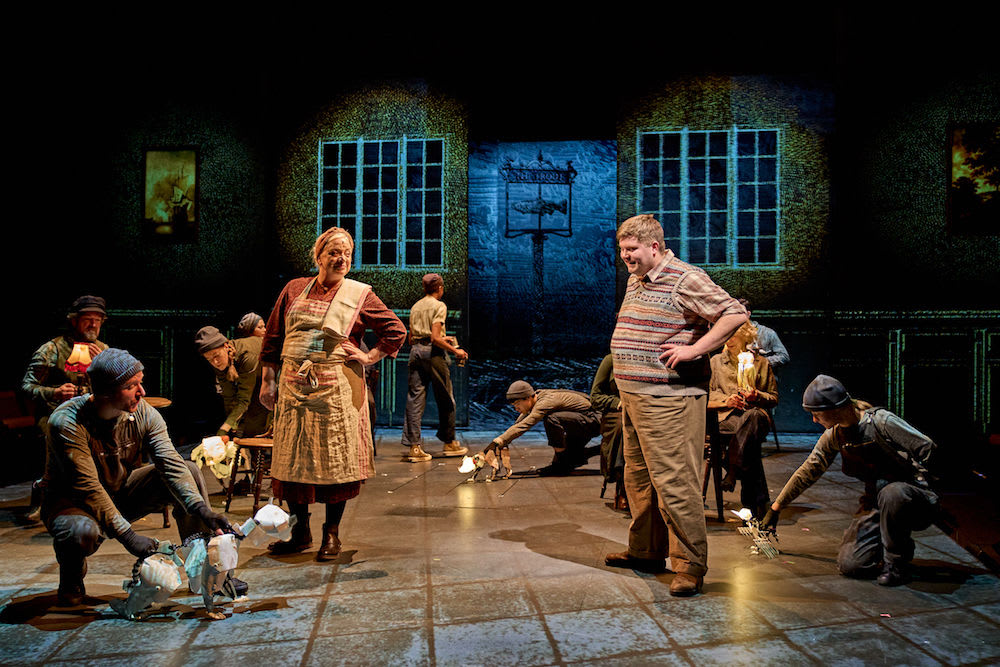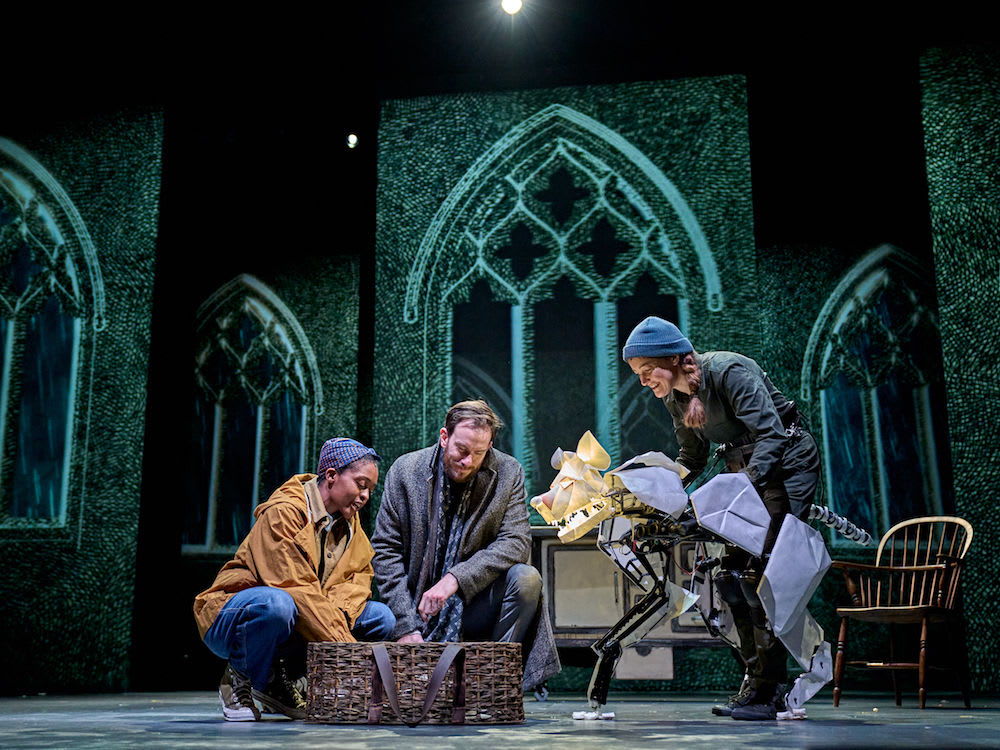 The pull of Philip Pullman, first His Dark Materials, now La Belle Sauvage… Director Nicholas Hytner knows a good thing when he sees it. Production values are exceptionally high with stunning special effects: from Bob Crowley's sliding screens set design (depth and width of stage used to full capacity), complemented by Luke Halls and Zakk Hein's thrilling video designs, Jon Clark's lighting, illusions by Filipe Carvalho, music by Grant Olding, sound by Paul Arditti, all with many years in the business, the crème de la crème. James Cousins (well known in the dance world with his own company) is movement as well as co-director. The magic of theatre...
And I do think that Hytner may have found another star in the making, Samuel Creasey in his stage debut as young teenager Malcolm Polstead. Another James Corden, perhaps? Centre-stage most of the time, he is the brave heart who must save six-month Lyra from the evil Magisterium, from totalitarianism (secular and religious), from the CCD (Consistorial Court of Discipline), its red-arm-banded heavies could be KGB or Hitler's thugs, from brainwashed informers.
Innocent, kind, honourable, Malcolm is a perfect hero for a young adult novel, for this is what it is. I did chuckle at the tiny gyrocopter flying over Oxford's sites (made me think of The Snowman)—something for everyone, for the child in us all. Our ordinary hero has to face and overcome evil, indoctrination, all whilst hitting puberty… and saving the life of a prophetic child. Whom can he trust?
There's so much to plough through, thank goodness for this two and a half-hour adaptation from Bryony Lavery, who instils some easy humour into Malcolm's gauche attraction to his helper Alice (a bolshie Ella Dacres, a perfect foil). I particularly smile at the books Malcolm is lent from the library by kindly Dr Hannah Relf—The Brief History of Time and The Body in the Library—is this an in-joke or just an easy laugh? Time travel and a murder mystery—is this a hint? "Doors of perception" is in there, too. Another in-joke? I hear "a national emergency", "special measures are in place"… it was and is ever thus.
Epic, biblical, the waters are rising, the flood is coming… or is this climate change? Malcolm's boat, la Belle Sauvage, is very useful. Trials, tribulations, escapes, hiding the baby in a convent oven, nuns complicit. Just a step ahead of villain Gerard Bonneville—Pip Carter the silk-voiced creep who likes little girls—with his large hyena daemon.
As you know, each character in Pullman's universe has a daemon, his soul conscience he carries in physical form, with whom he can converse. Beautiful creatures here, their faces lit by internal lights—with puppeteers visible. Pullman says The Book of Dust, of which La Belle Sauvage is only the first third, is not a prequel as such but more of an "equel". It's a bit of both.
The journey (the trial) our hero must run takes him from convent to convent, from the Trout pub to school, from rushing rivers to rebels in the woods (makes me think of Fahrenheit 451) to witches in the mist, to Oxford colleges, where Lyra is finally put in safe hands. Coincidence, luck and a good heart play their parts as in the best of chivalric tales. The alethiometer is safe, too, for now.
A cast of sixteen, some doubling, too many to name, is top notch (John Light as Lord Asriel, Ayesha Dharker as Marisa Coulter, Naomi Frederick as Dr Hannah Relf, Dearbhla Molloy as both loquacious nun Sister Fenella and pub regular Doris Whicher…), and baby Lyra ("the name of a constellation") is a real baby, a very well behaved baby tonight, charming us all. I miss her when a model is used in some obviously dodgy situations. Passed around from hand to hand, she is the picture of taciturnity, and when her hand touches young Malcolm's face in wonder, well, reality is brought into the realm of magical realism. A future in acting calls, she's a natural.
A fantasy with a moral core, as in the best of fantasy writing—capture them young with magic, then slip in the dangers of mind control and world domination whilst they are enjoying the chase. Orwellian, medieval, boys own, rite of passage, we've all been here before, but we always come back for more. Hytner's production ought to make sure of that. And Malcolm finally gets to hug Alice, I think, unless I imagined it.
Reviewer: Vera Liber