The Breadwinner
Somerset Maugham
Orange Tree, Richmond
–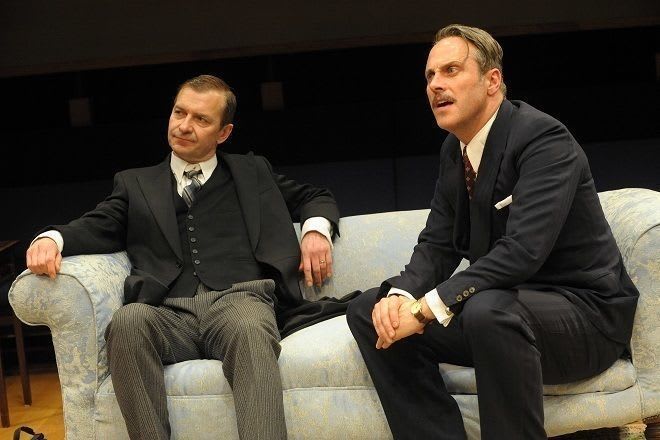 1930, when Somerset Maugham wrote The Breadwinner, very much fell into the era of the well-made play. This one is almost too well-made, as the playwright creates a situation seemingly entirely so that he can use it to express a variety of opinions for the 2½ hours and three acts.
Unusually, the opening act occurs in the absence of the evening's protagonist until its final moment. Instead, four spoilt teens (all played by talented, young actors who took part in the last production and its theatre, The Man Who Plays the Piper) rather wittily moan about grown-ups at length rather than playing their tennis match.
After Maugham has tired of them, he allows their two mothers to do a similar job of criticising the tedium of their marriages.
Drama intervenes with the arrival of Mark Frost's jaunty lawyer Alfred Granger to announce that his opposite number at the head of the Battle family, stockbroker Charles may at that very moment be ruined, dead or saved. Oddly, the last option is linked to a request for a loan from a generous benefactor. At no point does the writer consider the possibility that this might need to be paid back at some point.
In Act 2, Charlie gets to speak at last and we learn of his unorthodox approach to a gift horse. His lackadaisical behaviour engenders communal angst and general disbelief from the assembled company. It also allows the audience to ponder the connection between money, morality and happiness.
The final act becomes a procession, as most of the actors flow past Ian Targett playing humourless Charlie, offering reasons to explain their take on his actions or trying to change a very set mind.
The highlight, drawing spontaneous applause on opening night, features Alfred's wife Dorothy deliciously played by Isla Carter. Showing complete conviction, she throws herself at the man who is her cousin/best friend's husband, having mistakenly believed that the only conceivable explanation for his actions is an unrequited passion for her.
This unlikely delusion somehow seems believable, which must be a great compliment to the combined powers of the writer, director Auriol Smith and throatily vampish Miss Carter.
The company is as well cast as ever at the Orange Tree, with two younger actresses, Sarah Schoenbeck and particularly Nathalie Buscombe making the most of their opportunities as bright young things beginning to learn about life in ways that their brothers have not even begun to contemplate.
Ultimately, The Breadwinner is an amusing light entertainment that paints a reasonable picture of the wealthy classes between the wars, though it tends to be overly formulaic and runs out of fresh ideas some way before the end.
Reviewer: Philip Fisher