The Busy Body
Susanna Centilivre
Red Handed Theatre Company
Southwark Playhouse
–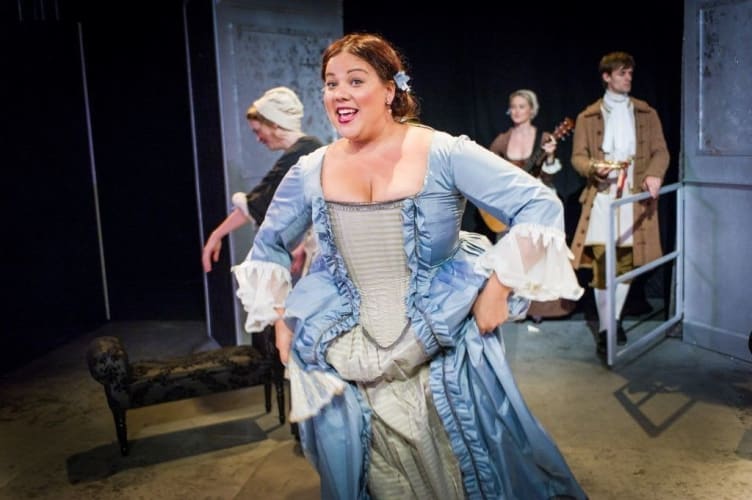 Jessica Swale is a director who takes massive liberties with old plays, in this instance from 1709, but has such good judgement that the end result is always a delight, as evidenced by such successes as The Rivals and The Belle's Stratagem.
The main ingredients are good acting from an enthusiastic, generally young cast, modern body language allied to traditional costumes and simple sets plus a stream of witty songs.
Susanna Centilivre will be a name that is unknown to all but theatrical scholars and even many of them may struggle to place her. In fact, she was a prolific writer of Restoration Comedy in the early years of the 18th Century.
Starting with an appropriately feminist prologue, Miss Swale has taken a fairly run of the mill plot about love, mistaken identity and greed and worked her magic to guarantee constant laughter throughout the 2½ hours duration.
It helps to have a multi-talented cast who act, sing, dance and in several cases play musical instruments. The Red Handed formula includes generous doses of song, in this case written by Miss Swale to illuminate the plot and inject extra comedy with a modern lilt to her adaptation.
The plot involves two pairs of thwarted lovers. Matthew Spencer is Sir George Airy, a wealthy but nervy toff who pines for newcomer Alexandra Guelff's Miranda but is kept at arm's length by her middle-aged guardian Sir Francis Gripe, an old roué played by Gus Brown, who has his own designs on the pretty blonde.
A reversed situation stops Ella Smith's perky Isabinda from finding bliss with Sir Francis's rather gormless but desperately handsome bosom buddy Charles, Michael Lindall. In this case, Gay Soper deliciously portraying avaricious Lady Jealous Traffic (is there any better name in any drama?) hankers after a Spanish son-in-law, blocking every effort of the loving couple to couple lovingly.
In a couple of sub-plots, Cerith Flinn, hilarious as Marplot the titular Busy Body, unwittingly gets in the way of true love with remarkable reliability, while Isabinda's cheeky servant, sweet-voiced Frances Marshall's Patch, lives up to her name while seeking a husband of her own in shy Whisper, Henry Shields.
The acting stars are supported by some excellent musical performers, Kate Marlais and Jeremy Lloyd particularly catching the eye (or more accurately ear).
The potential confusions are inevitably overcome to achieve a traditional ending but not until the audience has been royally entertained.
Reviewer: Philip Fisher