The Captain of Köpenick
Carl Zuckmayer, in a new English version by Ron Hutchinson
Olivier Theatre (National)
–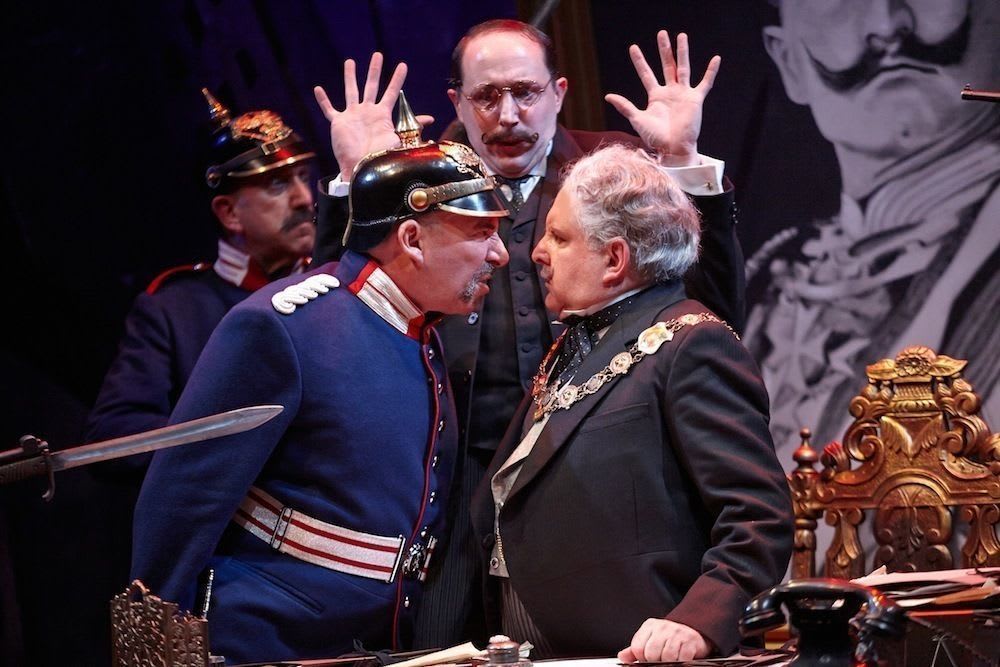 Carl Zuckmayer is best known as one of the scriptwriting team who created iconic movie The Blue Angel for Marlene Dietrich.
He also wrote for the stage and this play from 1931, enjoying a deliberately coarse makeover at the hands of Ron Hutchinson, is a political satire that is almost Brechtian.
Sir Antony Sher stars as a good-natured German criminal with unsurpassed powers of reinvention, capable of making the most of any opportunity.
We first meet him just before the Great War on the eve of release from a prison that has been the only home that the petty thief has ever known.
He scrambles around for the next 2½ hours desperately trying to regain normality and more importantly find an identity. This is made impossible by a Catch 22 set of rules requiring citizens to have papers before they can be recognised but having to be recognised to get papers.
As such, this work subtitled "A German Fairy Tale in Three Acts" can be seen as an existential comedy, though it is many other things as it swiftly runs through 18 short scenes.
In the early stages it is rather laboured, using more slapstick than seems necessary to get laughs where the central figure is perfectly capable of doing that himself.
There are some good moments even then, especially when our happy-go-lucky antihero shows unexpected humanity to a dying girl.
The evening only really takes off, though, when this cross between Chaplin's Tramp, The Government Inspector and The Good Soldier Schweik takes on a new persona, giving the play its title.
Following intimations of anarchy and revolution, the quiet, streetwise ex-con acquires an army officer's smart uniform and puts it to good use, growing in confidence before our eyes.
The audience now realises that he is behaving exactly like an army captain but so does everyone in the city. Instantly, he can give orders and become a mover and shaker, finally achieving his goal and ending the evening a happy man.
Sir Antony Sher leads a solid cast around a stage space backed by a futurist cityscape designed by Anthony Ward, showing great energy and affection for his character. He gets good support, especially from Adrian Schiller as a revolutionary tailor/waiter and Anthony O'Donnell playing a comic Mayor.
The Captain of Köpenick is a broad comedy that entertains periodically in Adrian Noble's new production. There are some serious satirical messages about totalitarianism on one level and the human spirit on another but overall, this version can be a little too hit and miss.
Reviewer: Philip Fisher