The Car Man
Choreography Matthew Bourne, music Rodion Shchedrin after Bizet, and Terry Davies
New Adventures
Royal Albert Hall
–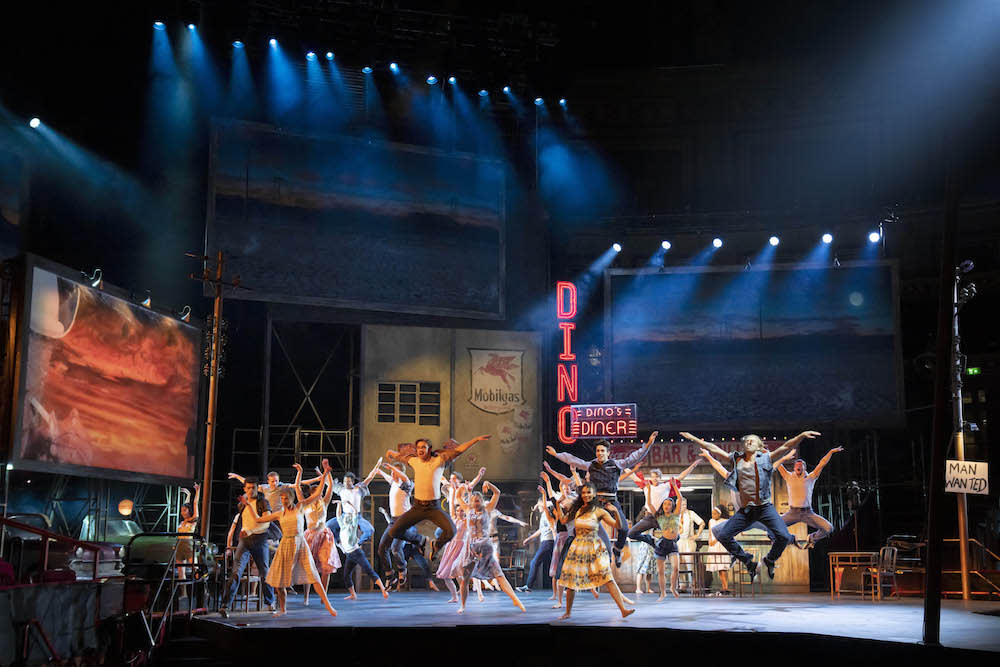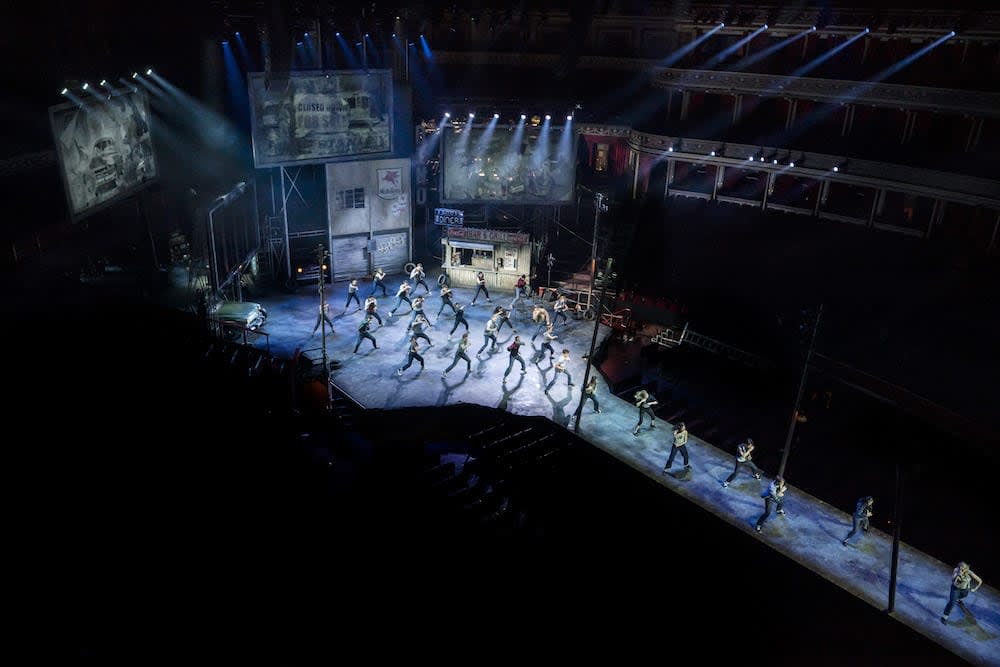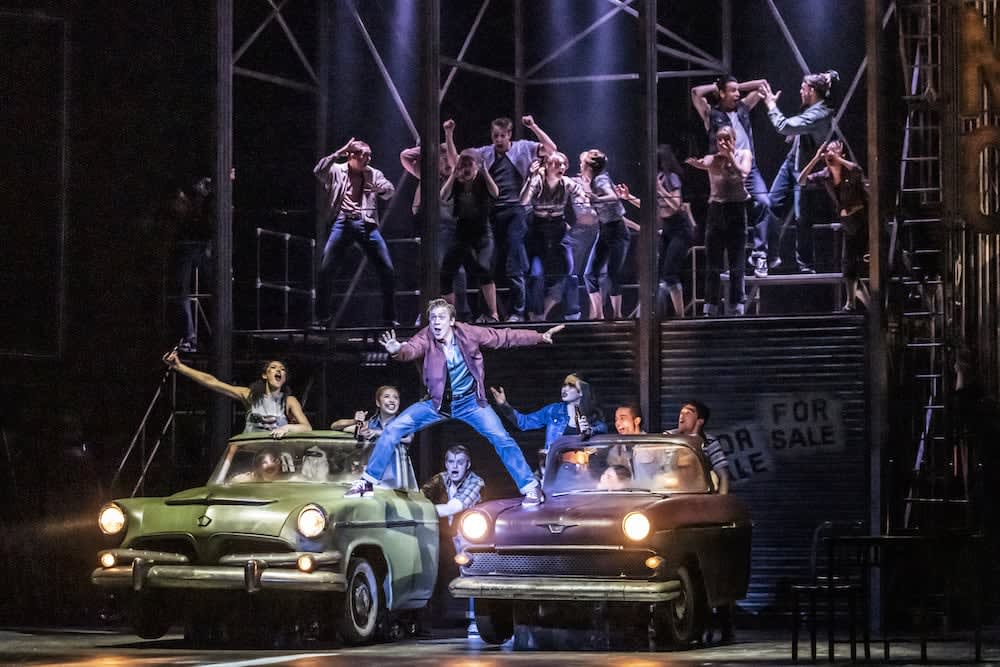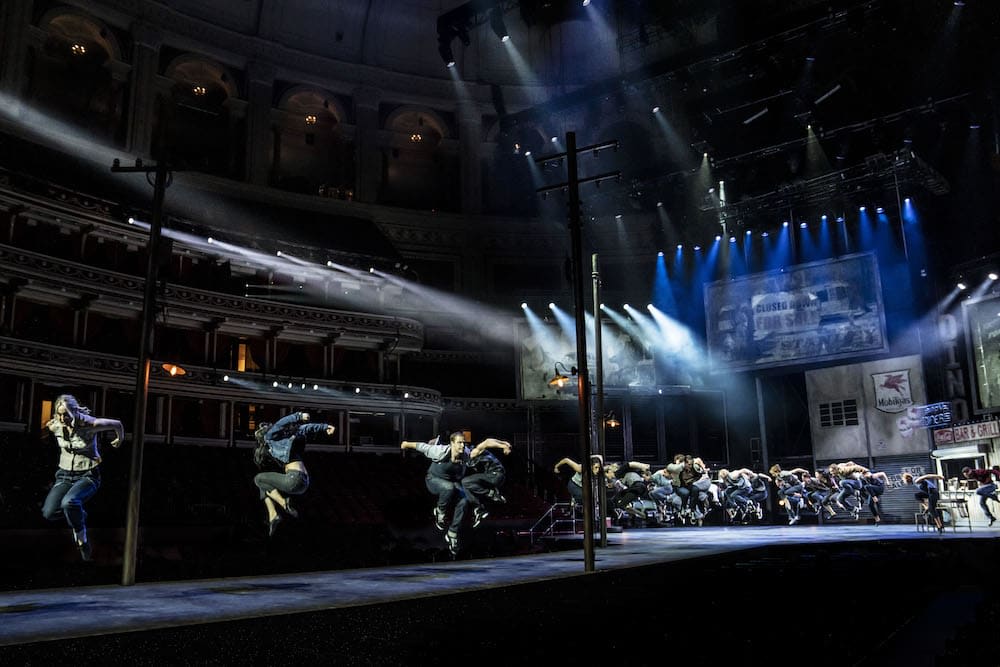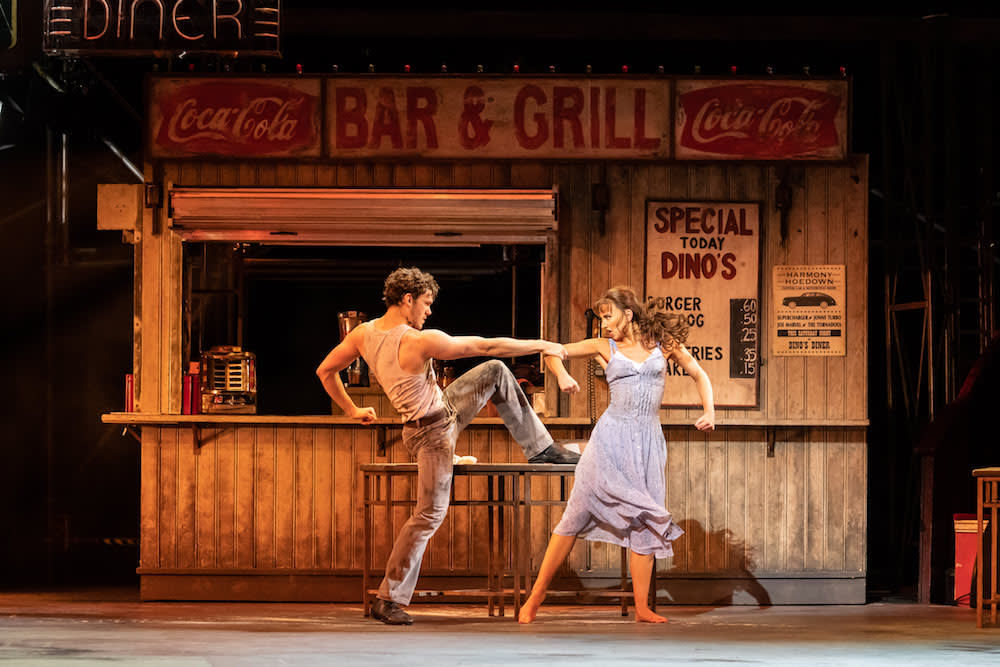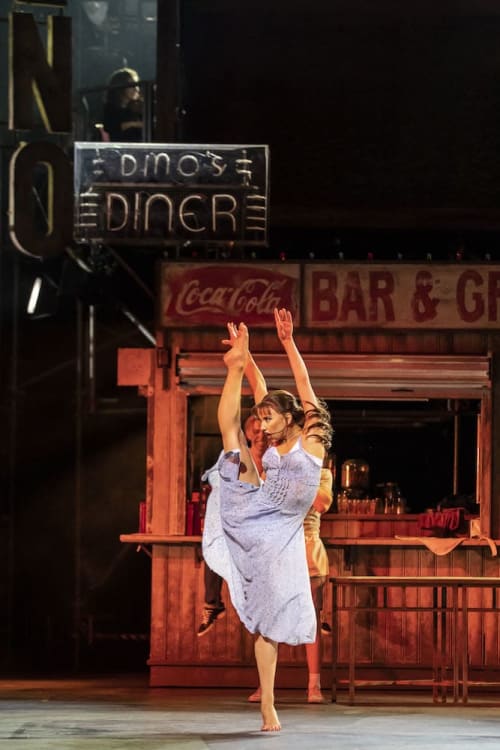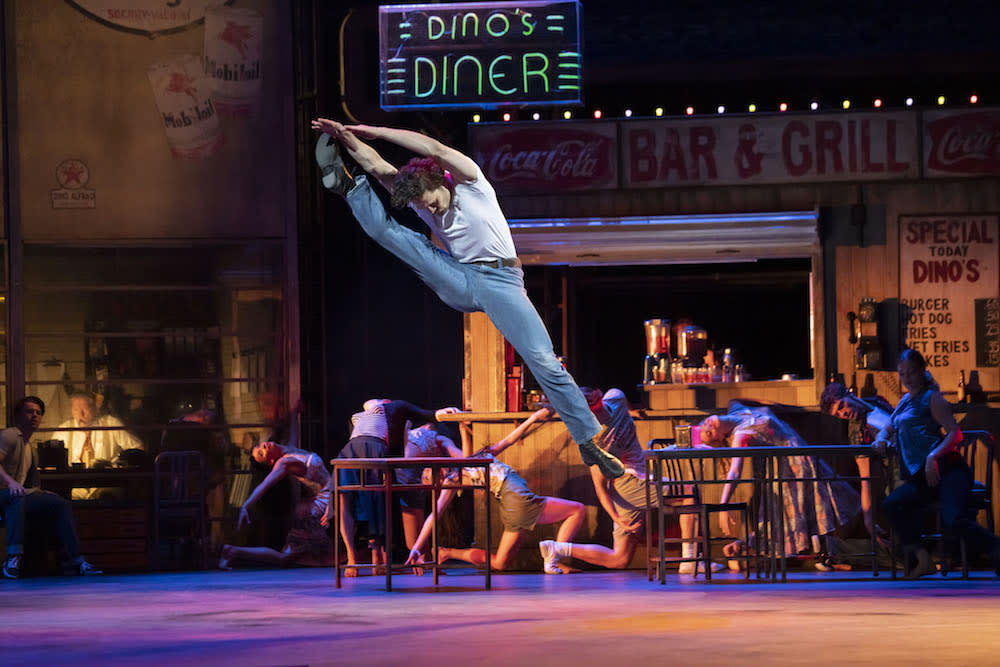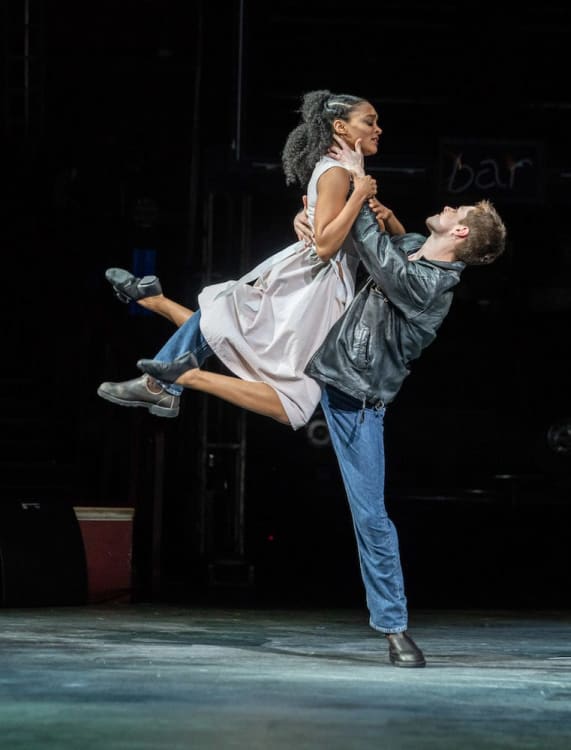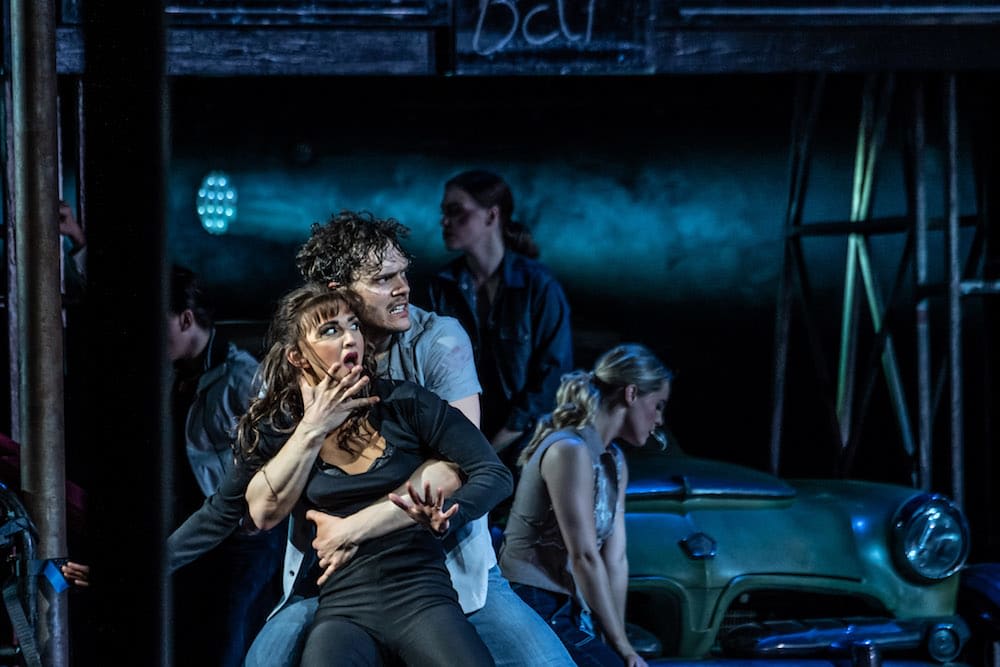 The Car Man is reborn, reinvigorated, reinvented for the five-thousand-seater Royal Albert Hall arena and wow does it reach all its parts. It opens with a rev of car engines, and a testosterone / pheromone roar. I last saw it bursting at its steamy seams at the Old Vic in 2000, for which it won a Laurence Olivier award; here it has room to fly and does it fly. Production values are spectacular and slick. The detail is prodigious.
A wide, panoramic stage with a thrust running to the centre aisle, telegraph poles, billboards, cars (for drag racing and a misty-windowed car-rocking same sex scene), projected close-ups, a hidden orchestra, this could be a drive–in movie. Or a Hollywood film sound stage... The orchestra under Brett Morris's baton is on top form.
Rodion Shchedrin's 1967 Carmen Suite, only forty minutes long, written for his wife Maya Plisetskaya, is expanded by Terry Davies into a seamless cinematic score full of suspense and tension. Paul Groothuis must take credit for the quality of the sound. Lez Brotherston's stage and costume designs, as always, are stunning, and Duncan McLean's projection designs coupled with Chris Davey's lighting are the making of the production.
But it's the high spirits energy of the thirty-one-strong ensemble, a West Side Story dance dynamic, which is the motor that drives and interrupts the edginess of this dance film noir based on The Postman Always Rings Twice (the 1946 one with Lana Turner). One of the leads in The Car Man is named after her. Matthew Bourne's penchant for period films, musical theatre and story rewrites is well known, and has he hit the jackpot with this one—there is a scene in a casino… with a spoof French dance in le beat-route club cabaret, his tropes firmly in place. He can't resist cramming too much in and we love him for it, cheeky satire in a tale of murder.
Bourne keeps you on your toes guessing all his references—American Graffiti, Rebel Without a Cause, The Wild One, Giant? But there's also a wholesome hoedown on that thrust road out of sixties mid-west town called Harmony that could be out of Oklahoma. A drifter strolls down this blacktop highway into town and disturbs their routine. Is he the Devil incarnate? He seduces Lana, wife of Dino the owner of the diner-garage, where drifter Luca gets a casual job.
He seduces young Angelo, bullied by the muscled, macho, tight vests and jeans, men of the town. Their shower scene after a day's work is meant to titillate—what fine sculpted bodies. So many excuses for sexual innuendo and coupling, tender and bacchanalian: Harmony citizens are on fire, on heat, in that blazing sun. The choreography leaves little to the imagination.
Luca and Lana kill Dino (quite a horrific scene—a bit of horror is thrown in when he returns to haunt Luca—their male duet is astounding, the arduous lifts made to look easy) and pin the blame on fall guy Angelo. Angelo is jailed (Jailhouse Rock?), and sexually abused by his jailer. He kills him, escapes, and returns to Harmony for a final settling. Whilst he is in jail, Luca and Lana spend their ill-gotten gains in the above-mentioned casino and cabaret.
There are two casts, the Chevrolet and the Cadillac. Press night is the Chevrolet, and the following Saturday matinée the Cadillac. In actual fact, only the lead four characters change (lead character dancer Alan Vincent plays Dino in both, and he is terrific—he was the original Luca the drifter), the ensemble (double that of its first production in the Old Vic) is unchanging. I'm privileged to see both casts and am amazed at the energy levels—this is full-on dancing—and to think they have to do it twice that day. Both evening and matinée curtain calls (well choreographed) get a standing ovation.
Zizi Strallen, a very good actress, is a vengeful Lana; Will Bozier a Hollywood sex bomb of a lead; Paris Fitzpatrick, the slender, put-upon, boyish Angelo, has a huge turn around of character, prison-hardened; and Kayla Collymore is gentle Rita, Lana's sister, who loves Angelo.
Bourne casts some familiar faces from the New Adventures family in the Cadillac second cast: Ashley Shaw as Lana, Richard Winsor as Luca, Dominic North as Angelo (his prison solo is wonderful), and Kate Lyons as Rita. And, I might add, each member of the ensemble has a name and, in true acting style, probably inhabits a worked biography. Ensemble player Danny Reubens, another familiar name, also plays the prison warder.
I've been following Bourne's career since the late eighties and what a trajectory. This is his most spectacular yet. The Royal Albert Hall is celebrating its 150thanniversary with this show. There are fourteen performances in all—you don't want to miss it.
Watch out for the dancers entering down the central aisle. It's amusing that punters, too busy finding their own seats, don't notice them kissing and canoodling as they go by. Bourne is present at the matinée, drifting around, talking to customers, again an ordinary guy, part of the throng, except he has a gong for services to dance. I once said if there wasn't a Matthew Bourne we'd have to invent him—well, here he is, large as life.
Reviewer: Vera Liber