The Cardinal
James Shirley
Troupe
Southwark Playhouse
–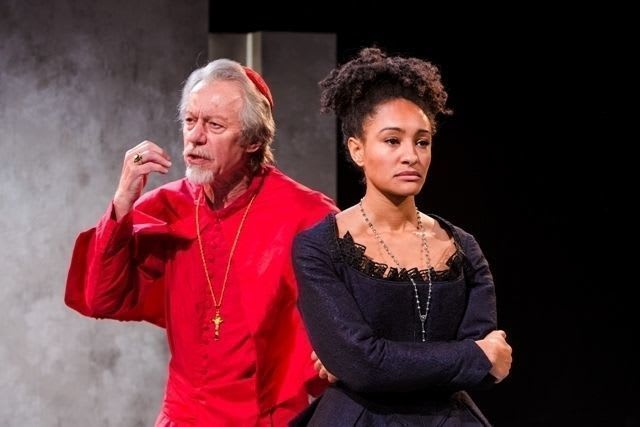 James Shirley was a leading playwright of the seventeenth century though his name now seems largely lost under those of John Webster, John Ford and Thomas Middleton and other contemporaries.
Theatre company Troupe is giving Shirley's final play, The Cardinal, a worthwhile airing at London's Southwark Playhouse, where The Little studio provides a suitably claustrophobic setting for this revenge tragedy.
The action takes place in the kingdom of Navarre where the scheming Cardinal of the title engineers a marriage between his nephew, Columbo, and the eligible young Duchess Rosaura, hoping to draw more power to himself through the union.
Rosaura contrives to be released from the arrangement and marries Alvarez whom she loves and who is killed on their wedding day by Columbo in revenge for, he thinks, being tricked into releasing Rosaura.
The downward spiral of vengeance having been set in motion, in the continuing fast-moving scenes deceptions abound, sides are taken, loyalties are abandoned and the body count rises as the narrative writhes to its contorted conclusion.
Stephen Boxer delivers a wonderfully vile Cardinal, his loathsomeness reaching right into his eyes whilst as his nemesis Natalie Simpson is a spirited Duchess Rosaura, no stranger to deceitful manoeuvring herself, if for more noble cause.
Strong support comes from Sophia Carr–Gomm as lady-in-waiting Valeria, Phil Cheadle as the honourable, self–sacrificing Hernando and Timothy Speyer as Antonio.
Director Justin Audibert has chosen to wring from the text every possible laugh or smile which pays dividends in the early part, making the dense if poetic verse less formidable, but it is a strategy that has its own revenge as, left unchecked, the audience laugh "in the wrong places" when the going gets tougher.
If you don't mind your tragedy watered down in this way, then you won't feel like I do that the production doesn't live up to the drama of sound designer and composer Max Pappenheim's soaring, chorist Amens.
There are some very powerful moments but even as the conspiracies twist about The Cardinal never quite reaches the thrilling extremes that it might.
Reviewer: Sandra Giorgetti