The Caretaker
Harold Pinter
Old Vic Theatre
–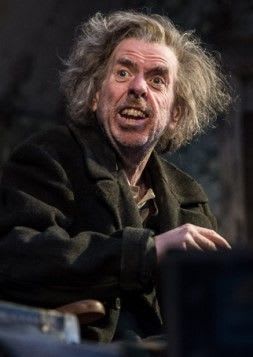 Timothy Spall proves to be an inspirational choice as Davies, Harold Pinter's eponymous caretaker.
In Matthew Warchus's three-hour production, complete with two intervals, he gives what might well be the funniest depiction to date of this spiky character but goes further.
Throughout the evening, Davies, who starts out as a ranter bemoaning his misfortune at being sacked from the kind of job that today would only be taken by the foreigners whom he detests, develops into something more.
Gradually pride and confidence return until the old tramp with eccentric teeth and a hairstyle that is vaguely reminiscent of Donald Trump's, turns himself into a simulacrum of a gentleman, complete with pipe and smoking jacket if not comfortable footwear.
Sadly, despite the airs and graces, the delusional, aspiring toff does not at any point persuade the play's other two working class nonentities that he is anything more than a smelly sponger.
It cannot be easy to play alongside Spall in this form but his fellows both have their moments.
Daniel Mays presents Aston as a heavily limping loser with sloping shoulders. His slowness is eventually explained in a gripping speech, chillingly taking us into the good old days when electric shocks were routinely administered to the unruly and unpopular, as well as the insane.
As Aston's brother Mick, George MacKay can be menacing and speaks with the rhythm of a machine gun for much of his opening scene, deliberately terrorising his brother's house guest, assuming that a depressingly grimy attic designed by Rob Howell and piled high with detritus, even qualifies as a house.
As the evening develops, Davies begins to play the brothers off against each other, in both wheedling and aggressive fashion, with identically unfavourable results. However, by the end of those three hours, his limited relationship with the truth might well have drained much of the viewer's sympathy, despite the charm injected into this wonderful character by Timothy Spall.
Viewed 56 years on from its original production featuring Donald Pleasance in the leading role, The Caretaker proves to have enduring value. Not only is it a great star vehicle for an experienced actor who doesn't mind turning himself into a tramp, it also says much about society then and to a degree now.
It is sad to report that not only is Davies's xenophobia proving incredibly popular in Britain and Europe today but a social services are taking us back to the days when those with borderline mental health problems are once again treading the streets.
Reviewer: Philip Fisher