The Changeling
Thomas Middleton and William Rowley
Red Bull Theater
Lucille Lortel, New York
–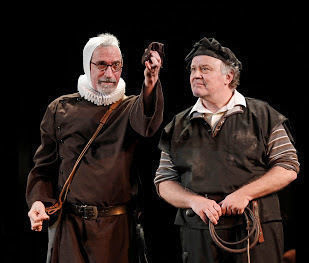 All credit to Jesse Berger of Red Bull Theater for flying the flag of the Jacobeans in a city that generally thrives on the new and regards Arthur Miller and Tennessee Williams as writers of the distant past.
His lively revival of a play not seen in the city for decades plays it as a funny ripping yarn, albeit sacrificing some of the psychology as a result.
The production is graced by a beautiful glossy black set designed by Marion Williams and cleverly lit by Peter West. It is semi-traditional, the costumes only partly in period, while the accents are varied American.
The plot of this revenge tragedy is as mad as many of the characters. It all turns on the passions of Sara Topham's nobly born but bitterly scornful Beatrice-Joanna.
Rather than obeying her father and accepting the hand of Piracquo played by John Skelley, she falls in reciprocated love at first sight with Christian Coulson as Alsemero.
Where most maids would do the decent and marry her father's choice, not only does Joanna seek to pursue her passion, but goes far further. In doing so, she overcomes revulsion for her manservant De Flores. Manoel Feliciano has great fun playing a disfigured man who might be viewed as a mixture of the worst traits of Iago, Richard III and Quasimodo.
His lust for the mistress knows no bounds and if the price is the odd murder or two, that is of no consequence.
After brewing up this incitement to evil amongst the classes that should know better, the playwrights Thomas Middleton and William Rowley send the evening off in a completely different direction, with not all that much connection to the main drama.
The sub-plot is set in a madhouse that houses a weird and wonderful set of inhabitants on both sides of the bars.
Christopher McCann, Michelle Beck and Andrew Weems as respectively the doctor, his wife and the whip-wielding guard all amuse, as sex rears its ugly head, thanks to a couple of well-born interlopers.
However, the main action and intriguing takes place under the auspices of Joanna and De Flores, who find as in most examples of this genre that once one murder has been committed, the only way to cover up sin is by increasing the tally on a regular basis.
Jesse Berger clearly relishes both strands of the story and impressively brings them together as bedlam melts into marriage bed seamlessly to bring the performance to an inevitably tragic denouement.
The Changeling is a play that could almost have been a precursor of any number of horror movies. Where this 2¼-hour production scores is in maintaining great pace while bringing out every ounce of the gory humour, with blood and the odd spare digit part of the recipe for a stirring night out that will not disappoint.
Reviewer: Philip Fisher