The Colby Sisters of Pittsburgh, Pennsylvania
Adam Bock
Tricycle Theatre
–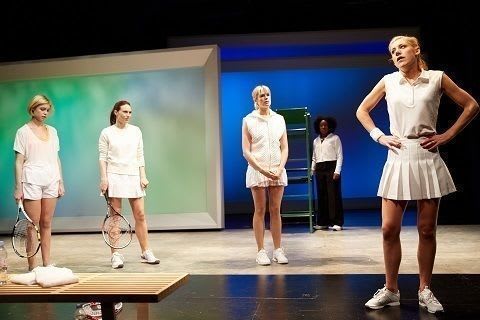 Indhu Rubasingham has pulled off something of a coup by persuading American playwright Adam Bock to stage the world première of his contemporary oh-so-New-York tale of Uptown sisterhood in downtown Kilburn.
On the surface, The Colby Sisters of Pittsburgh, Pennsylvania is a play about five bitchy sisters enjoying the high life in the Big Apple.
Under the direction of Broadway regular Trip Cullman, the quintet soon establish their independent identities.
First on stage are gorgeous, matriarchal India, played with graced by Isabella Calthorpe, and impecunious, insecure Willow, Clare Forlani. They are kitted out in spectacular ball gowns which herald an evening that will make fashionistas drool.
The purpose is a family photo prior to a charity event run by domineering Gemma. Not only does this fearsome harridan have to have her way in all things but also the last word on any occasion. This is tough for every sibling but particularly her far more retiring twin Garden, played by Patricia Potter.
Not satisfied with running her own family, Gemma does her damnedest to divide Garden from Alexander, an unfaithful, unseen husband whom she really loves.
Last but not least comes the baby of the family, Alice Sanders as bleach-blonde airhead Mouse for whom a one night stand would be a long relationship.
Frittering around in the background is fixer Heather (Ronke Adekoluejo), an African-American whose job might be seen as no more than that of a glorified slave to Gemma.
For the majority of the 80-minute running time, the sisters bicker and patronise anyone that comes within their ambit including husbands, competitors from their elite social circle and even "Daddy and horrible Evelyn" back home in Pittsburgh, Pennsylvania.
Human interest is injected by the two weakest members of the family, Willow worries about her unemployable husband and the money that he is not bringing in, while Garden sniffles over Alexander.
Just when it feels as if the play is unlikely to go anywhere very purposefully, there is a moment of such unlikely drama that it electrifies the house and changes the whole tenor of the evening.
Suddenly, the weaker sisters rise up in rebellion, much to the delight of their admiring equivalents in the audience, which allows Charlotte Parry to show her mettle in a carefully nuanced performance as spoilt Gemma, complemented by a change in gear from Isabella Calthorpe during a heavily symbolic tennis match with balls that remain amusingly audible without being visible.
While The Colby Sisters of Pittsburgh, Pennsylvania is a lightly amusing portrayal of the rich and famous at play, it is necessary to poke beneath the surface in order to search for some interesting allegorical depths.
Those that try might well come to the conclusion that Adam Bock is poking fun at those who still believe in the Great American Dream—Gatsby-style with some pretty pithy comments about the vacuity of fame and those that enjoy it garnishing the feast.
From that perspective, this is a charmingly insidious piece that will offer hope to anybody with even vaguely egalitarian instincts.
It will also amuse those who are quite happy to take the sisters at face value.
Reviewer: Philip Fisher