The Collected Essays of Arthur Miller
Arthur Miller
Bloomsbury Methuen Drama
Released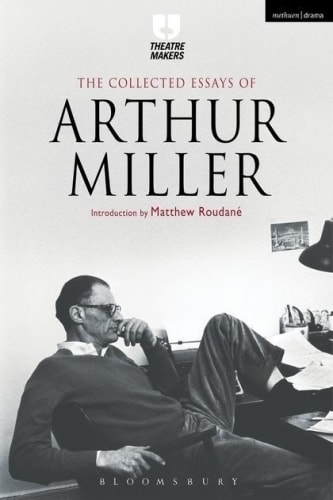 As part of the Arthur Miller centenary celebrations, Bloomsbury has published a book that is guaranteed to please anyone lucky enough to buy or receive a copy.
Miller writes so well and so intelligently, not only for the stage but also the page, that it is hard to get enough of his output.
In addition to the plays and his autobiography, Timebends, Miller (or his publishers) has previously produced three books containing essays, although there is some overlap.
Readers may well be familiar with The Theatre Essays of Arthur Miller published in 1978, Echoes down the Corridor in 2000 and the slim The Crucible in History the same year. These books appeared far enough back to justify a new, weighty publication in centenary year which brings almost every essay that Arthur Miller ever wrote together in a single volume.
The editor, Matthew Roudané, who provides an intelligent introduction, has chosen to group the essays entirely chronologically.
In one way, this makes perfect sense as a means of contextualising the work. In another, it might have been more logical to keep the pieces in their constituent collections.
This latter approach would have had the advantage of splitting up writings that are generally distinctive, the theatre pieces typically being more philosophical and analytical than those on life, the universe and everything.
In any event, readers of this weighty tome can get their teeth into writings from 1944 right up to the Millennium. In addition to essays, there are extracts from longer works and also a number of interviews that vary from the tediously academic at one end of the scale to the highly entertaining and informative at the other.
The essays themselves speak volumes about the life and work of Arthur Miller across the second half of the last century.
The theatre essays focus significantly on his own plays, inevitably giving much detailed information about the background and response to The Crucible and Death of a Salesman. They also provide much information and enlightenment about the other works that will enhance future visits to the theatre.
As well as the Miller opus, he also writes about many of his contemporaries, with particular concentration on Eugene O'Neill and Tennessee Williams, but also says much of interest about the wider theatrical climate across this long period.
The more general essays are a rich and varied selection looking at everything from Miller's own childhood and youth to anti-Semitism, experiences in Russia and China and lovely poetic depictions of such issues as Rain in a Strange City.
There are also some first rate satires, of which a favourite is likely to be the post-Swiftian A Modest Proposal for the Pacification of the Public Temper.
Rather than going on at great length about such a wonderful collection, it is far better to recommend it wholeheartedly and then give readers a little longer to enjoy the book itself.
Reviewer: Philip Fisher