The Comedy of Errors
William Shakespeare
Shakespeare's Globe
–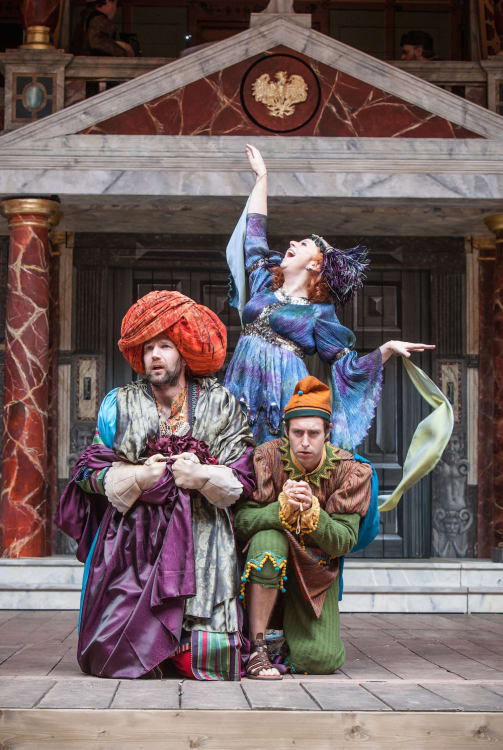 Blanche McIntyre's vision of The Comedy of Errors is a long way from that commonly seen and, one would wager, that of the play's progenitor.
The much lauded young director's brand of slapstick and farce, which might at different times bring to mind films embodying the Carry On team or Keystone Cops, proved popular with the opening night audience but sacrificed a considerable element of the wit and heart that drives a perfectly constructed comedy of confusion and manners.
Despite much larking round, the running time is only around 2¼ hours. That is the result of considerable cutting and a tempo that is often manic. This fits the ethos of a production that benefits greatly from designer James Cotterill's gorgeous, colourful costumes which draw on Moorish influences.
After a somewhat ponderous and at times barely audible scene-setting speech from James Laurenson as shackled old Egeon, the evening moves straight into the uncertainties of mistaken identity caused when Antipholus and his servant Dromio, both visiting from Syracuse, arrive in Ephesus.
As we swiftly discover, unlike everybody in the city, the home team already possesses its own Antipholus and, it follows, an accompanying Dromio.
As pairs of identical twins, the quartet effortlessly cause chaos to all and sundry but especially themselves.
The similarities go beyond dress so that the bearded Antipholuses, Matthew Needham for Ephesus and Simon Harrison for Syracuse, might cause confusion for the audience they look so similar, while their loyal, battered Dromios, Jamie Wilkes of Ephesus and Brodie Ross, Syracuse, could also be mistaken when viewed from a distance.
In this version, the matching masters and servants rushed madly around amid an air of all-encompassing hysteria that infects everyone who appears on an extended stage garlanded with collapsing architecture, bouncing ornaments and more oddly, rubbery fish and fowl that double as soft weapons.
The highlight is a running gag involving an inaccessible pair of over-sized, white drawers. This introduces a dim but willing Dromio (goodness knows which one) before most of the audience have entered the auditorium and eventually brings the house down a couple of hours later.
The Ants and Droms caper around haplessly, berated by all and sundry, but particularly A of Eph's harridan of a wife, the drama queen Adriana, played with relish rather than realism by Hattie Ladbury.
At times, the pace is so fast that viewers might lose track of what is happening, particularly those who are not familiar with one of Shakespeare's more rarely performed works.
Purists might balk but while the comedy is rarely subtle it can be funny, especially for a Globe audience that is usually blessed with tourists whose English might not be all that Shakespeare would have expected from his paying public.
Reviewer: Philip Fisher