The Confession Room Concept Recording
Music and lyrics by Dan Looney, book by Patrick Wilde, additional lyrics by Reece Looney and Sam Champness
SimG Productions
Released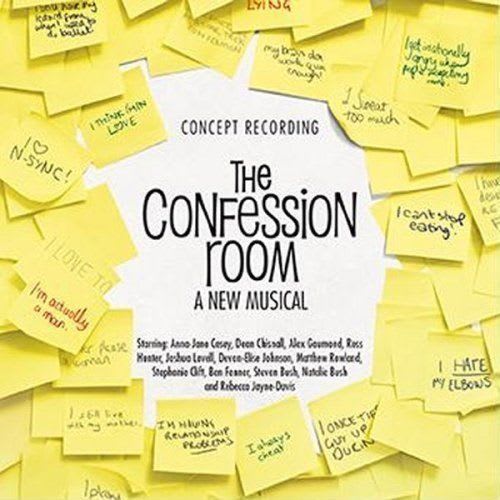 It's very difficult to get a brand new musical noticed, especially when the writers have no track record, but the concept album, which worked very well for Rice and Lloyd Webber in their Superstar days many years ago, is a great way to get the music out there and heard.
Like a few other recent concept albums—such as Laura Tindall's The In-Between—writers Dan Looney and Patrick Wilde have tempted experienced West End performers Anna-Jane Casey, Dean Chisnall, Alex Gaumond and Ross Hunter to join a cast that otherwise consists almost entirely of recent graduates from Arts Educational School, whose voices certainly don't sound out of place with their more famous co-stars.
The titular group holds therapy sessions in New York for people who want to confess embarassing stories to a roomful of strangers that they would not want to admit to their friends and families. The comic songs are largely about sex—although a few other bodily functions creep in at times—and the slower, more serious ones are about failed relationships. Even the session leader eventually has a story to tell.
It is an odd basis for therapy as many of the participants are just embarrassed rather than traumatised by their stories—in fact some don't even appear to be that—and some have been coming to the sessions for some time without actually telling their stories at all. It isn't quite like the therapy group in Rent, to which this show seems to owe a debt musically, where the group deals specifically with people suffering from HIV and AIDS.
Therefore, from the recording and the plot synopsis, it comes across as a character piece that is light on plot, rather like A Chorus Line in which each character takes a turn to tell his or her story. While there are some amusing and sad moments, none packs a punch to compare with that earlier show.
The music is pleasant in a familiar rock musical style. The lyrics work reasonably well in places, but there are some awfully contrived and obvious rhymes and some rather crude—in both senses of the word—humour that doesn't have the cleverness or wit of some far filthier modern musicals such as Avenue Q.
The next step for this show, just announced, is a concert performance in the studio at St James Theatre, London in July starring West End performer Jon Robyns. It's a long process, but the writers are obviously determined to have their first show noticed, so the very best of luck to them.
Reviewer: David Chadderton