The Convert
Danai Gurira
Young Vic Theatre
–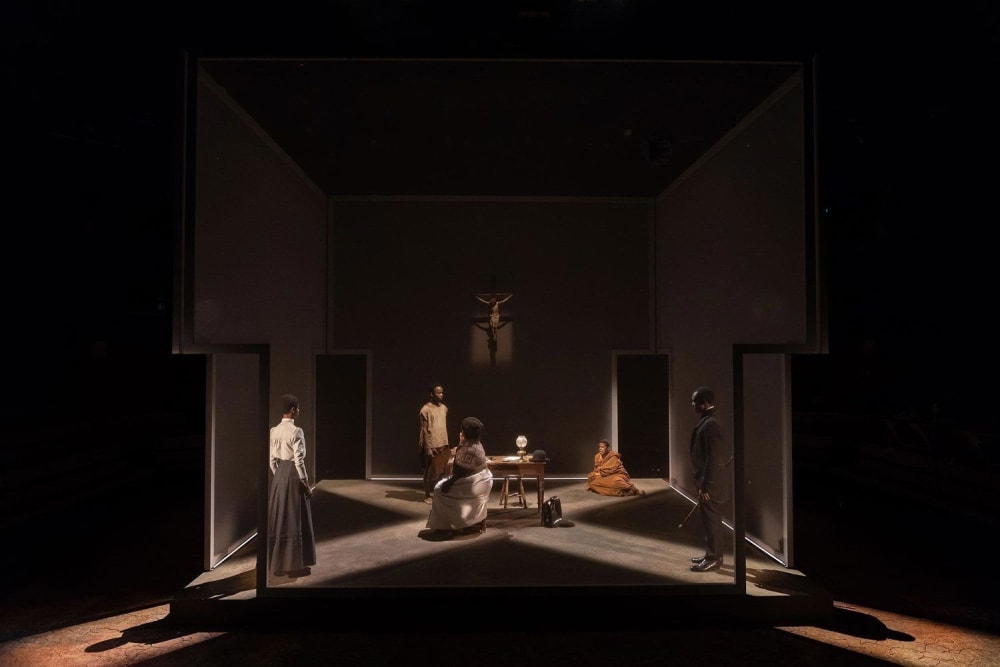 As he explains in the programme, the Young Vic's new Artistic Director, Kwame Kwei-Armah was desperate to secure a production of The Convert as part of his opening season.
Anyone watching this powerful indictment of colonialism and religious wrong headedness will easily see why.
As this reviewer commented on Christopher Haydon's production at the Gate last year, "what sets The Convert apart from so many is its ability to allow viewers to consider old concepts from new and unexpected angles. Even though Danai Gurira's distaste for white hegemony clearly shines through from beginning to end, she can show compassion and sympathy for those with whom she seemingly disagrees."
The Zimbabwean-American actor-playwright has located her drama in Salisbury, Rhodesia in the last years of Queen Victoria's reign.
Ola Ince's striking production sets it in-the-round, ensuring that visitors feel like uncomfortable voyeurs, witnessing man's inhumanity to man (and woman), as Christianity proves itself to be toothless or, one might even suggest, wicked.
The action plays out in the home of an administrator and aspiring Roman Catholic priest Chilford, played with a rare combination of wit and convincing humanity by Paapa Essiedu.
He is the classic Uncle Tom, acting more English than his colonial colleagues, in the belief that by doing so he will eventually become one of them.
Chilford acquires a protégée in the form of teenaged Jekesai, whom he immediately baptises Esther, a dream of a part beautifully played by Letitia Wright. The youngster is so grateful to have escaped a forced marriage to an old man that she happily agrees to forget about the "pagan" rituals of her culture and wholeheartedly embrace Christianity.
There is much good humour in the early scenes as Esther and the maid, Pamela Nomvete as her pagan aunt Mai Temba try to find a middle ground between the two sets of customs, one falling either side of the divide.
The play also takes on wider issues including the perennial problem of masculinity in a society in which it is dominant. This not only covers the shona speakers with their polygamy but also their Christian neighbours, who, it is suggested, managed to achieve similar results but without the overt blessing of their religion or legal system.
Danai Gurira's primary goal in writing this play, though, is to expose the hypocrisies of the White Man's use of religion as a means of controlling a society. She does so with consummate skill in a comedy of manners that turns into a tragedy by the end of a running time of 2¾ hours, including two brief intervals.
Although some of the scenes can be gruelling, The Convert is right up there with the best plays produced in London this year, which explains why Kwame Kwei-Armah was so keen to secure a production.
It combines gripping drama, detailed insight of character and psychology, along with a harsh but probably realistic view of the dangers that racism (even of a relatively mild and ignorant variety) and religious intolerance can propagate. Sadly, although the world has moved on a great deal in the last 120 years, many of the most significant points raised in this play remain as valid today as they were at the time.
With fantastic central performances from Paapa Essiedu and Letitia Wright, this is an evening that should be compulsory viewing for anybody with a heart.
Reviewer: Philip Fisher