The Creation
Choreography Mark Baldwin, music Franz Joseph Haydn
Rambert
Sadler's Wells
–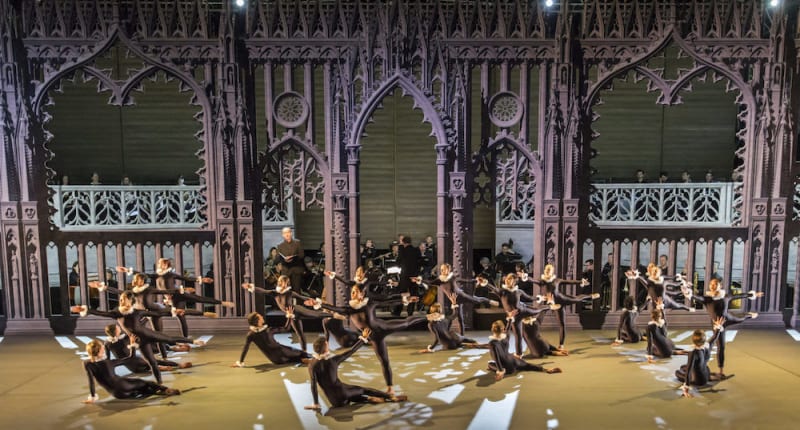 In celebration of Rambert's 90th anniversary, more than fifty dancers, seventy musicians—the Rambert Orchestra conducted by Paul Hoskins, BBC Singers chorus and three soloists—take the stage for Mark Baldwin's most ambitious work to date—no less will do for the occasion or for Hayden's masterpiece, The Creation.
I wonder what music lovers who like to listen to a music concert with their eyes closed will take away from this collective experience. What do you see in your mind's eye? Eyes open to a mirage of kinetic images—not intrusive or obtrusive, but a complement, and compliment, to Haydn's late work of the late eighteenth century—maybe they will hear the music anew.
A monumental work, this staging, which premièred at Garsington Opera Pavilion in July 2016, designed by Pablo Bronstein to look like the interior of a cathedral, is stupendous. The visual impact is immediate.
A carved Gothic rood screen separates the orchestra and singers from the dancers, dancing as if before an altar in God's house, penitents and worshipers, novices and initiates, choir boys and courtiers. Soloist singers stand in the archways as Mark Henderson's light streams through the elaborate apertures, "this brave o'erhanging firmament, this majestical roof fretted with golden fire", their voices soaring in heavenly rapture.
Each day of creation is sublimated in an endless stream of choreographic invention. Some in flesh-coloured unitards, some in black, both with white ruffs round neck and wrists (costumes co-designer Stevie Stewart), some with shiny faces and gilt bodices—archangels I expect—dancers flock as one and separate in intense solos, soulful duets, and fine trios. They might have stepped down from the cathedral statuary and iconic religious paintings. Arranged in frieze formation they could be Jacobean courtiers or effigies frozen in time.
Baldwin says he wasn't aiming for a literal interpretation, more a conversation with and a response to the music, which he studied avidly over a long period of time. But occasionally he obviously can't resist, especially when a worm ripples across the stage, engaging the audience with its humorous interjection—a sit-up call for those whose concentration may be flagging.
Waves of invention spill seamlessly: Adam and Eve (Luke Ahmet and Lucy Balfour I think—no one is credited individually), comical birds, ants—well the twenty-five black-clad Rambert School students look like ants en masse, or choristers in Wells Cathedral—larger creatures, and lovers. Ultimately it's about love. Couples—same-sex too—explore each other's attributes, count fingers, stroke faces—the wonder of God's creation.
"What a piece of work is a man! How noble in reason, how infinite in faculty! In form and moving how express and admirable! In action how like an angel, in apprehension how like a god! The beauty of the world." With wit and awe, Baldwin captures and shapes all that in a hymn to grace, human expressive endeavor, and dance's endless fluidity.
You get two for the price of one: a glorious musical concert and the best piece of work Mark Baldwin, Rambert's artistic director, has ever done. A huge undertaking, which he and his dancers have pulled off magnificently: tilts, jumps, arabesques, deep pliés, formation work in constant flow, running, sliding, gliding. Mellifluous harmony—hallelujah indeed—intimacy and joy...
Soprano Sarah Tynan, lyrical, clear as bell, soft on the ear, blends sweetly with tenor James Gilchrist, bass Neal Davies and choir. Gottfried van Swieten's English text, edited by Paul McCreesh, not always audible from where I am sitting, choreographic language taking the place of subtext and subtitle.
Baldwin in the final moments has the stage bare of dancers, the music having the last word, as if to say in all humility that mere mortal he is no match for Hayden's sublime creation. A thing of beauty in a time of ugliness, we need it now more than ever, an uplifting sound for any- and everyone.
Reviewer: Vera Liber