The Crucible
Choreography Helen Pickett, music Peter Salem
Scottish Ballet
Sadler's Wells
–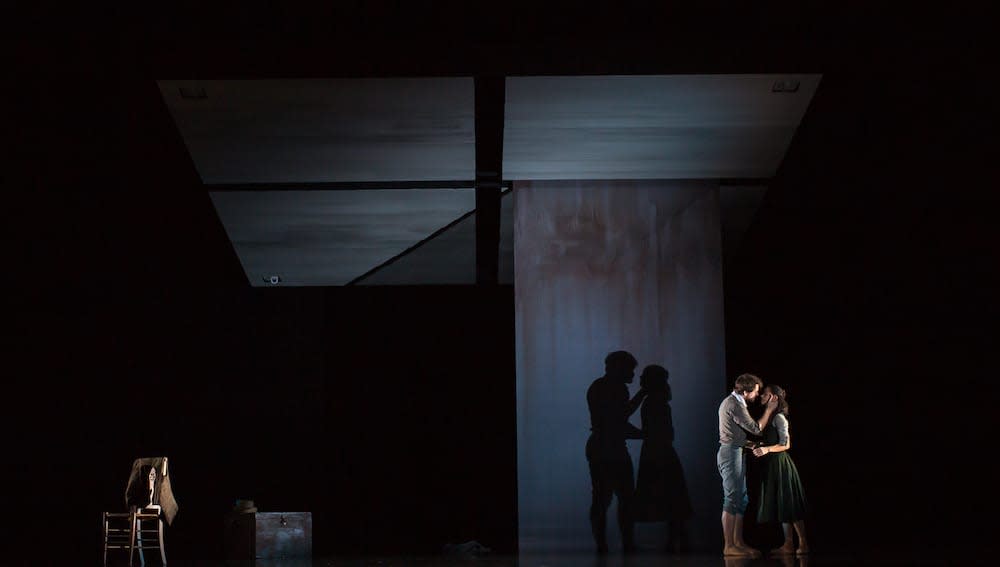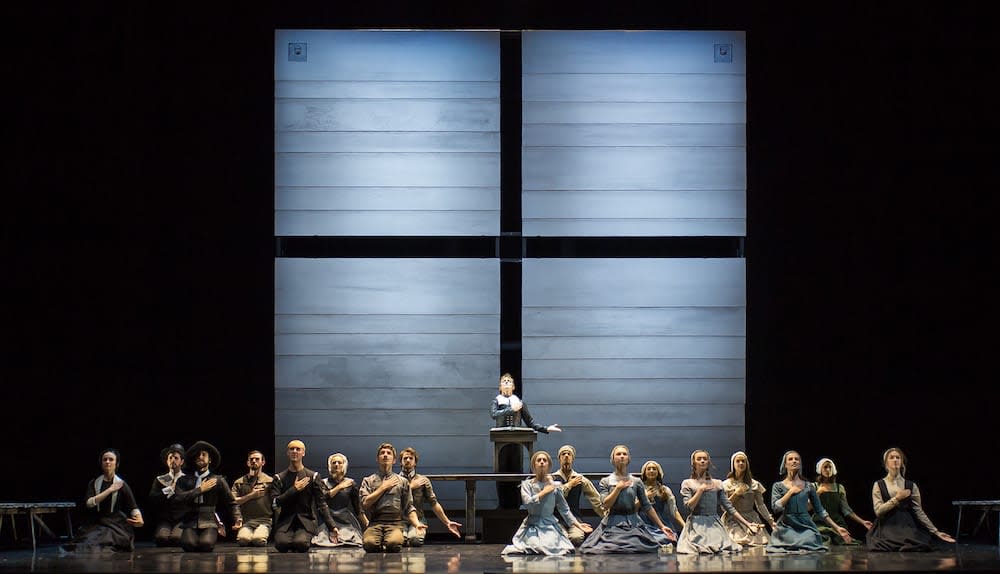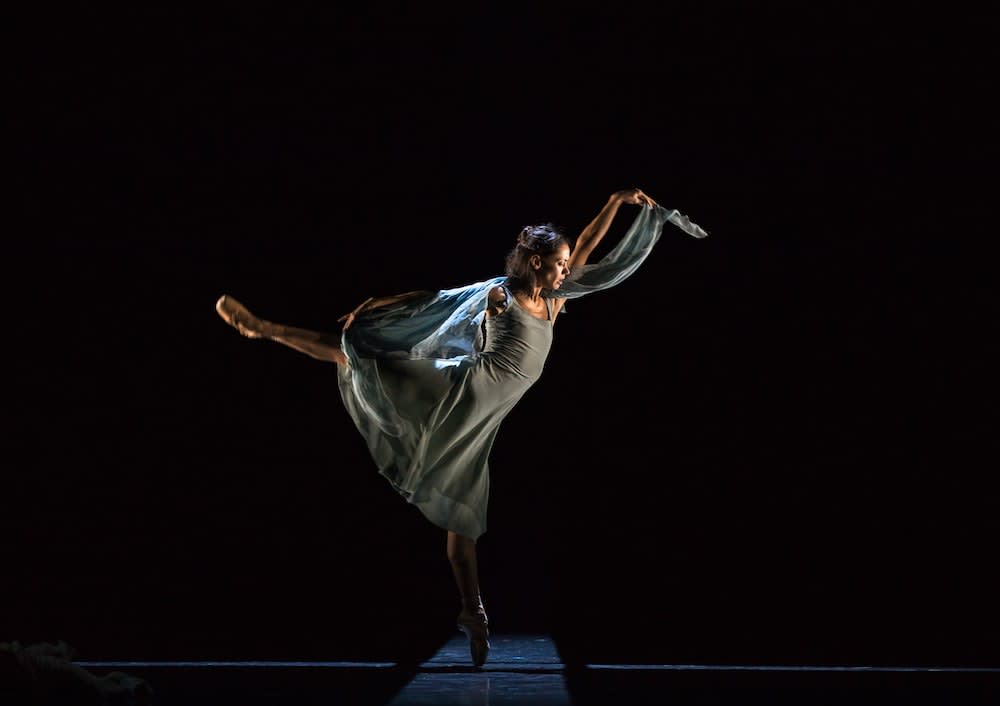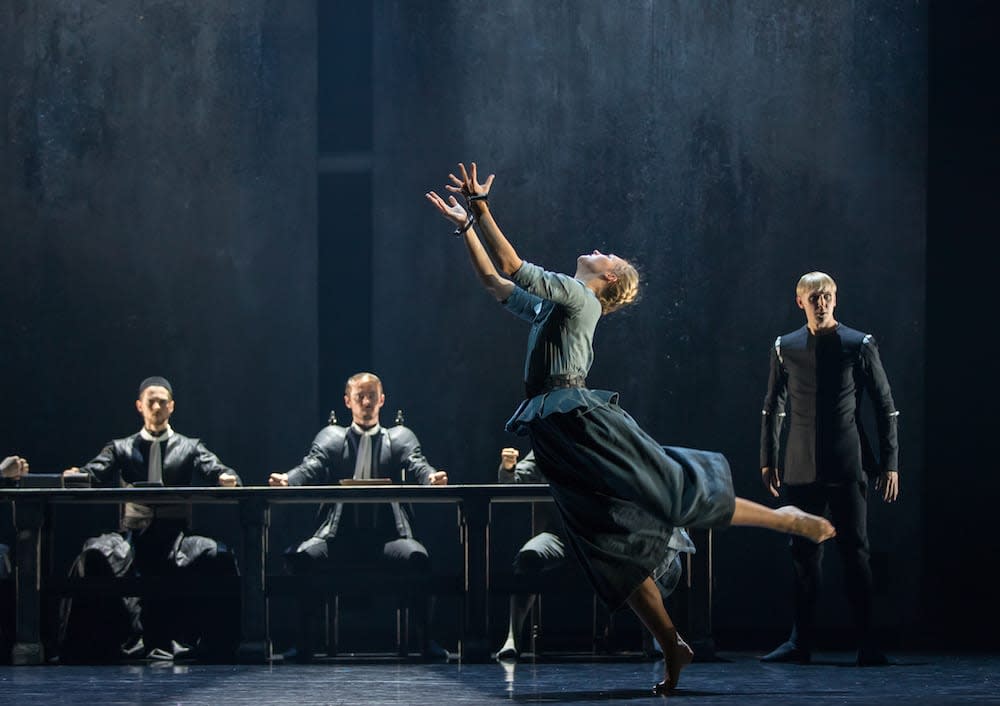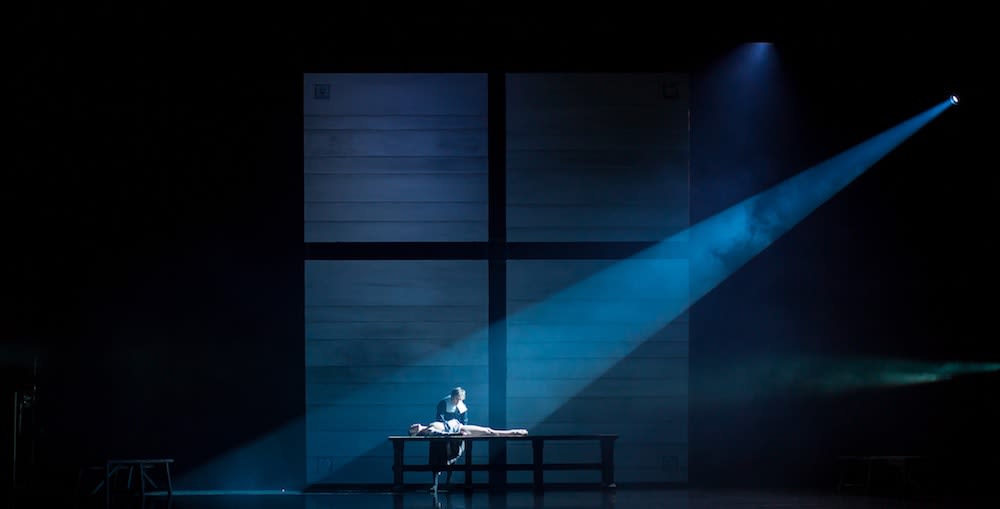 It takes a brave choreographer to take on Arthur Miller's 1953 intellectual, wordy play with its strong message against tyranny—timely and for all time. American Helen Pickett, former performer with William Forsythe's Ballet Frankfurt and the Wooster Group, might just be that person extracting its undercurrent of repressed emotion into expressive dance.
She has a strong team behind her. Artistic collaborator James Bonas's credentials in opera are evident in a narrative ballet, but it's Peter Salem's (how about that for a coincidence of a name) serrated cacophony of a cinematic musical score that creates and explicates the chilling drama with an unusual soundscape of spooky noises, screams, bells, bangs and a percussive / string mix. The score is the making of The Crucible—captivating. Strange sounds emerge from the orchestra pit—a live orchestra under the baton of Jean-Claude Picard—and I'm transfixed.
Emma Kingsbury and David Finn's partnership, she credited for set and costume design, he for set and lighting design, is another beautiful feather in Pickett's cap. Film noir dark, cruciform lighting at the crucial moments, slanted low lights, and shadow play, tells you much—these are scary times, superstitious times, looking over one's shoulder times of religious persecution. They fear the Devil but they are the Devil's work, those who sit in judgement and condemn innocent people to death.
These fearful, guilty young girls who point the finger are children really, as their shadow puppets of wolves and trees signify, girls discovering their sexuality. The first scene is of Abigail playing with a doll's house on a Shaker-style simple set. Could be Betty—I'm not sure at first—and here's the rub: how well do you know the play? I reread it a few days before, and only just identify the girls and the inhabitants of Salem.
Sound (some folksy tunes here), mood, and a lonely young girl's imagination established, the scenes build to a gradual understanding. John Proctor is tempted by this nubile girl: his wife Elizabeth has just had a baby and is not well. I'm taking this from what I'm seeing. Abigail is desperate for him, but he eventually pushes her away.
A stark moment, which instigates her devastating revenge. It gets out of hand, voodoo doll and long hatpin… witchcraft. Here five teenage girls (shadows make them look like carrion crows) bring down a community of mature, upright citizens. John persuades Mary (Claire Souet's solo is very good) to sign a paper exposing the girls, but she can't hold out against the group. For me in the play, this is the terrifying moment, the pivotal moment, when the power of the mob wins.
Good people Rebecca Nurse, Martha Corey and more, as well as the Proctors, are in court. Will they sign false confessions? Am I seeing this or interpreting from knowledge? What I'm seeing are powerful duets, emotional duets, which dance does so effectively. There's a brief circular dance that channels Matisse's La Danse, which the five girls enact in their burgeoning pubertal yearnings.
And the visual power of the dogmatic1692 Puritan court—men in black with crosses on their garments, but which one is which? Reverend Parris I guess, and Danforth, who has a most eloquent solo of belief and determination and glory to god. Jerome Anthony Barnes as Danforth is outstanding.
There are prayer meetings and much crossing and semaphoring of arms. Again the power of the conditioned collective is invoked. I am reminded of Margaret Atwood's The Handmaid's Tale. And of Nathaniel Hawthorne's The Scarlet Letter when the condemned are marked with a slash of red paint across their chests.
But the heart, the tender heart, is Sophie Martin and Nicholas Shoesmith as the Proctors, their journey, in tormented solos and duets, from despair, through contrition and to abiding love. Better to go to meet your maker free of lies. Abigail (Constance Devernay) has not broken their love, though she wished it, wanting what they had and she couldn't. All are committed 'Method acting' performers and strong dancers.
A cast of twenty-two, each named, carry the weight of Miller's words in just a hundred minutes (including interval). It's a bleak work for bleak times, and it breaks your heart, but the artistry of all involved calls for it to be seen.
It sold out in the Edinburgh International Festival in August 2019, and next May it will go to Washington and Nashville. Scottish Ballet is also marking ten years of Christopher Hampson as Scottish Ballet's Artistic Director. He has ten more to go to catch up with Northern Ballet's David Nixon, who also championed narrative ballets.
Much is invested in The Crucible, which "was the first ballet created as part of the Five in Five campaign, launched in 2019 to commission and stage five new full-length ballets in five years, as a legacy of work to commemorate Scottish Ballet's 50th anniversary year."
Reviewer: Vera Liber