The Cunning Little Vixen
Music and libretto Leoš Janáček
English National Opera
London Coliseum
–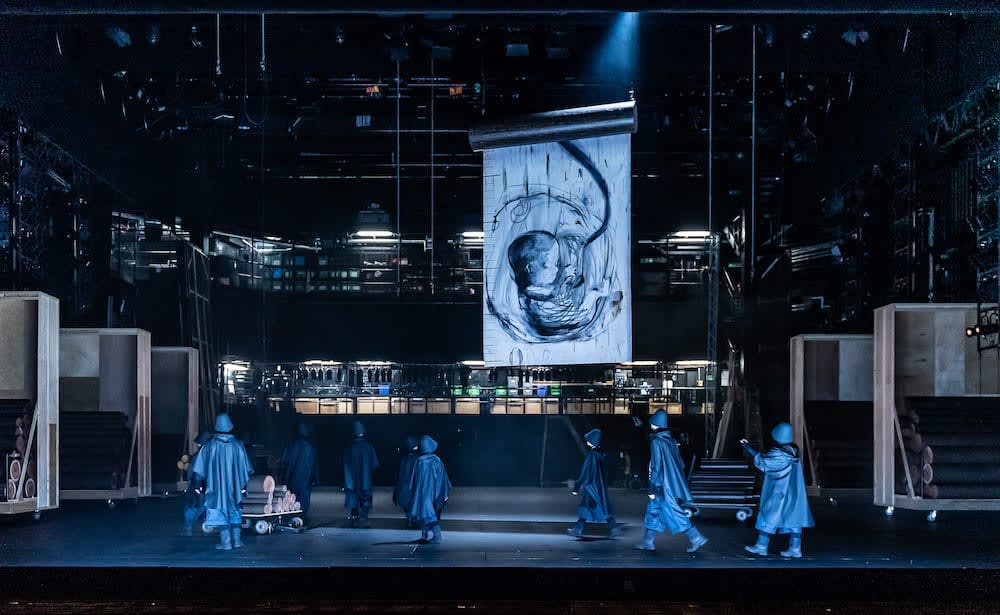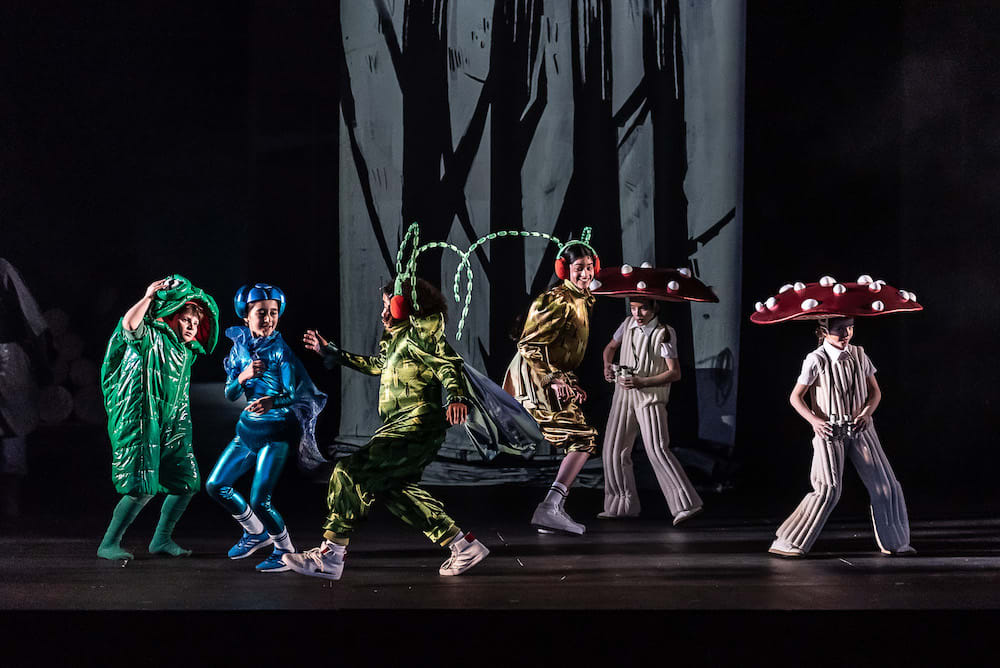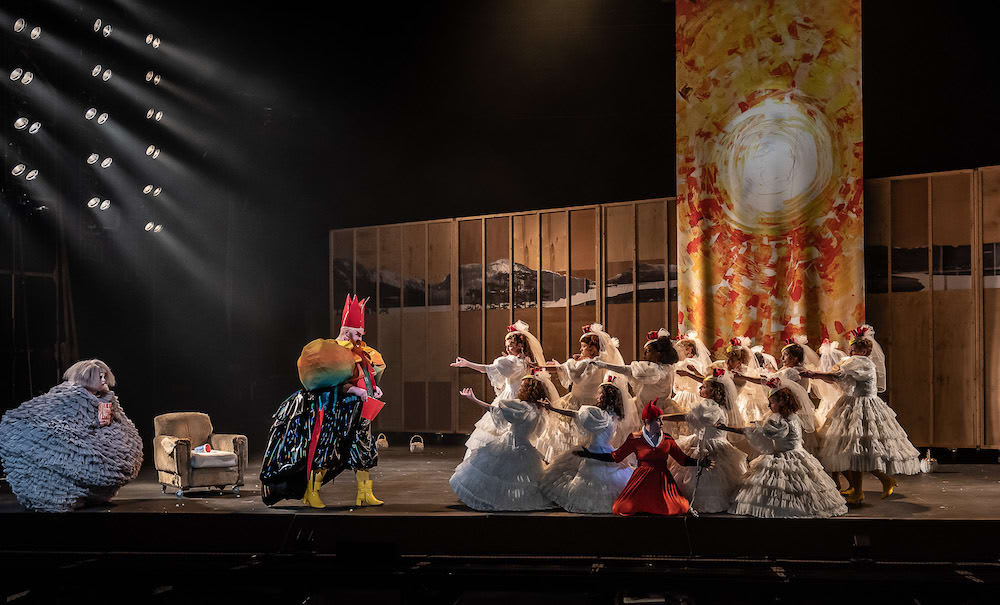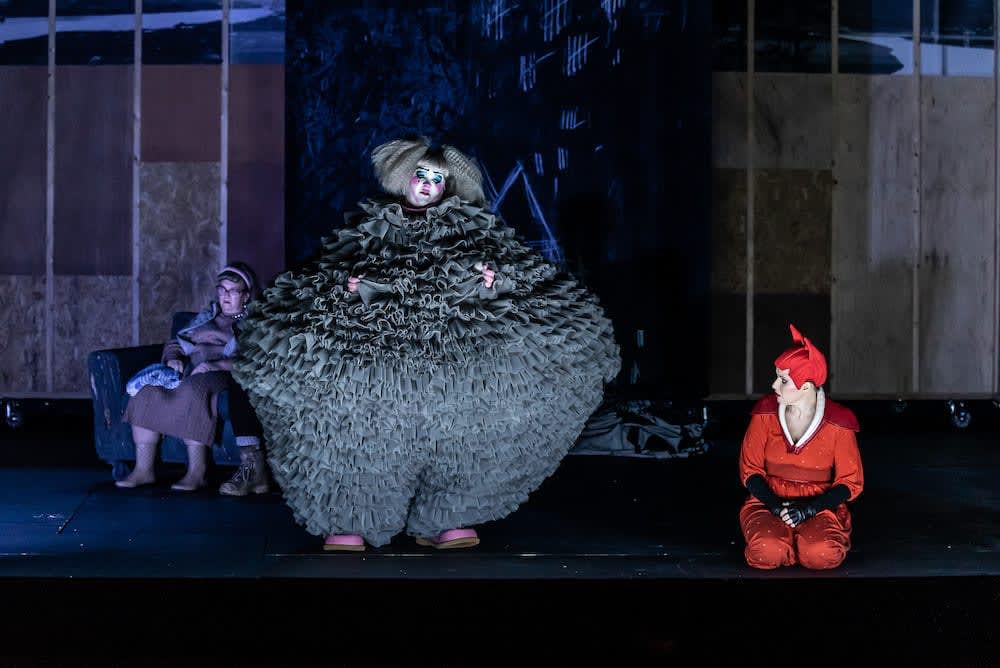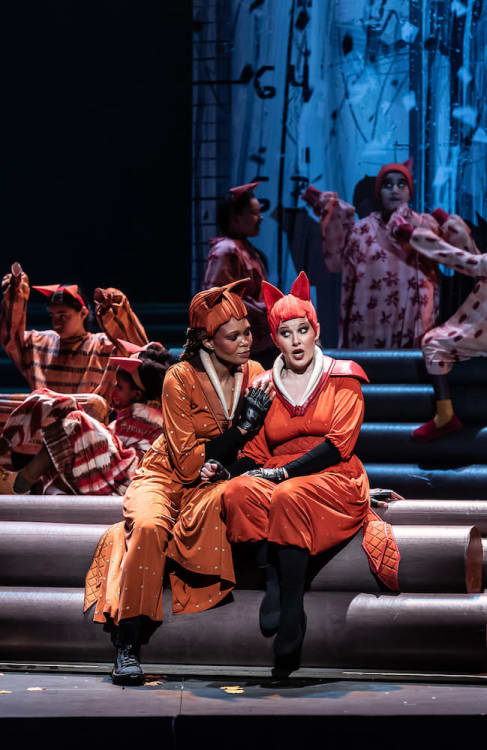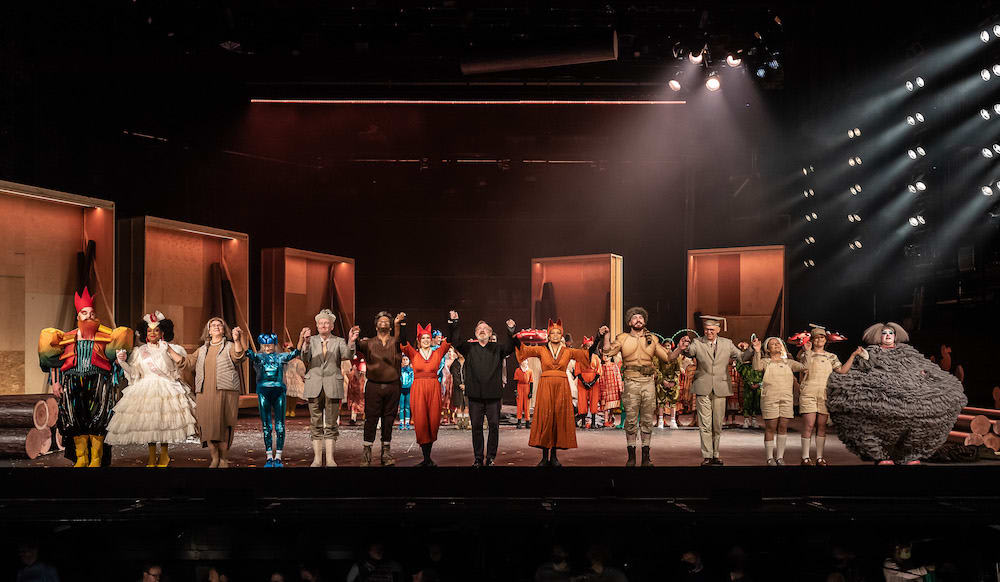 Fate does for the Cunning Little Vixen, for Liška Bystrouška, and fate, or should I say Storm Eunice, did for ENO's first performance last Friday of its latest newest version since 2001—it had to be moved to Sunday's matinée. (There's also a relaxed performance on 26 February 2022 at 14:30.)
Sunday my day for gallery visits, I should have been at the RA, and I'm not a matinée person, but there's plenty of art here, and I'm delighted to see so many children and young people in the audience—the future captive audience and potential performers—maybe come to see their friends in the production, which has some twenty children singing the roles of the Vixen's fox cubs and the opera's woodland creatures. "All in years 5 and 6 (aged 9–11), the majority have been cast from two local Westminster primary schools, marking the start of their new partnership with ENO Engage." I love the scared Rabbit, hands over eyes. He gets away, phew.
But is it an opera for children—with its death and life cycles—you may ask, though children are tougher than many of you might think. And there is something of the rough and ready school play about it, if not pantomime, all that dressing up as creatures of the forest, what fun. And the vast rough and ready stage fully open to its workings—no mystery or mystique there.
A late opera (1922–23) from Janáček (1854–1928), it's also very personal, as it deals obliquely with the Forester's unrequited 'love' for the young Vixen, mirroring Janáček's for the much younger and married Kamila Stösslová, his muse. His final aria rather spells that out, and the soulful music has a full of regrets yearning to it. Yes, life is lived forwards but understood backwards—according to Kierkegaard.
The animal kingdom is much more organic, reflected by a too clever by half artificial metatheatrical stage milieu. A painted scroll centre-stage hangs from the rafters, an embryo attached to umbilical cord signifying the start of the life cycle. It will unscroll throughout—a sort of timer—symbols of growth, trees turn autumnal, sun, and a height chart with numbers, but these are the ages of man. Death comes, but with it a burst of sunlight and renewal.
The lead characters have triple-gangers, child, adolescent and the aging adult we see before us. The prime example is an old Dragonfly (Joy Constantinides) who shadows the humans in the background, later appearing with a walking stick. So don't worry about the quick-witted Vixen who can get herself out of any spot except when she can't, when too cocky by half she meets her match in the Poacher (bass baritone Ossian Huskinson). But she has produced a litter of sixteen, her genes will continue.
Anthropomorphic creatures and fruits of the forest fill the stage, and an army of ants / bugs (one swinging a pocket watch—time again, you see) are scene-shifters, pushing those trolleys in the sawmill that stands in for the forest. There are scooters for the youngsters, binoculars for the Mushrooms, and I spot a shopping trolley.
The stage is constantly being reconfigured, the Forester's house closed in by drab panels on rollers for those sofa and TV moments, and the poor young Vixen (Sally Matthews pure delight) having to deal with their sex-starved fat Dog (Claire Barnett-Jones in comical frilly grey outfit).
Still, the Vixen can look after herself: the strutting preening Cock (John Findon a proper king cock in his high crown and black shiny bin bag pants and bustle) and his Hens in white wedding dresses are no match for her. But when she does find her match, Pumeza Matshikiza's Fox, their soprano duets are made in heaven—the peak of the evening for me. And their wedding scene is charmingly festive.
Baritone Lester Lynch is a simple Forester, drinking with his morose mates, Schoolmaster (tenor Alan Oke also the Mosquito) and Priest (bass Clive Bayley also the "capitalist" Badger who "insults the working class")—all sucking on tubes from a beer barrel (intravenous drinking?)—all lusting after "floozy" Terynka. The Poacher gets her and she gets a fox fur. But life goes on, the Forester finally sees that, as he wraps himself in that mile long scroll, his life enfolded around him.
This is Jamie Manton's main house directorial debut, and there are many ideas flying around. I find I'm almost concentrating more on the tricks of staging than the music, conducted full on by Martyn Brabbins. He and the orchestra quite rightly win huge applause. The bucolic musical interludes are wonderful—space for reflections (and scene changes). And the singers are fabulous, old hands and new.
Manton has around him a fine creative team: Tom Scutt set and costume designer, with scroll illustrations by Anya Allin (representing Stanislav Lolek the original illustrator), lighting by Lucy Carter, and witty modern vernacular ("got so pissed") from Robert T Jones and Yveta Synek Graff.
From a 'cartoon strip' in a local newspaper, a 1920 serialised novella, Liška Bystrouška, by Rudolf Těsnohlídek, Janáček fashioned an intimate tale with universal themes. Sharp ears, cunning, translate Liška Bystrouška as you will, tonight she is a "a modern day woman" (well she turfs the Badger out of his home on socialist grounds.) Up the worker ants…
Reviewer: Vera Liber