The Dead Dogs
Jon Fosse, translated by May-Brit Akerholt
The Print Room
–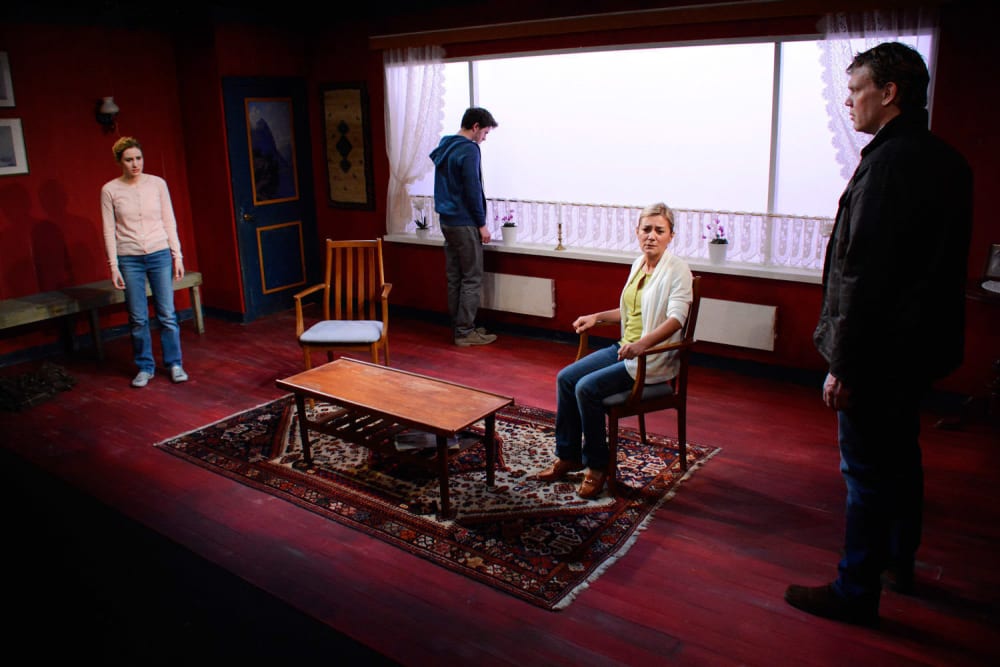 Even though celebrated Norwegian playwright Jon Fosse is the most performed living European playwright in the world (apparently), he remains relatively unknown on these shores. After seeing the UK première of The Dead Dogs (written in 2004) at the bijou Print Room, it's understandable why he's remained in obscurity.
Translated by May-Brit Akerholt, the story revolves around a nameless Young Man (Danny Horn) whose dog has gone missing. His Mother (Valerie Gogan), friend (William Troughton), sister (Jennie Gruner) and brother-in-law (Sam Redford) each try to shake the Young Man from his funk, however, it turns out a neighbour has killed the dog. It then transpires that the Young Man has sought revenge on his neighbour and murders him.
Fosse's text feels heavily influenced by Beckett and, even though it's not a style I'm particularly fond of, I can appreciate the lyrical quality of Waiting for Godot and the Young Vic's recent Happy Days. The Dead Dogs, however, lacks this rhythm meaning it's too disjointed and often difficult to follow.
Whereas the use of repetition in Beckett's work represents life's mundanity provoking you to question human existence, the painfully-long pauses and continual use of the word 'yes' in Fosse's piece are nothing short of irritating. The only question I had throughout was how to escape without being seen; it's no wonder their dog wandered off.
It seems that The Dead Dogs is attempting to deal with mental health, as Horn's uneasy gaze and heavy breathing convey the deep troubles that beset him. Perhaps the dog is a metaphor and represents the fragility of his mind?
Everything about Simon Usher's production is awkward and severely suffers from a lack of pace. There's a constant sense of uneasiness and tension running through the piece, but this isn't necessarily a planned thing. From character interaction and movement to Libby Watson's design, everything feels unnatural and detached. This may well be the point, but it ultimately meant my interest was lost.
I'm afraid this style of theatre just doesn't work for me, predominantly because of the void in establishing a connection between the characters and the audience.
There is a wider issue too: the pretentiousness. Seldom am I uncomfortable in a theatre, however everything from the choice of play and its staging to the actual Print Room building itself feel like an attempt to be alternative, kooky and edgy. Instead, it comes across as forced and desperate.
It certainly didn't help that I was sitting in front of a man who coughed, wheezed and spluttered throughout the entire performance, so my evening was a battle between trying to stay awake and trying to avoid catching tuberculosis.
Reviewer: Sean Brooks