Happy Days
Samuel Beckett
Young Vic
–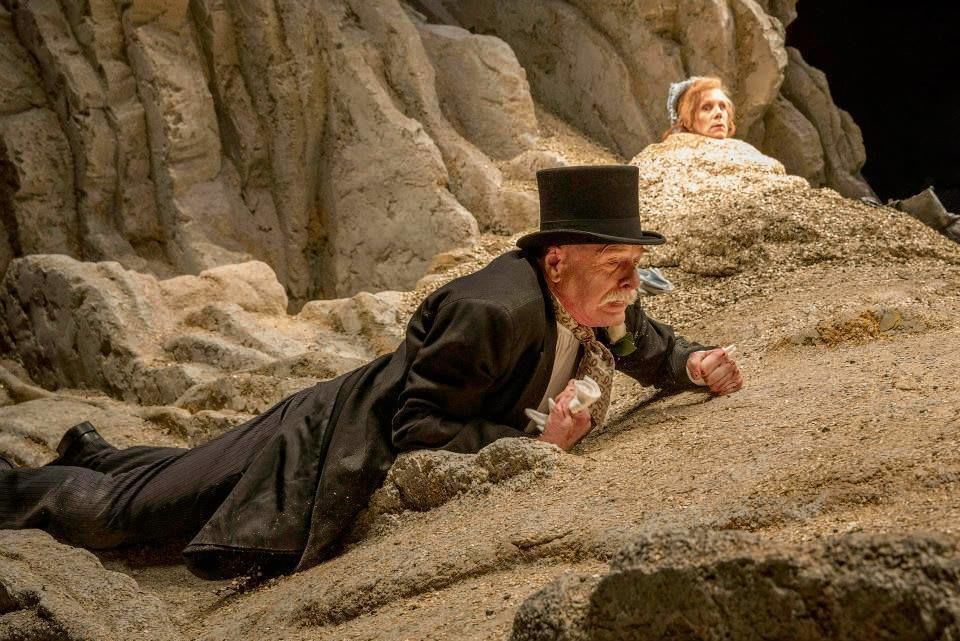 Like his protagonist, Winnie, Samuel Beckett is having a happy month. January has already welcomed a trio of short solo plays at the Royal Court and now this far more substantial almost-monologue provokes much thought at the Young Vic.
To avoid confusion, it is worth distinguishing between this remarkable solo and the touring version of the musical based on the TV show of the same name. You will not see the Fonz on this stage and there is only one, gentle song to enjoy.
Happy Days is one of those plays that braver actresses of a certain age are wont to take on in the same way that their male colleagues play King Lear or Prospero. It is certainly a great opportunity to shine but must be very hard work.
For this production, director Natalie Abrahami and her designer Vicki Mortimer have encased Winnie in a rocky outcrop that constantly threatens to succumb to a landslide, pebbles uncomfortably falling at regular intervals.
Juliet Stevenson, who all too rarely graces the stage these days, is very well cast for a performance in which she is buried up to the waist and later the neck, so expressive are her voice and face.
Winnie is that great rarity, a perennial optimist who is determined to be happy in the worst circumstances—and circumstances rarely get worse than this.
Abandoned along with David Beames as her husband Willie, she goes through a severely constricted version of normal life, a smile almost always teetering on her lips and genuinely reflecting a sunny personality.
While Willie is committing unspeakable acts just out of her view, the lady spruces herself up twttering away about the inconsequentialities that together build into a mundane but all too typical life.
However, amidst the toothpaste and lipstick, her capacious bag inexplicably contains an umbrella and revolver, each equally explosive and mysterious.
As the sun beats down, most of the chatter tends towards the existential, increasingly veering into philosophical musings.
After the interval, like Winnie in the rocks, the metaphor deepens, probably making viewers consider the ever-growing restrictions imposed as we begin our slow shuffle off this mortal coil.
In any event, Juliet Stevenson shines as one would expect, during a fascinating two hours that mixes Beckettian obscurity with enough meaning to keep the audience in thrall from start to finish, both unusually heralded not by a bell but the industrial equivalent to thunder and lightning which genuinely shock every time they impinge on a drama that, thanks to the actress's talents, can have a similar impact.
Reviewer: Philip Fisher